Why the World's Friendliest Country Attracts the Most Hardcore Travelers
Mount Everest Base Camp

| Thampitakkull Jakkree/Shutterstock
Mount Everest Base Camp

| Thampitakkull Jakkree/Shutterstock
On a map, Nepal is dwarfed by its two giant neighbors: India and China. But in the travel stakes, this modest country punches way above its weight. It was No. 5 on Lonely Planet's top destinations for 2017 and No. 4 on Rough Guides' list of the world's friendliest countries. Nepalese people are tough, deeply spiritual (fun fact: The Buddha was born in Nepal), and ridiculously nice. So nice that a hotel operator will put a couple of guests in his own bedroom when he runs out of doubles and has only twin rooms left. (Shout out to Green Tara Resort in Namche Bazaar.)
When you visit -- and you should visit Nepal, at least once in your life -- you'll find Nepalese locals chill and welcoming. It's a surprisingly easy destination for English speakers, and one of the world's finest small(ish) countries to visit, with the population of Texas packed in a space about the size of Iowa.
And yet for all the generosity and personal warmth Nepal offers, you'll find that your fellow travelers -- perhaps you included -- can be kind of intense. The country draws thrillseekers, extreme athletes, and boundary-pushers who court frostbite, hypoxia, and possibly death in pursuit of glory. Blame it on one thing: the high peaks of the Himalayas.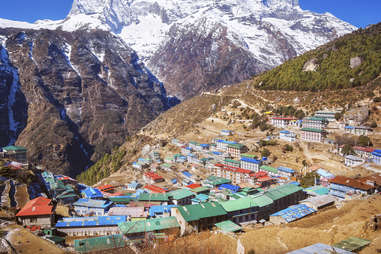 Eight of the 10 tallest mountains in the world are accessible from Nepal
The roster of mountains in Nepal includes Annapurna and Everest, which anchor two of the most unforgettable hikes you'll ever do: the Annapurna Circuit and Everest Base Camp. There's a theory that your insanity level is directly proportional to how high you try to climb. I'm in awe of the people who set out to summit these titans, but you've got to be slightly unhinged to decide it's worth $30k to $100k and possibly your life. Annapurna has a 28% fatality rate among summiters; Everest -- which the Nepalese call Sagarmatha, meaning "mother of the universe" -- averages eight fatalities per year, reaching 17 some seasons. And I mean, have you seen the movie Everest? (Spoiler: Almost everyone dies.)
Summiting Everest is one thing, but hiking to Everest Base Camp (17,500 feet above sea level) is far more achievable and enjoyable. Just ask the Californian couple who recently got hitched there or anyone who went to Paul Oakenfold's "highest dance party on Earth." EBC is where climbers set up camp for a month or two as they acclimatize and prepare to summit, and it's the starting point for their ascent. To hike there takes around two weeks. Anyone with a decent fitness level can manage it. One girl I was traveling with had never actually hiked before that trip, but decided she wanted to do it after (spoiler) watching Jake Gyllenhaal freeze to death in the Everest movie. Like I said, travelers in Nepal can be kind of nuts.
If you want to see Everest climbers in action, head there in the spring
There are two trekking seasons: spring (March to May) and fall (September to December). But the best time to go is in April and May, when you'll cross paths with the climbers headed for the peak. You'll see their tents at base camp and probably meet some of them at the tea houses along the way. (Tea houses are basic lodges with communal dining rooms, and they're the only accommodation up in the mountains.) At one tea house I chatted with a guy who was being dispatched by an adventure gear company that wanted to test its newest textile in the most intense conditions on Earth. At another I hung out with Xia Boyu, a 66-year-old Chinese man who is either the most inspirational or the most insane person I've ever met. Possibly both.
Xia first attempted to summit Everest in 1975 but poor weather conditions cut his expedition short. On the way down he gave his sleeping bag to a fellow climber and lost both his feet to frostbite as a result. Over the ensuing decades he had survived cancer and become a respected athlete. He returned to tackle the mountain with prosthetic legs in 2014 and 2015 only to see natural disasters prevent his ascent. When I met him in 2016 he was embarking on his fourth and final attempt. I read later that he had gotten close but not all the way to the summit. Who knows -- maybe a dude like that has a fifth try in him somewhere.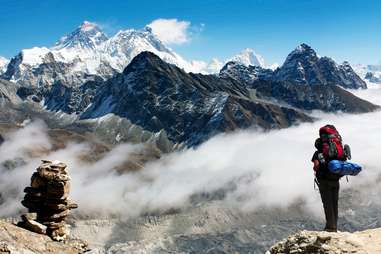 So how much does this epic hike cost?
There are two ways to hike to EBC: organize it yourself or pay a tour company to do it for you. Expect to spend at least $1,000 on a reputable local tour company. They'll organize guides and porters to carry your gear, and take care of all logistics like accommodation and meals. If you're hiking independently you can get by on $20-$30 per day, plus additional costs like permits (around $50) and transfers to and from Kathmandu (around $350). You may also want to hire a licensed guide (from $25 per day) and/or porter (from $10 per day). Their expertise can be valuable even off the trail. Our guide knew to call ahead when a tea house was likely to book out, and tipped me off to garlic soup as a salve for my altitude-induced headaches.
For DIY-ers, a good guidebook and thorough research is essential. This isn't the kind of trip where a lack of preparation denotes a seasoned traveler; taking risks at high altitude is dumb, not funny. The biggest danger on the mountain is altitude sickness which, depending on the severity, can cause symptoms that can go from dizziness to diarrhea to death. If you ascend too fast and don't give your body a chance to acclimatize, the altitude will fuck you up, like it fucked up the guy I saw being heli-evacuated off the mountain. The fool was hiking solo and didn't have travel insurance. Luckily for him, the people who found him unconscious on the trail scraped together enough cash to airlift him to the nearest hospital. Not a cool story, bro.
And why, again, would I want to do this?
You get to see jagged mountains reflected in smooth glass lakes, to climb snow-covered passes that reveal valley after valley, and to traverse glaciers like fields of lacerated ice. To cross swinging rope bridges strung with tattered prayer flags, to learn to pass crumbling Buddhist monuments on their left out of respect. To sit cross-legged on the cold floor of a Himalayan monastery and listen to the monks chanting, and later, to sit around the cast iron stove of a cosy tea house and hear conversations in a dozen languages. To see the locals strap heavy loads of consumer goods to their heads and overtake you up the mountain, to stop complaining about the cost of toilet paper and chocolate in the upper villages. To take endless photos of shaggy yaks and Sherpa children with red, windburned cheeks; to film your turboprop plane flying off the edge of a cliff at Lukla, the world's most dangerous airport. To develop a deep respect for nature as well as a newfound appreciation for hot, running water.
To say you went to Everest Base Camp but to know that you did so much more.
And yeah, OK, maybe because you're a little crazy too.
Sign up here for our daily Thrillist email and subscribe here for our YouTube channel to get your fix of the best in food/drink/fun.
Sarah Theeboom is a freelance food, travel, and lifestyle writer. She's hiked the W in Patagonia, Kilimanjaro in Tanzania, and Everest Base Camp in Nepal. Check out her hideous red hiking fanny pack (with special water bottle compartments!) on Instagram and tweet style advice @sarahtheeboom.