Because dining behind bars doesn't always mean eating a burger while riding your bike, The Clink Charity just debuted its third open-to-the-public restaurant, inside London's Brixton Prison. Upscale cuisine, cooked by inmates, (still) eaten with plastic cutlery.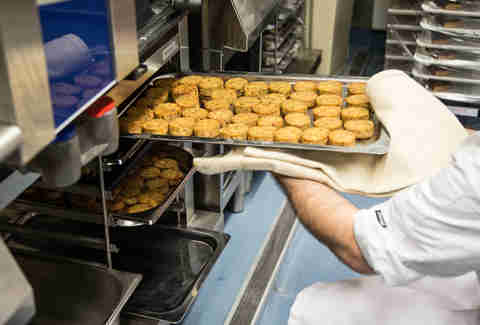 Part of a training program that helps inmates prepare for life on the outside, the breakfast/lunch restaurant serves locally grown dishes like herb-crusted pork chops w/ wild mushroom and artichoke lasagna to around 100 diners a day.

Trading their heavy denim jumpsuits (?) for these smart-looking unis, real-life prisoners cook, plate, and serve all of the "upscale European" meals. Despite the fact that some varietals are allegedly quite nice, we're pretty sure there's no prison wine being poured here.

Despite your best efforts to break in, reservations are required and must be made 48 hours in advance. You'll need ID, but can't bring your phone, camera, or laptop, not to mention chewing gum, homemade shiv, or any object that could be construed/used as a weapon. To make the experience more authentic, you'll be fingerprinted and photographed upon entry, and may be subject to a routine cavity search.
This prison eatery definitely isn't winning any interior design contests. Come on, how about some bars? Iron doors? Something? Then again, one might argue the "corporate meeting room" motif is jail-like enough.

Fact: In the UK, 46.9% of prisoners reoffend. Of the 500 or so prisoners who've trained at Clink since 2009 (106 of whom have been released), that number plummets to six percent. Still, given the fact that you may cross paths with your server again in a restaurant on the outside, it's a six percent reason not to complain about the food.
Book your table (or make a donation) here.
Sophie-Claire Hoeller is Thrillist's über-efficient German associate travel editor, who's had frequent flyer status since her mother gave birth to her in a Lufthansa terminal. Follow her @Sohostyle