American exceptionalism may have gotten us to the moon and back, but when it comes to actually mooning each other (you know, on the beach), we're not exactly world-beaters. Europe, by contrast, is in a completely different league when it comes to shoreline skinny-dipping.
Maybe it's their permissive attitude toward public nudity. Maybe they just understand that tan lines are as offensive as taking selfies on the shore. Whatever the reason, topless (not to mention full-on nude) beaches in Europe are plentiful.
But which ones are really worth your vacation days? We narrowed the list down to 18 of Europe's greatest beaches to see and be seen -- in the buff, of course.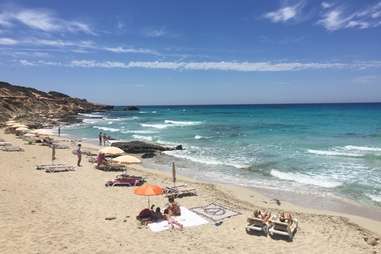 Playa de Ses Illetes
Formentera, Spain
Located just south of legendary Ibiza, the island of Formentera's basically a smaller cousin -- so small, in fact, that there's no airport. You'll need to take a ferry, bus, or taxi to get here.
Once you do, however, you'll be greeted by a wealth of gorgeous beaches, each of which is nude-friendly. Playa de Ses Illetes is one of the most popular, and with its powdery white sand and azure waters, it's easy to see why.
Filaki Beach
Crete, Greece
Crete's known for its staggeringly beautiful beaches, and Filaki's one of the standouts. A secluded stretch of sand stocked with sun beds, umbrellas, and a snack bar, Filaki's only a 15-minute walk from Vritomartis, a naturist resort said to be one of the best in Greece.
If that wasn't enough, wrap your head (or unwrap your towel) around this: Filaki's one of the few nude beaches on the island of Crete that's officially recognized as such. So you have permission to disrobe in peace.
Ahlbeck Beach
Ahlbeck, Germany
Nicknamed Sunny Island, this Baltic Sea spot is split between Germany and Poland and boasts more average sunlight hours than just about any other spot in either country. So it's basically made for nudists in search of the perfect tan. Off the beach, the town of Albeck is a charming seaside resort city, with a bustling pier and opulent mansions, a sort of Newport for naturists, if you will. It's also located near the island's trio of popular seaside resorts (or Imperial Spas, as they're known).
Plage de Tahiti
Saint-Tropez, France
Apart from sitting squarely on the French Riviera's warm Mediterranean shoreline -- which equals impeccable sand and turquoise waves -- Plage de Tahiti's infamously popular among celebrities. Which means that while you'll likely catch an eyeful of some random Frenchmen's cash and prizes, getting a glimpse of Miranda Kerr's VS qualifications is also a distinct (and much more appealing) possibility.
Es Trenc
Majorca, Spain
Spread along Majorca's southern coast, Es Trenc's shallow waters are ideal for nudists who weren't planning on doing much swimming anyway. Though not particularly deep, the waters are a turquoise hue that has led many to call this Spain's own little Caribbean, a perfect nook for taking Instagram-envy pictures (of the scenery, only, por favor). The beach is narrow at only about 60 feet wide, so you may end up a lot closer to all that skin than you'd anticipated. While the restaurants and parking are a bit overpriced, this spot is all about saying goodbye to that bikini line.
Leucate Plage
Leucate, France
In addition to being one of France's well-regarded shores for skinny-dipping and nude sunbathing, the half-mile-long Leucate Plage also sports two naturist resorts and a clothing-optional campground. In other words, there's a healthy balance of naked tourists and bare-bottomed locals. Be forewarned, the beach is only accessible to naturists, and residents and visitors of the resorts. There are some clothed party poopers as well -- "textiles," as the Euros call 'em -- so if you're a Never Nude, you can probably still have some fun here as well, but wandering over fully clothed isn't gonna fly.
Paradise Beach
Mykonos, Greece
Depending on when/where you go, the bodies on this stretch of beach can either be fully clothed, topless, or completely bare, and the crowd run the gamut from college coeds to septuagenarians, all looking to have a good time. Between Paradise's picturesque shoreline and its two wild beach bars (Tropicana and the Sunrise Bar), there's something for everyone here.
Patara Beach
Patara, Turkey
Patara's the longest beach on the Turkish Riviera, and features the requisite soft sand and warm, shallow water of all the world's truly great shorelines. It's also a protected nesting site for sea turtles, meaning that: a) the odds of slashing your foot on a carelessly discarded broken bottle are pretty slim; and b) you should be completely comfortable with turtles seeing you naked.
Playa El Torn
Tarragona, Spain
At almost a mile in length, El Torn's no slouch on the size (although we can't attest to the motion of its ocean); at any rate, you'll have plenty of personal space when the locals and tourists descend. It's a protected beach, backed by a pine forest that, once you put your clothes on, makes for some challenging hikes and offers spectacular views of the water. Or walk out onto the rocky promontory that is the island of torn, an interesting rock formation with an old abandoned watch tower. The beach is cleaned regularly and police patrol to make sure nobody's dumping empty Fanta bottles in the dunes.
Buhne 16
Kampen, Germany
Located on the western shore of Sylt Island, Buhne 16 is considered Germany's oldest nude beach. And even though plenty of other local beaches are also nude-friendly, Germans and tourists still flock to Buhne 16 for its history and laid-back atmosphere. Striped blue and white chairs are sprinkled liberally about, so get there early enough and you're pretty much guaranteed a seat.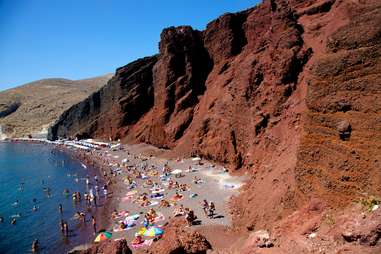 Red Beach
Crete, Greece
The second Cretan spot on the list, Red Beach boasts breathtaking red sandstone cliffs, a fascinating history, and not-at-all-shy locals. Going during the peak of summer, though? Be warned: the place can have significantly fewer nude sunbathers, depending on the inclination of tourists. If you'd prefer to be surrounded by fellow nudists at all times, get there either earlier or later in the season.
Vecaki beach
Vecaki, Latvia
What you may not know about Latvia (despite having watched that episode of Seinfeld many times) is that the country's coast is over 300 miles of pure, uninterrupted Baltic beach -- not bad for a country the size of West Virginia.
Just north of Latvia's capital is the country's biggest naturist beach -- the nude-friendly portion of shoreline spans from Vecāķi to Kalngale, and is also popular among locals as a beach volleyball spot. That's right: Naked Latvians playing beach volleyball. We'll leave it at that.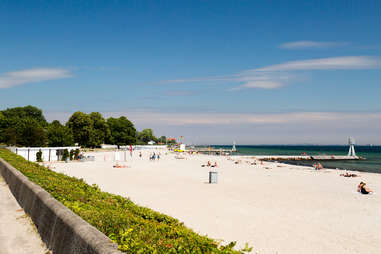 Bellevue Beach
Klampenborg, Denmark
Chockablock full of svelte Danish youths looking to party, Bellevue's the spot to hit if you're in northern Europe and eager to channel your dormant Spring-Break self -- assuming your Spring Break was spent on a topless-optional/nude-friendly beach.
Playa de los Muertos
Almería, Spain
The name (which translates to "Beach of the Dead") refers to the pirates and sailors whose bodies washed up on the shore many moons ago. That's in the past, though -- today, Playa de los Muertos is one of the liveliest naturist beaches on the Iberian peninsula. The beach is a 10-minute walk between the cliffs that guard the sand from prying, clothed eyes. Once at the end of the path, you'll find a beach split into two coves, with crystal clear-water and absolutely no services. So make sure to pack your lunch, sunscreen and snorkeling gear. Just make sure you keep your eyes on the fish when you're underwater.
Cap d'Agde
France
While it's technically the name of an entire town, Cap d'Agde is generally used to refer to a specific stretch of beach in a part of town called the Naturist Quarter. More than just a beach, this part of town is chock-full of shops, restaurants, nightclubs, and bars, all of which are frequented by naked Europeans of all stripes. There's also a big swinger scene here, so be prepared if you go with your girlfriend.
Valalta
Rovinj, Croatia
Located on a full-fledged naturist campsite, Valalta scores high in the insane amenities department. Not only can you enjoy cocktails at the swim-up bar; there's also a water slide at the pool and, best part, beer tastings at the onsite brewery. And don't forget, there's nudity.
Spiaggia di Guvano
Corniglia, Italy
Hidden from prying eyes behind the mountains of Cinque Terre, this pebbly little cove requires a bit of a schlep to reach. The old railway tunnel that led from Corniglia to Guvano was closed by the village because it was deemed unsafe. So if you're not into trespassing, it can take more than an hour to take the long route through still-difficult terrain. And yet, it's all worth it. The beach is the stuff of legends, an Italian hippie oasis in the 1970s that was one of the wildest party spots in Europe. Though the difficult journey and risk of landslides have tamed the crowd, the prospect of naked Italians and warm Mediterranean water should be enough for you to don some hiking boots to make the journey.
Plage Linguizzetta
Corsica, France
In addition to being Napoleon's birthplace, Corsica's also home to one of the longest nude beaches in all of Europe; at 2.5 miles, the clothing-optional section of Plage Linguizzetta's pretty much guaranteed to never be fully crowded. Additionally, the stretch's peppered with a number of local bars and eateries.
Mirtiotissa Beach
Corfu, Greece
This isolated spot on the west coast of Corfu between Pelekas and Vatos has filled in with more-clothed tourists in recent years. And with cliffs dividing the stretch or turquoise shoreline, sometimes it can get a little confusing to figure out where it's best to bare all. Follow the dirt road through the pine tree-covered cliffs and you'll arrive at the main, central section of the beach. The cliffs on either side act as borders to the nude sections on the left and right, which are just as scenic with far fewer tan lines.
Alteirinhos
Zambujeira do Mar, Portugal
If you're looking to catch the sunset in the buff, few places top this beach on the southwestern coast of Portugal. The beach itself isn't huge -- only about 600 feet long -- and at high tide you'll be hard-pressed to find a big stretch of sand. But Alteirinhos is almost as much about the journey as the destination. Getting here involves parking atop a massive cliff, then traversing stairs down to the ocean, next to a large waterfall. If you can get here when the tide is low and the sun is up, it feels like the most beautiful nature hike you'll ever go on, that ends up au naturel.
Playa de la Tejita
Tenerife, Spain
Some people come to a nude beach to let the sun shine where it usually don't. Others need a little more excitement. For those, there is Playa de la Tejita, the biggest and widest among Tenerife's nude beaches at 3,000 feet long and 300 feet wide. The sand here is the softest in the area, making it much more conducive to beach walks or runs than the lava-sand beaches you'll find nearby. In addition to sporting a spectacular view of Montana Roja in the distance, the wide-open shoreline also makes it a popular spot for kitesurfing and windsurfing. Though getting dressed to do those is highly advisable.
Ågesta Beach
Stockholm, Sweden
Who says you need clear Mediterranean water and olive-skinned beauties to have a great European nude beach? Certainly not the city of Stockholm, who have has under its supervision this beach on the shores of Lake Magelungen. Here fair-skinned Swedes pack on the sunscreen for a fun day at the lake, complete with barbecues, picnic tables, and boating aplenty. It's a little like going to your friend's summer lake house in the UP, except nobody has clothes on and it might be a tad bit colder. Then again, those Swedes are hearty people.
Acquerelli
Capoliveri, Italy
For the nude beach aficionado, this cliffside cove on the island of Elba might be the best beach in Europe. Calling it a "hidden gem" might be a little subjective, since the black sand and shingly at the bottom isn't exactly the stuff of tropical postcards. But because the beach lies in a remote location down a treacherous path from the hilltop parking lot, it's about as isolated a stretch of Mediterranean paradise as you'll find on the continent. For those looking to explore nude sunbathing without many prying eyes, this should be an ideal stop.
Sign up here for our daily Thrillist email and subscribe here for our YouTube channel to get your fix of the best in food/drink/fun.
Gianni Jaccoma is a cities editor, and will be starting the world's first compulsory bottomless beach in Jacksonville next year. Follow him to uncomfortable mental images on Twitter @gjaccoma
Matt Meltzer is a contributing writer to Thrillist who strongly encourages everyone to use SPR 45 on a nude beach. Trust him and follow him on Instagram @meltrez1.