For several decades, the US was convinced the Soviets were one temper tantrum away from nuking us into oblivion. We've since shifted our fear to other matters (wait, toilet rats are a thing?!), but traces of the Cold War remain to this day. Here are a few of the bunkers, reactors, and missile sites still quietly residing on American soil. You can visit some of them, but please, don't go snooping on the Hanford Site.
The Greenbrier Bunker
White Sulphur Springs, WV
We're going to get to the mountain and island bunkers in a minute, but the strangest government fallout shelter might be the one at Greenbrier Resort. Partly because no one at the hotel knew about it for decades and partly because it was supposed to shelter the entire U.S. Congress. Eisenhower chose Greenbrier as the site for the congressional bunker, and named the construction plan "Project Greek Island." The government somehow convinced the resort staff it was building a conference facility, and that the 7,000ft landing strip outside was toooootally necessary for the 3,000-person town. The Washington Post finally outed the never-used bunker in 1992. You can tour it now, and see the glamorous metal bunkbeds long reserved for U.S. representatives.

The X-10 Graphite Reactor
Oak Ridge, TN
It's dormant now, but for 20 straight years, the X-10, and artificial nuclear reactor, ran on a healthy diet of uranium slugs. It finally went to sleep in 1963 in the Oak Ridge National Laboratory, where it resides to this day. You can go visit it through the American Museum of Science and Energy. Just please don't feed it.
Minuteman Missile National Historic Site
Philip, SD
You could probably guess from the name that this place used to house missiles. But it wasn't just two or three. At its peak, this South Dakota Minuteman Missile field commanded 150 missile silos. Now, it's down to just one: Launch Facility Delta-09. You can see that, and one of the underground control centers, when you visit Minuteman Missile National Historic Site, now operated by the National Park Service. But you might wanna spring for one of the "top secret" tours advertised on the official site. We assume it's scored to the Mission Impossible theme song.

The Culpeper Switch
Culpeper, VA
In 1969, The Federal Reserve Board completed work on a doomsday bunker with lead-lined shutters and steel-reinforced concrete on Pony Mountain. Its aim? To keep the cash flowing, in case the Soviets wiped out major banks in a nuclear strike. There were computers on deck to handle electronic fund transfers and, for many years, the Federal Reserve kept a pile of $4 billion in cash. The bank thief community really dropped the ball on this one, because miraculously, there were no attempted heists. The government moved the cash out of Culpeper in 1988, and gave the place to the Library of Congress in 1992. It's now the National Audio-Visual Conservation Center, an archive of movies, TV, and other media. Or so Janet Yellen would have you believe.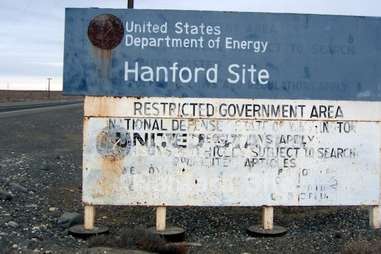 Hanford Site
Richland, WA
This 586-square-mile site was producing plutonium long before the Cold War -- the U.S. War Department overtook the area in 1943 to conduct parts of the Manhattan Project. But the government added new reactors as the arms race with the USSR heated up. Kennedy even stopped by to dedicate one. The last reactor was shut down in 1987, and two years later, the formal clean-up process began. It was a very messy job -- the Department of Energy, EPA, and Washington State Department of Ecology are still working on purging the place of weapons production waste to this day.

Titan Missile Museum
Sahuarita, AZ
From 1963 through 1987, the U.S. had 54 Titan II missile sites on alert. Reagan ordered all Titan II missiles be deactivated in 1981, and most of them were flat-out destroyed in the process. Except for one, which is still on display at the Titan Missile Museum in Arizona. It was never fueled and never carried a warhead (it was just used for training cadets) so it's completely safe to the public. But the staff would still appreciate it if you refrained from riding it like Major Kong.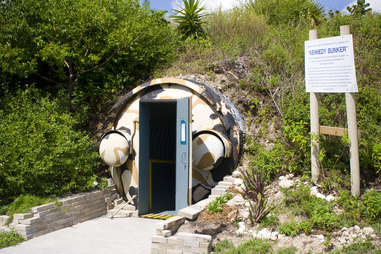 The JFK Bunker
Peanut Island, FL
Kennedy was president during some of America's peak Cold War paranoia, so it makes sense that he'd have a personal bunker floating around. Only this one is a vacation bunker. JFK was known to make family retreats to Palm Beach, so the Navy Seabees (formally, the United States Naval Construction Forces), built him a fallout shelter on Peanut Island. It was camouflaged with trees and as far as the locals knew, it was a "munitions depot." The government has since admitted its true identity, and even opened the place up for tours starting in 1999. For $12, you can feast your eyes on castor oil and gas masks that Kennedy definitely didn't touch, because it's mostly replicas.

Cheyenne Mountain Complex
Colorado Springs, CO
Although we kinda killed it in the red scare game, the U.S. wasn't the only one freaked out by Mother Russia. Canada was also pretty nervous, so it formed the North American Aerospace Defense Comand (NORAD) with us in 1957. NORAD was supposed to monitor for airborne attacks, and it needed a base. That base had to be hyper-secure. So naturally, the team decided to cut up Cheyenne Mountain. After the guys had carved out some caves to serve as bunkers, they slapped 23-ton blast doors on 'em and started operations. Today, NORAD maintains a minimal presence on the mountain, but the Air Force uses it for many classified missions.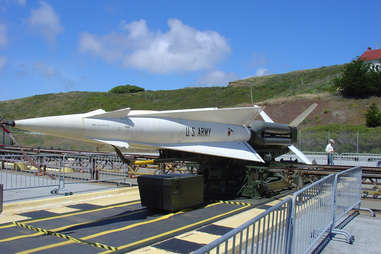 Nike Missile Site SF-88
Mill Valley, CA
SF-88 is now a tourist attraction in the Golden Gate National Recreation Area, but back in the day, it was a launchpad designed to hurl Nike missiles at Soviet bombers. You can get up close and personal with those missiles on Thursdays, Fridays, or Saturdays between 12:30-3:30pm, or hold out for the open house with Nike vets on the first Saturday of each month. Regardless, the National Park Service would like to grimly remind you that the missiles were designed to protect military and industrial centers, not you!

The Brooklyn Bridge Bunker
New York, NY
When someone makes an "odd discovery" under a New York City bridge, it's usually an old bum on peyote who claims to be Rasputin. But in 2006, city workers uncovered something historically significant in the Brooklyn Bridge: a vault of emergency supplies. It clearly dated back to the Cold War, and was there to aid the survivors of a potential nuclear attack. The secret stash included an estimated 352,000 Civil Defense All-Purpose Survival Crackers, as well as water drums, medical supplies, paper blankets, and drugs like Dextran (which treats shock). The Departments of Transportation and Health & Mental Hygiene took everything away, though, so sadly you can't go bridge-cruising for '50s survival crackers.
Plot M
Willow Springs, IL
This hunk of stone might look like a tombstone, but the only thing under it is radioactive waste. Plot M, along with "Site A," is located on former grounds of the Argonne National Laboratory. Scientists used to conduct nuclear experiments there, and even had two reactors (CP-2 and CP-3) on site during the '40s and '50s. They eventually defueled the reactors and abandoned the area for newer, sexier labs, but they left behind a ton of radioactive waste in the 150ft x 140ft patch known as Plot M. There's several feet of concrete covering the burial area on all sides, but seriously, listen to that rock: don't dig.
Sign up here for our daily Thrillist email, and get your fix of the best in food/drink/fun.
Kristin Hunt is a staff writer for Thrillist. She plans to cement her eccentric billionaire status by building a nuclear bomb shelter next to her vacation home. She just needs to become a billionaire first. Follow her to ambitions at @kristin_hunt.