14 reasons to hit Madison for Saturday's UW-NU game
It might be tough to top last week's electrifying UGA-Tennessee overtime game in Knoxville, but if there was ever a reason to jump back in the Neon for another game-day road trip, it's this Saturday's Wisconsin versus #19 Northwestern matchup in Madison. Here are 14 reasons -- other than occupying the Capitol building two years too late -- why you should be there. 1. Let's start with the low-hanging fruit: You can't specialize in beer, brats, and cheese kurds and not expect to be named one of the best college football towns in America -- an honor Madison routinely receives. There may not be a better place to tailgate in the entire country, and if you go now, at least the weather should be nice.
2. Both teams are fresh off losses to #4 Ohio State (although UW's also coming off a bye) and eager to get their Big Ten title hopes back on track, regardless of how tough the road ahead looks for each. Wisconsin's gunning for a fourth consecutive trip to the Rose Bowl under first-year coach Gary Anderson, while NU's shooting for their first championship since 1996. The 70-23 drudging by UW in 2010 aside, they've played some exciting games in the last 10 years (51-48 in '05, 33-31 in '09), and with both teams evenly matched, this one shouldn't be any different.
3. In fact, these two teams have been playing since 1890, and while UW leads the overall series 56-33-5, they've split their last 12 meetings. Budding new rivalry? Maybe. At the very least, expect things to intensify as they begin playing each other annually after next year's conference realignment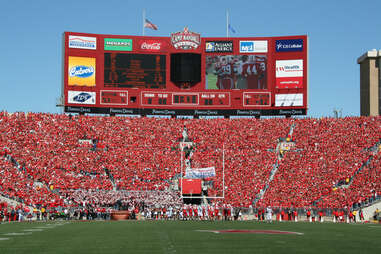 4. You don't have to be a history major to recognize the significance of Camp Randall, the fourth-oldest college football stadium in America. Built in 1917 on land used to train 70,000 Wisconsin troops during the Civil War, today it holds 80,321 red-clad Badger faithful, and should rank high on your bucket list of must-hit sports meccas. Let's cross it off together, shall we?
5. And speaking of stadiums, ever felt one shake with 80,000 people going absolutely ape$h!t to House of Pain's "Jump Around"? No? Well buckle up, 'cause it's about to happen between the third and fourth quarters, and it's one of the greatest (recent) traditions in college football. It's insane.
6. After being verbally abused by Lions center Dominic Raiola on Sunday at the Green Bay-Detroit game, the Wisconsin Badger marching band will be out to prove something, which is why you should stick around for their longstanding post-game performance, dubbed the "Fifth Quarter". Act like you grew up in Pewaukee and sing along to "On, Wisconsin!".
7. Three-story beer bongs on Breese Terrace. You know, if you're into that kind of thing.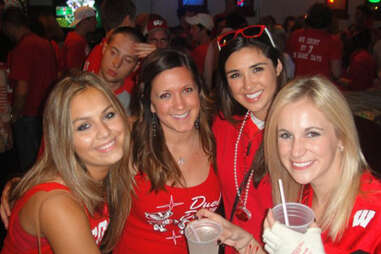 8. If you'd prefer to drink out of bottles in the most iconic Badger bar in Madison, then make sure you pre-game at Kollege Klub (aka KK) -- it's been around since 1953. If you want to start the morning with some early sausages and suds, though, the popular State Street Brats is opening at 10a this weekend because of homecoming.
9. Oh yeah, it's homecoming weekend in Madison!!! There will be a parade, and a pre-game tailgate, and, no doubt, plenty of hilarious stories about how fun it was to attend UW in the early '80s. If only they'd known Northwestern was going to be good when they scheduled the game.
10. Speaking of good NU football, you'll get to see their dual quarterback threat in action. Trevor Siemian and Kain Colter are currently ranked 1 & 3, respectively, in passing efficiency in the Big Ten. Wisconsin's second-ranked offense hopes to counter with their own high-octane threat, the Big Ten's leading rusher, Melvin Gordon.
11. But enough football statistics, back to the food; do NOT leave Madison without taking down the famous Scrambler at Mickies Dairy Bar-- just don't. Charge your iPod, bring your Bret Bielema biography, whatever you have to do to resist walking away if the the line's too long. It's worth the wait.
12. You should also definitely try New Glarus beer. For sure. Their Spotted Cow is the popular play, but since Fall is in the air, it's best to roll with the Staghorn Octoberfest.
13. Contrary to popular belief, Northwestern fans actually do travel to away games. And, as they're only 145mi away from this one, expect a solid contingent of Wildcat faithful to make the trip -- a good 40% of whom will probably set up their tailgate inside the library.
14. Finally, Thrillist Executive Editor Ben Robinson spent the best 5 and 3/4 years of his life there, and swears that "drunk Wisconsin people are still the nicest people in the world". In fact, he adds, "if you pick the right street, people will literally just hand you brats for free as you walk by". So there's that, too.
Travel Notes
Tickets: Yep, you can definitely still get 'em right here.
Accommodations: Billed as Madison's "first true stylish boutique hotel" (suck it Days Inn), Hotel Red's a stone's throw from the stadium and rocks a daily happy hour at the bar, a fitness center, and 48 rooms tricked out with mod bespoken art that looks like sound waves.
Bars and restos: In addition to the aforementioned Mickies, KK, and State Street, a couple of solid must-hits include local breweries Ale Asylum (10-beer flights for $20) and Great Dane Pub. Also, if you're craving a bacon-peanut butter cheeseburger (and why wouldn't you be), check out AJ Bombers.
Non-football stuff to do: After soaking in gorgeous views of Lake Mendota from the Memorial Union Terrace, roll over to that Farmers Marketeverybody raves about (seriously, it is just a farmers market, right?) before drinking in some… history (you thought we were going to say more beer, you lush) while touring the Wisconsin State Capitol building -- it's the second-largest dome in the country, standing only 3ft shorter than the U.S. Capitol building in Washington, DC.