Shutterstock / Flickr user <a href="https://www.flickr.com/photos/31064702@N05" target="_blank">Dawn Huczek</a>&nbsp;(Modified)
While most of the country thinks of USC, Michigan, or even Navy when it comes to Fighting Irish rivals, you don't have to leave the Boilermaker State (because the H-word, Hoosier, is just an insult) to find a rival that takes Notre Dame to task every time. Purdue consistently does it. And it's about more than just football -- West Lafayette is just a better place than South Bend.
Here are 11 reasons why it's better to Boiler Up in West Lafayette* than… to live off the legend of Sean Astin or a fake, dead girlfriend hoax in South Bend.
*Yes, we know the game's actually in Indianapolis on Saturday, but that's not the point. Also, as this is a new series pitting college towns against one another, here are "15 Reasons Why South Bend Is Better Than West Lafayette".
1. Ross-Ade > Notre Dame Stadium
Every time someone works up a sports bucket list, for some reason Notre Dame Stadium ends up there. Save yourself $200 and just imagine your high school stadium with the same horrible wooden bleachers and sad concessions, then add 80,000 seats. Totally not worth $200, right?
Horseshoe-shaped old beauty Ross-Ade, meanwhile, has a massive HD board (replays!) and food that actually beats a middle school volleyball match (hello, grilled tenderloin sandwich at the new South Endzone Party Patio). Oh, and help yourself to a People's Brewing Co. Sgt. Bravo. That's right. Local craft beer. At a college football game.

​2. Purdue tailgate, also better
From the fans filling the surrounding lots with cars/ trucks/ Gold and Black ambulances/ hearses and so forth, to the top-flight tailgating just a short stumble away on Slayter Hill, to the thousands of students getting after it in front of the fraternities or at Breakfast Club (translation: Halloween at the bars every game day at 7am), the pre-game party options are endless. Of course, if dodging excise cops in a field two miles from campus is your thing, there's always South Bend.
3. We mentioned Breakfast Club, right?
Harry's Chocolate Shop, aka Harry's, aka the Breakfast Club epicenter, destroys any of the pseudo-Irish hellholes you'll find in South Bend, any day of the year, one gloriously strong $3.50 cocktail at a time.
4. The town and the university actually like each other
West Lafayette is a glorious, borderline-Rockwellian college town in the truest sense. The campus is surrounded by neighborhoods filled with decades-old houses dripping with character. Students become part of the community, with some occasionally running for and winning seats on the city council.
Purdue is great because of West Lafayette, and West Lafayette is great because of Purdue. South Bend is a dump where there happens to be a small private university that pretty much thumbs its collective nose at everything surrounding it. There's a lot to be said for a sense of community.
5. We have Triple XXX, their food is PG
No, it's not actually pornographic. But this restaurant's food is good enough that it could be banned for causing too much pleasure. Those uptight Domers would never allow such a fine, uniquely named establishment to serve them the most delicious, fresh-ground, occasionally peanut butter-topped burgers and all other manner of sublime diner classics. We embrace profanity (at least with food).

6. We aren't obsessed with a plucky walk-on who made one damn tackle, ever
"Blah blah blah Rudy's perseverance and spirit can be an inspiration to us all..." OK, calm down, Domers. Rudy was terrible. You know who isn't? Purdue quarterbacks, who've combined to throw for more yards in the NFL than any other school. Dawson. Griese. Everett. Brees. Orton's neckbeard! And… fine, Curtis Painter counts, too. Honestly, even Curtis Painter is a better football player than Rudy. And he sucks.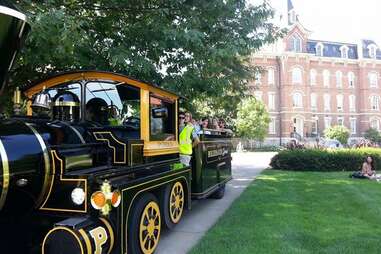 7. Our mascot can run a train on yours
And we're not even talking about Purdue Pete (he came later). The official mascot is the Boilermaker Special Locomotive, the largest in the US, seen (and heard) driving around campus on game days. Do you really want to side with an inebriated ginger (with bad facial hair and a Napoleon complex) who looks like he bought out a Payne Stewart estate sale over an actual locomotive? Thought not.

8. Jim Gaffigan went here
Fine, he's not from West Lafayette. And he didn't technically "graduate" from Purdue. But still, he did one year here, and his thoughts on bacon are better than any scholarly work ever associated with South Bend. Everyone loves bacon. These are FACTS, people.
9. Lake effect snow
South Bend's location just east of Lake Michigan means a horrific deluge of snow can hit pretty much anytime between October and April. They treat this as a badge of honor, probably because there wasn't much to do, anyway. West Lafayette is positively tropical by comparison.

10. Grand prix
The race itself might not draw much of a crowd, but the all-campus party that causes liquor stores to literally run out of kegs, even though they know it's coming, certainly does. ND folks are still inside though, because it's April, and, y'know, the snow.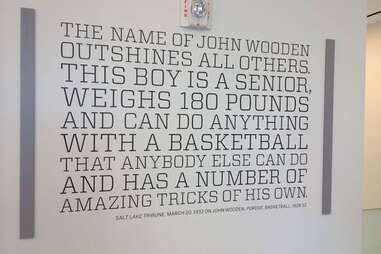 11. We landed on the moon!
Your Notre Dame alumni: a certain aforementioned no-talent walk on who is idolized for a single tackle and the guy who managed to be the annoying half of Regis and Kathie Lee. Try stacking them up against John Wooden and Neil Armstrong. Damn straight Purdue was first to the moon. Top that, Regis.
Matt Scott was born and raised in West Lafayette, attended Purdue, and still catches as many Boiler games as possible. If you'd like him to say bad stuff about Bloomington, he'd be glad to do that as well.