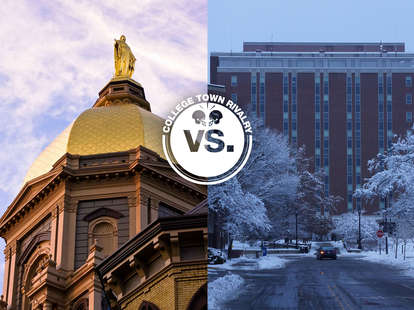 Flickr users <a href="https://www.flickr.com/photos/60445767@N00/" target="_blank">Craig Moe</a> / <a href="https://www.flickr.com/photos/vax-o-matic" target="_blank">Patrick Finnegan</a>
You've seen Parks & Rec, so you know Hoosiers have silos full of earthy pride for their farmland outposts. But if we've learned anything from Pawnee, it's that not all Indiana towns are created equal; and in this cage match for cornfield supremacy, South Bend sends West Lafayette packing all the way back to Terre Haute. From Dyngus Day to Studebakers, here's why the pride of Michiana is way better than that other place.

NOTE: Yes, we know the game's actually in Indianapolis on Saturday, but that's not the point. Also, as this is a new series pitting college towns against one another, here are "11 Reasons Why West Lafayette Is Better Than South Bend".

1. South Bend was founded by fur traders
Calm down, PETA. Bartering with pelts used to be socially acceptable and just plain frontier-rugged cool. West Lafayette is an amalgam of three rinky-dink towns that wanted to merge with Lafayette but got dissed. So they banded together and became… umm… West Lafayette. Why lead when you can follow?
2. The winters will make you a tougher man
Northern Indiana might as well be Hoth during winter, and the Bend's oppressive lake-effect action is nasty enough to freeze your Tauntauns off. The excessive snow and frigid winds could put hair on C-3PO's chest.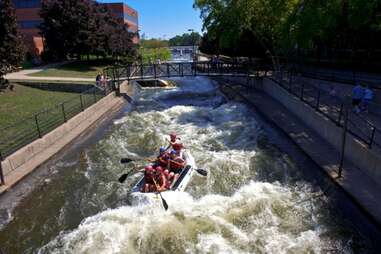 3. You can ride rapids through downtown
During the summer, rafters and kayakers paddle the Level 2 chop of the East Race Waterway (on the St. Joe River) for fun, as well as to stay cool. In West Lafayette, people just stare at the Wabash and wish it would take them somewhere else.
4. It's the home of the Studebaker
During the early days of horseless carriages, Studebakers were kind of a big deal. Even Fozzie Bear drove a 1951 Bullet Nose Commander in The Muppet Movie -- his sweet ride is on display in the Studebaker Museum. Play On Words Award: visit Studebagels, the only place in South Bend to get made-from-scratch bagels!
5. CJ's burgers crush all other college town burgers
When students skip the dining hall (#frequently), they cruise to CJ's for the legendary Super Pub Burgers. Notable combos include the 4 Horseman (with four cheeses, get it?) and Da' Boss (topped with fries, o-rings, BBQ sauce, and jalapeño cheddar cheese sauce). Pro tip: upgrade your patty to the 20oz Famous Golden Domer. Take that, Triple XXX.

6. South Bend is in a movie
And that movie, of course, is Rudy. C'mon… you know you love "feel-good" sports flicks about plucky underdogs. (Cue slow clap and name chant.) Until Hollywood makes a biopic about Griese or Brees, Purdue and West Lafayette are S.O.L.

7. The Linebacker Lounge has no equal
By day, the 'Backer is a townie bar with a mean pork tenderloin sandwich. By night, it's the last call destination of choice for all Domers. Guzzle a lethal Long Island (their signature drink) and group sing/sway to "American Pie", "Piano Man", and "Oh, What A Night". Bonus: it's within stumbling distance from campus.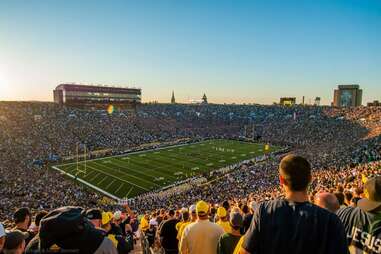 8. Three words: Notre Dame Stadium
It's the House That Rockne Built, so this is already an unfair comparison for poor old Ross-Ade Stadium. Ross-Ade doesn't even have permanent lights for night games. We're done here.
9. Three more words: Notre Dame's campus
Unfair comparison, part II. From the lush green quads to the top of the golden dome, every square inch of campus is meticulously buffed with a fine chamois. Purdue's stark brick boxes couldn't hold a candle from The Grotto to anything at ND. Just sayin'.

10. You don't have to worry about sunscreen
There are approximately 293 partly cloudy to cloudy days in South Bend annually. About 80 percent of the year. No wonder the Irish like it so much.

11. Brunch at Tippecanoe Place rocks Planet Earth
Generations of students have wrenched themselves out of bed so their parents could buy them brunch here. It's that good. Wander through parlor after parlor of this historic mansion as you enjoy endless tables of all-you-can-eat grub, all for only $19 per person. $22 on football weekends, of course.

12. A South Bend resident is the "Father of Mother's Day"
Francis Earl Hering had quite a resume: he played pro football in the early 1890s and is one of ND's first football, basketball, and baseball coaches. After becoming the "Father of Notre Dame Football," he gave public speeches supporting Mother's Day as a national holiday… because moms, as you know, are awesome.
13. One slice of Bruno's Pizza will fill you up
Since 1975, the Cataldos have baked massive pies for the hungry masses. You need to work out to lift even a fork-full of their dense, thick-crusted 'za. Go for the 20" combo with sausage, 'shrooms, onions, pepperoni, and black or green olives. Then nap. Repeat as necessary. The coincidentally named, but totally unconnected, Bruno's in West Lafayette doesn't even compare.

14. South Bend takes Dyngus Day seriously
On Easter Monday, the whole town chows down on deep-fried paczkis and sings "Sto Lat". A lot. The holiday also revs up the primary campaign season as politicos visit various clubs and pubs. Past participants include RFK, Senator Evan Bayh, and President Bill Clinton. So, it's kind of a big deal.

15. The man, the myth, the legend… Sergeant Tim McCarthy
Purdue has that big bass drum and a little choo choo train. ND has Sergeant Tim McCarthy, the king of game day traditions. During the 4th quarter, this Indiana State Police officer reads driving safety messages that end in the best/worst puns ever. He can silence 80,795 people with a public service announcement. 'Nuff said.
Erik Christensen is a proud Hoosier and ND alum. You can spot him in the movie "Rudy" if you know where to look. (Hint: he's in Corby's.)