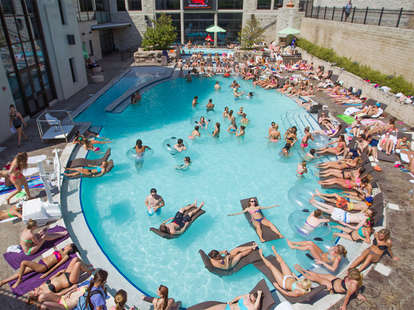 Courtesy of University of Missouri
Courtesy of University of Missouri
Nostalgic for that four-year vacation called 'college'? Us too, which is why we're bringing back College Week. Double-sink all of this week's college goodness, all week, right here.
College admissions are competitive. Not only are students willing to shiv their best friend if it helps get them on the wait-list at Duke, but colleges have entered a no-holds-barred amenities arms race in an insane attempt to lure the best and brightest to campus.
The unfortunate result: An onslaught of ridiculous, resort-quality perks that have pampered high school kids conveniently forgetting that the most popular major at the college they're about to enroll in is agriculture. Here are 10 of the most outlandish.
An on-campus ski resort
Michigan Technological University
Houghton, Michigan
Major in Poly Sci, minor in shredding the gnar: MTU actually boasts a real-life ski resort on campus. Sure, it's a Michigan ski resort, but it's a ski hill nonetheless. Basically free for students, Mont Ripley (one of the snowiest "mountains" in the country) offers 112 acres of ski terrain, 24 runs, and two chairlifts.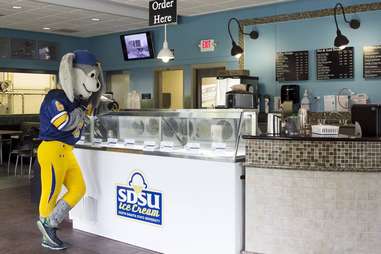 A personal dairy bar
South Dakota State
Brookings, South Dakota
Run by the college's Dairy Science Department, the dairy bar at SDS goes through about "18,000 pounds" (or around 2,093 gallons, if you're not a dairy farmer) of milk a week. Students make and sell over 60 ice cream flavors (some of the best in the state, according to the Food Network), and claim to have invented Cookies n' Cream in 1979.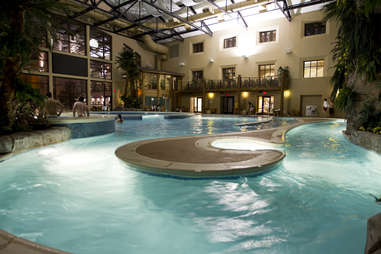 A lazy river and beach club
University of Missouri
Columbia, Missouri
Sports Illustrated named Mizzou's rec center the best in the country -- no surprise considering the 293,000sqft gym cost $50 million to build and offers students a palm-tree-shaded lazy river with a waterfall, over 100 cardio machines, and the resort-quality "Tiger Grotto," complete with whirlpool, sauna, and hot tub. Oh yea, there's also an "on-campus beach club" called Truman's Pond. Dear Lord.
A private steak house
High Point University
High Point, North Carolina
Every date's a cheap one at High Point, where, in addition to the on-campus movie theater (that shows first-run features) with complimentary snacks, roaming ice cream truck, and multiple swimming pools/hot tubs dotting the pristine campus, this NC school boasts its own fancy steak house – as in "no jeans allowed" fancy – at which students indulge in a weekly, three-course meal of filet mignon, seared duck breast, etc. Yep, with their dining points.
Adventure Outfitters
Western Washington University
Bellingham, Washington
Prefer hiking to hangovers? An outdoorsman's paradise, WWU runs its own Outdoor Center for students, faculty, staff, and alumni; in addition to a bike repair shop, there's also a rental center that loans out everything from ice picks to sleeping bags, as well as organizes kayaking, rock climbing, and skiing excursions.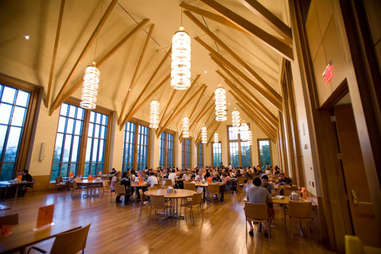 As much free food as you can eat (or carry home)
Kenyon College
Gambier, Ohio
Stuff your face, then fill your pockets; at Kenyon, all-you-can-eat actually means all-you-can-eat. Students here don't have to deliberate over meal plans, deal with the dreaded mini-fridge, or eat nothing but Cup Noodles for a week because they went to the dining hall too many times. No, the board fee here includes an unlimited dining hall where you can come and go as you please.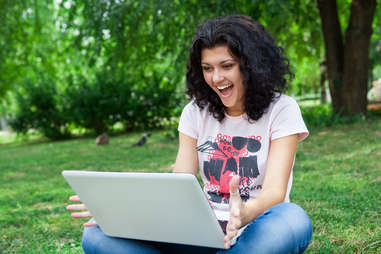 Free laptops
Seton Hall University
South Orange, NJ
Saving students the trip to Best Buy, Seton Hall equips incoming freshman with a new laptop computer outfitted with wireless connectivity and pre-loaded software. But wait, that's not all: there's even a "junior year technology refresh," where beer-soaked laptops are replaced with another brand new laptop to take students through their first jobs after college. No wonder they're all smiling in the admission brochures.
Ski-Beach day
Pomona College
Claremont, California
Exactly what it sounds like, Pomona College has a 20-plus year tradition of taking students skiing and to the beach, on the same day. Designed to show off the uniqueness of Southern California's climate, classes are cancelled for a day in February or March so that students can board school-provided buses en route to nearby Mountain High Resort in the morning, then to Newport Beach in the afternoon for a cookout. Why do they do this? In their words, "because we can."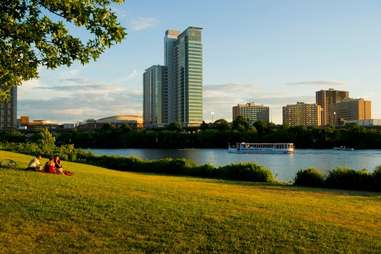 Luxury "condo" dorms
Boston University
Boston, Massachusetts
This barely four-year-old dorm just might the swankiest apartment BU students will ever live in -- like, even after they graduate. The gleaming, 26-story glass structure offers sweeping views of the Hub, and was described by the Boston Globe as "perhaps the most opulent residence hall to ever grace the local college landscape."
Forget flip-flops and flimsy shower curtains, mini-fridges, and bunk beds, this "dorm" features private bathrooms, walk-in closets, lounges with flatscreens, a soundproof music rehearsal space, and washers/driers that alert students via computer when they're available. Good luck in the real world, kiddos.
Lobster dinner, err'day
Virginia Tech
Blacksburg, Virginia
VT's West End Market is a marketplace-style dining hall with a bunch of different restaurants, including J.P.'s Chop House, where they prepare steak to order and live Maine lobster every damn day.
Sign up here for our daily Thrillist email, and get your fix of the best in food/drink/fun.
Sophie-Claire Hoeller is Thrillist's associate travel editor, and her alma mater, BU, allegedly has a lazy river, though she's never seen it. Follow her refusing to wear a swim cap @Sohostyle