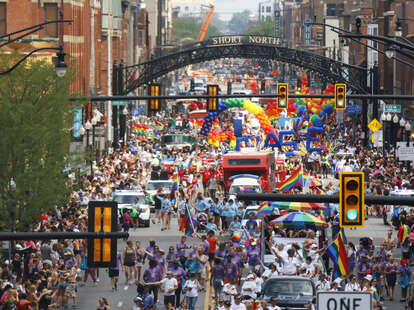 Photo courtesy of Experience Columbus
When it comes to Pride in the Midwest, Chicago tends to monopolize a lot of the rainbow-hued fanfare, but a couple states over, a rapidly growing city is giving the Second City a run for its money. Not only is Columbus booming in population—at a much faster clip than any other Midwestern city, making it the nation's 14th largest—but Ohio's capital has become a mecca of loud-and-proud queerness of late. It now has the 15th largest LGBTQ+ population in the US, with a Pride festival that's risen dramatically in popularity.
After originating in 1981, Stonewall Columbus Pride has steadily blossomed in attendance to more than 700,000 (along with some 13,000 marchers in the parade), becoming a beacon of inclusivity, diversity, and acceptance not only for the state, but for the surrounding region. Its increasingly diverse populace continues to broaden the demographics and color the landscape with all tints of the rainbow.
"Part of our vision is to ensure that queer identities are seen across our state and not only in queer spaces," explains Densil Porteous, executive director and CEO of Stonewall Columbus. "Each year, we've worked to make space for the various identities within the LGBTQ+ community, while working to ensure our allies and accomplices are also a part of the moment of recognition and celebration for the queer community."
And space for various identities is very much needed. Like many a swing state, Ohio's social politics are fraught with challenges for the community—in most parts of the state, it's still legal to discriminate against LGBTQ+ people, and recent legislation seeking to ban gender-affirming care is an unfortunate example of harmful policies sweeping the country. Ironic, then, that this type of legislative showdown ensues in a State Capital building surrounded by queer-friendly neighborhoods and businesses, and a Pride festival whose attendance equates the population of Denver. Like Austin is to Texas, or Atlanta is to Georgia, Columbus has emerged as a queer haven for the region, turning this swing state from purple to a twinkling tint of sequin-clad lavender.
"I've always felt that it's been more progressive, even through the moniker of being a 'cowtown' in the Midwest," says Scott Heimlich, owner of longstanding Barcelona Restaurant in German Village. "It's always felt safer here. We've had issues, and we've had to be careful, but it's progressed much faster than other cities. It felt safe to come out for me. I knew I could be who I was in Columbus when I couldn't in my hometown, a small rural farming community."
Part of that safety, which comes with general population growth, stems from increased businesses and a Hogwarts-sized university that brings diverse people from all over the world. Says Heimlich: "It makes Columbus more inclusive and understanding."
It's no wonder, then, that Stonewall Columbus Pride has grown exponentially too, signaling an overall metamorphosis for a Midwestern city ever on the rise. Surely spurred by the desire to get loud and speak out against discriminatory legislation sweeping the nation, this year's festivities are certain to be bigger—and prouder—than ever. Following a two-year pandemic-induced hiatus, Stonewall Columbus Pride Festival and March is back June 17-18, but before the celebration hits Goodale Park, here's everything you need to know about one of America's low-key biggest Pride festivals.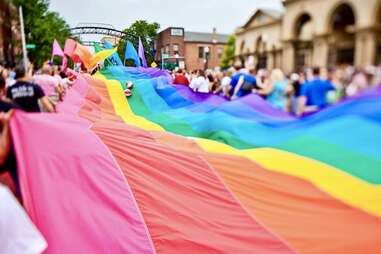 Why Columbus, Ohio?
Columbus's Pride started in 1981, after a string of other cities following the Stonewall Riots in New York City. At a time when anti-LGBTQ+ discrimination ran rampant (ya know, even more so than today), Pride here was founded as a response to the religious right coming to Columbus, with the goal of increasing visibility and acceptance of the queer community. It started with a march so small and discreet that some attendees wore bags over their heads to prevent being recognized or outed.
"I remember 25-30 years ago when it was tiny, you were worried by participating in the parade who would see you," recalls Heimlich.
A lot can change in 40 years, though. Ahead of the rest of the state in terms of social progress, Columbus passed an ordinance in 2008 that offered civil rights protections to LGBTQ+ people, followed by an LGBTQ+ partnership registry in 2012, anti-discrimination legislation in 2014, and the banishment of conversion therapy on minors in 2017. All the while, the city has continuously earned perfect scores on the Human Rights Campaign Foundation's Municipal Equality Index.
"Because Columbus is so open now, it's a party and celebration," Heimlich goes on. "This is who we are. You can just be out and there's no judgment and it's a great day to celebrate."
From a pint-sized march that required bravery to attend, Stonewall Columbus helped catapult the growth and progress of the city itself. Gone are the bags over the heads, and in are the feather boas, the rainbow face paint, and the joyous cheers from all walks of life.
Find your queer-friendly neighborhoods
Unlike many US cities, whose queer scenes still are largely typified by one or two neighborhoods, Columbus as a whole exudes acceptance and inclusivity.
One obvious enclave is the Short North, an arts district that's home to Goodale Park, where the crux of Stonewall Columbus Pride takes place. Unsurprisingly, the downtown-adjacent neighborhood is now one of the city's most vibrant—and the one most synonymous as a gayborhood—thanks to its abundance of LGBTQ+ businesses and havens.
This includes Axis Nightclub, the largest dance club in the city, featuring cabaret and entertainment from nationally revered drag queens; Out of the Closet thrift store, with profits going to the AIDS Healthcare Foundation; Union Cafe, an LGBTQ-friendly restaurant with drag brunch and "Flirtini Fridays"; and Torso Short North, a scantily-clad shop specializing in "sexy underwear and accessories."
Even the bars and businesses that aren't queer-owned are unabashedly queer-friendly. Take for example the buzzy new jazz lounge, Ginger Rabbit, an alluring subterranean haunt inspired by a scene from La La Land.Or there's The Lox Bagel Shop, where rainbow bagels pair perfectly with Pride T-shirts. Visit the always scream-worthy Jeni's Splendid Ice Creams, a wildly successful Columbus-based scoop shop that's so committed to community, they march in multiple Pride parades across the country and create ice cream flavors to support mental health awareness. And if all that wasn't effusive enough, Short North is also home to the Stonewall Columbus Community Center, a 12,000-square-foot space of year round programming and events.
In the thick of it all, the AC Hotel Columbus Downtown is an apt Short North stopover for comfort, cuisine, and Pride—the hotel is a block away from Goodale Park, where the annual Pride Festival takes place, preceded by Pride-themed pampering, tapas, and rainbow-tinted cocktail specials at Lumin Skybar.
West of the Scioto River, another neighborhood takes its queerness a step further by hosting Pride events all its own. Franklinton Arts District is a funky, warehouse-filled sanctuary of open-minded makers, artists, fashion designers, and brewers—for the latter, Land-Grant Brewing Company is housed in a historic elevator factory, highlighting sustainable brewing methods and community outreach, with a massive food truck-filled beer garden that looks more like something out of Texas Hill Country.
The neighborhood is home to a kaleidoscope of galleries, like 400 West Rich, Wild Goose Creative, and ROY G BIV Gallery. Be sure and check out Idea Foundry, a co-working and events space with classes and the Columbus Fashion Alliance, serving as an incubator for stylish talent in a city with a surprisingly robust fashion scene (after NYC and LA, Columbus has the highest concentration of designers in the country—surprise!). The district started its own mini Pride festival in 2019, featuring music, drag shows, food trucks, beer gardens, and activations like a Rocky Horror Picture Show sing-along.
Just east of Franklinton, downtown Columbus puts its Pride front-and-center as well. You'll find centrally located gay club AWOL Bar; Slammers, one of a scant few remaining lesbian bars in the country, where the business motto is "all walks, one groove"; and Columbus' newest LGBTQ+ bar, District West, a performance venue for some of the city's most iconic drag queens. One performer is Virginia West, "drag mother" to local celebrity Nina West, who earned Miss Congeniality on season 11 of RuPaul's Drag Race and has a children's book due out this fall about kindness and self-love.
"This city is magic," says Nina West. "As the home of Ohio State University and so many countless incredible corporations, the city has fostered growth with our LGBTQIA+ community and continues to do so every day. We have incredible, queer-owned businesses—from bakeries to nightlife—that give visitors a true taste of the Midwest and our remarkable city."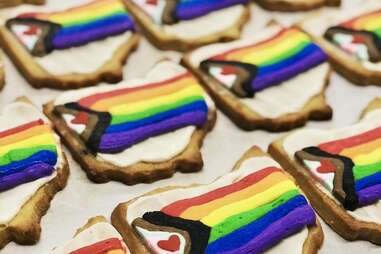 Shop at queer-owned businesses
Throughout the city, queer-owned businesses and queer-friendly spaces are ubiquitous. Altogether, Columbus boasts more than 15 LGBTQ+ bars and 100-plus LGBTQ-owned businesses. Dispersed throughout the city, and encompassing everything from retail shops and pet care to financial services and restaurants, these include Heimlich's Barcelona Restaurant, an upscale Spanish staple for 25 years, where it's patatas bravas with a side of Pride.
"From day one, we were very up front with the staff and the community," Heimlich says. "It became known that it was gay-owned, but our clientele is every walk of life and ethnic group, and you should feel good being here, whoever you are. It's a culture that has no tolerance for anything but full acceptance."
Other queer-owned eateries include gluten-free Bake Me Happy, where the rainbow sprinkle cakes match the flag displayed in the window; Cavan Irish Pub, the only gay Irish pub in the state; and Barroluco Argentine Comfort Food, a paella-packed restaurant that parks its food truck at Stonewall Columbus Pride.
Beyond food, other queer-owned businesses run the gamut from vintage wares at Flower Child and literary-themed candles at Paper Crown Candles to eBike shop Orbit City Bikes and furnishings and decor at Fourth Home.
In terms of aforementioned nightlife and drag, Nina West highlights the omnipresence of inclusive art throughout the city's queer-friendly landscape: "Columbus is my home. I can tell you the best place for anything, from delicious eats to gorgeous parks to local shops and booksellers. I love being on any stage in this city, from Axis to the Columbus Zoo and Aquarium, to District West."
For more detailed information on LGBTQ-friendly businesses and organizations, Stonewall Columbus runs Lavender Listings, an extensive and searchable online database for queer-owned and inclusive resources throughout central Ohio.
Pride today: Bigger, prouder, and queerer than ever
This year's festival runs June 17 from 4 pm –10 pm and June 18 from 10:30 am–8 pm in Goodale Park. The event will feature more than 200 vendors, two performance stages, a dancing area, and myriad community resources for LGBTQ+ members of all ages. The Pride march, meanwhile, kicks off at 10:30 am on June 18 at the corner of Broad Street and High Street, commencing as a giant rainbow-filled cavalcade up High Street towards Goodale Park, with hours worth of family-friendly floats from schools, churches, restaurant groups, the ACLU, and everyone in between.
Beyond the festival, though, Pride is on display year round in Columbus. "We call it Pride 365," says Porteous. "Stonewall provides an array of programs and services for the LGBTQ+ and allied communities in particular around identity enrichment, personal wellness and health, economic empowerment, and family creation."
"Pride is more than just a parade or a weekend celebration," says West, highlighting the importance of uplifting the community year round. "Members in our community work tirelessly year-round to allow our voices to be amplified and heard. The month of June allows us great visibility, but we know the work must go beyond that to ensure a healthy and sustainable future."
Ultimately, what makes Columbus such a queer oasis isn't just that its festival is larger and louder than others; it's that this thriving melting pot of a city shows its Pride 365 days of the year, from the queer-owned businesses and endless drag shows to the reassuring cop cars with "Report Hate Crimes" plastered in big bold letters and omnipresence of rainbow flags that refuse to be confined to a month.
"Pride is a great way to bring a spotlight and awareness, but as individuals we have to try and live that every day," Heimlich adds. "I've got a Pride flag that flies on the building year round. It may cause me some trouble, but I can't hide the rest of the time. We just have to be open about who we are all year round."
West echoes those sentiments, and emphasizes the possibility of a brighter future. "Columbus is filled with not just hope and promise, but the talent and ability to deliver on those dreams," she says. "And it happens with this community working together, standing together, celebrating together, and fighting together for an equitable and inclusive city at large."
Matt Kirouac is a travel writer with a passion for national parks, Disney, and food. He's the co-founder and co-host of Hello Ranger, a national parks community blog, podcast, and app. Follow him on Instagram.