Richard Branson's got a brand new toy! Also, he's just released this video showing off the eye-popping details of his Virgin Galactic space flight program.
Take a minute to watch SpaceShipTwo make its 2nd supersonic flight. At the 1:35s mark the unique wing "feathering" re-entry system that covers the outer body in tar, and... slides the wing and tail sections upwards, slowing its rate of decent as it descends back down into the atmosphere.
The whole thing starts off at Spaceport America in Roswell, New Mexico, a $200m spaceport on 27 square miles.
Carrying up to six passengers and two pilots, SpaceShipTwo is about 60ft long with a 90" diameter cabin. It's similar in size to a "Falcon 900 executive jet", which is a comparison only those of you who're actually bank-rolled to book space travel will be able to appreciate.
This "majestic showreel" came out last year, and will give you a better idea of what the space travel experience will actually encompass (if space travel is just like low-budget CGI).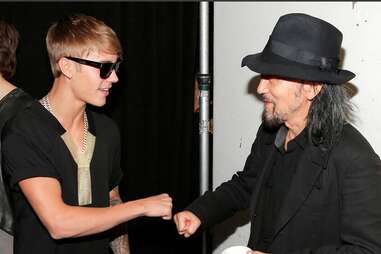 Oh, you're actually still considering this? Okay, well guess you'll just have to learn how to share space-elbow-room with a few notable celebs that have already purchased tickets like Ashton Kutcher, Leonardo DiCaprio, and everyone's favorite boy-wonder, Justin Bieber.
The voyage is just as unimaginable as you might think, considering you're GOING INTO SPACE. That being said, you'll start off with 2-3 days of training, then pop into the jet that'll hurtle you 50,000ft up at a rate of 2,500mph, through cobalt blue clouds and into darkness. It's here you'll experience weightlessness, where they say: "after a graceful mid-space summersault" you'll float over to a window to "a view that you've seen in countless images but the reality is so much more beautiful and provokes emotions that are strong but hard to define..." Yeah, like I just spent $250,000 and couldn't even get a WINDOW SEAT???
What's left to say, really? Drop Mr. Branson a line, cough up $250,000, and you too can join the exclusive group of 600 future astronauts spending time in space.... or save a quarter mill, enjoy the new vid, and move on. Regardless, in another year or two your Instagram will be flooded with pics of astronaut ice cream floating at zero G, posted by your trust fund friends.