The 99 problems with hotels
Hotel employees sure seem to think we do a lot to piss them off. And that's because we do. Then again, those poor souls have to spend their whole day/night/graveyard shift working in the same hotel you're complaining about, so they've got a right to be a little angry. Hotels have plenty of problems beside grumpy staff, though, and we've narrowed it down to the 99 worst.
1. Entire TV channels dedicated to the hotel on loop
2. Norovirus
3. 10am checkout when it's Sunday, and you're hung over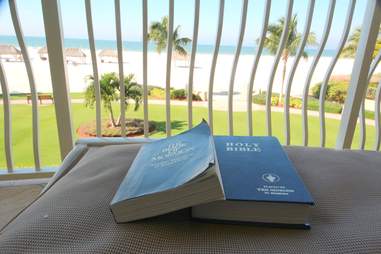 MATT MELTZER
4. The Gideons weren't into Batman comics
5. Charging for Wi-Fi. Ever.
6. Once you PAY for said Wi-Fi, they tell you there's a FASTER network for $6 more
7. Those Voss bottles weren't left on the dresser just to be nice
8. The outrageous price of in-room... ummm, adult entertainment
9. The Rubix cube that is figuring out how to get your iPod to play on the clock radio
10. Blacklight exposés
11. Paper-thin walls
12. Realizing "garden view" means you'll be looking at the parking garage for the next three days
13. An AC unit that can only be set to 35 degrees or "off"
14. Too easy for "cleaning" staff to simply flip a mattress when it's been soaked with... anything
15. Pet-friendly hotels that smell like pee
16. "Premium jacuzzi tubs" that take half an hour to fill, because nothing says romance like a 30-minute wait
17. Sharing adjoining doors with a family and their three kids under the age of 5
18. Housekeepers who pound on your door at 8am asking if you want fresh towels
19. Minibar sensors
20. Forgetting to put up your "Do Not Disturb" sign
21. Blackout dates
22. Bellmen who make you feel cheap if you don't let them help you carry your gym bag
23. Eight people on line for check-in, one high school dropout behind the desk
24. The passive-aggressive price list for commonly stolen items
25. Room key cards that get demagnetized
26. 3pm check-in when you arrive at 10am
27. Crappy toiletries that aren't worth stealing
28. Hearing people doing it next door
29. Bedbug paranoia
30. "Continental breakfast" could mean waffle bar, or it could mean shrink-wrapped mini muffins
31. Coffee creamer that's impossible to open and leaves the dresser looking like you spent the night with Andy Dick
32. 25 layers of sheets designed specifically to trap your feet
33. Thinking too hard about the carpet
34. Bathroom light switches in the living room
35. Not knowing what turndown service means
36. What's the point of a sewing kit?
37. The iron with the retractable cord that whips you like an angry stepfather
38. Rooms that require you to put the key in the light switch
39. The free hotel breakfast ends way before you'll be up
MATT MELTZER
40. Anyone who leaves garbage in the hallway
41. 30 stories of rooms. Two elevators.
42. Towels that have been bleached more times than Ric Flair's head
43. Accidentally letting the comforter touch you
44. How incredibly good they are at calling right when you asked for a wake up call, and not letting you sleep another like four minutes
45. Wake up calls that are never actually made
46. Bizarre throw pillows
47. $30 a night for valet or no car in the morning: your choice.
48. Self-parking fees
49. Realizing you just got a smoking room
50. They're not all as cool as these 50
51. Ice machines on every fifth floor
52. There's no such thing as a "boutique" Super 8
53. Having a pool apparently means you can charge "resort" fees
54. Finding out said pool is in the shade after 1pm
55. Having to tip all 15 people who touch your bag between the front door and your room
56. Poor pool maintenance: because we all love swallowing leaves.
57. Room windows that don't open
58. Towel stains. That you didn't make.
59. Remotes attached to the nightstand
60. That awkward moment when the front desk clerk says you have a $15.95 "entertainment" charge
61. Stiffing the maid because all you have are 20s
62. You WILL forget your cell phone chargers
63. Figuring out what clothes to put on those four hangers
64. Gift shops that don't sell condoms at 4am
Warner Bros.
65. Kids left to wander around by themselves while their parents are on their second honeymoon
66. $18 room-service hamburgers
67. Slow room service -- it doesn't take 90 minutes to microwave that $18 burger
68. The maids who come in while you're having sex never look like they do in the movies
69. Valets who lose your keys
70. The Japanese clearly aren't tall, based on their door frames
71. Europeans clearly don't weigh over 200 pounds (or 65 kilos, whatever), based on everything
72. It's way too easy to charge things to your room
73. The empty Domino's boxes make lame souvenirs
74. Stray hairs in the bathtub
75. Stray hairs in the bed
76. Tourist-filled areas that charge a city tax, county tax, service tax, water tax, bed tax, electricity fee, and "you're lucky to even be here now shut up and enjoy it" tax
77. In-room coffee WILL burn your tongue
78. The cavern in the middle of your mattress
79. The condo tower outside you balcony starts construction at 8am
80. Children in Jacuzzis. At night.
81. H and C don't seem to refer to Hot or Cold on the faucet or shower
82. "Fitness centers" that consist of 20-pound dumbbells and an exercise bike from 1986
83. Burned out light bulbs that can't be fixed because "maintenance doesn't come in until eight"
84. Soap that leaves you feeling like you just spent a week in the Sahara
85. Motion-sensing A/C. Nothing like getting home from a hot day on the beach to refreshing, hot, stagnant air.
86. Water glasses with lipstick stains
87. You can't catch a secondhand buzz from that smell next door
88. Headboards that break too easily
89. A TV so expensive it raised the cost of your room by $10 a night… and no HD!
90. Sand in the bathtub
91. Forgetting the safe code
92. Showers that spittle like sad old men
93. The minibar's unfortunate selection of Sutter Home wines
94. Pillows that feel like they were stuffed with packing peanuts
95. 22% delivery charge. $3 service fee. And you're STILL cheap if you don't tip. Maybe this guy was onto something.
96. No outlets near the bed
97. No outlets on the balcony
98. Rewards programs with point values so inflated they're likely tagged to the Zimbabwean dollar
99. Guests who complain about EVERYTHING, including the relatives they'd have to stay with otherwise