Designed to ensure you never get ripped off booking a hotel room again, TheSuitest is a "swanky hotel search engine" (wait, so is the engine swanky or are the hotels?) that -- by crunching a ridiculous amount of data -- tells you how rooms stack up against one another and grades the rates to ensure you get "the most bed for your buck".

Things start off simple enough, with one question: "Where do I want to go?". If you're already stumped, you probably have bigger issues that identifying cheap accommodation, but act cool and click on the "I'm feeling Suite!" button and let them choose the destination.

After TS generates a list of possible hotel rooms, pick your dates (using the handy bar graph to see availability and which days offer the cheapest average rates), adjust your price, and select desired amenities. You can also spy a map view to see where the hotels are located, as well as click to ensure hidden fees (parking, WiFi, resort) are reflected in the price.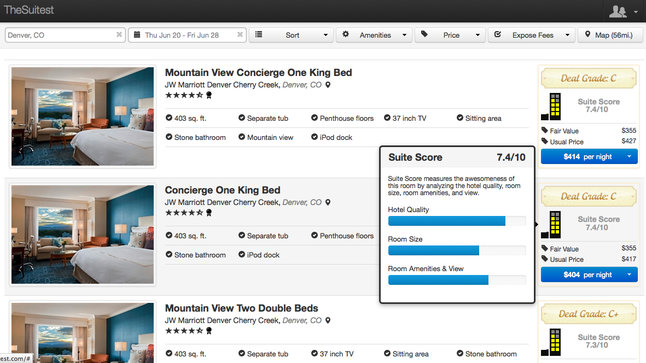 And now the fun begins. Remember the aforementioned algorithmic data crunching? Well here's where it comes into play, as you can rank the rooms based on overall price, price per square foot (this is NOT a joke), and "Suite Score", which "measures the awesomeness of this room by analyzing the hotel quality, room size & amenities, and view". But wait, that's not all! They also calculate a "Deal Grade" from A to F, so that you know beforehand if you're getting hosed on the rate.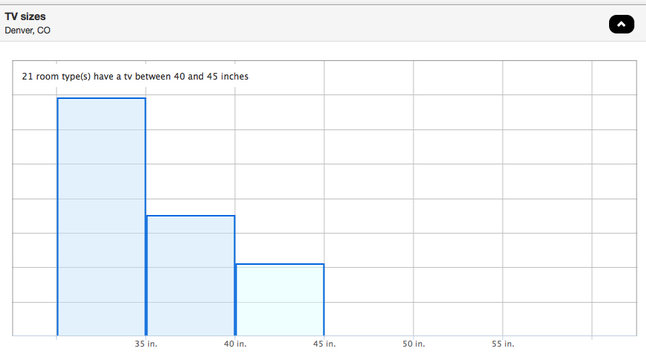 Now, about the size of that TV? If you're still flipping a coin between two rooms, TS lets you go granular and -- using histograms -- compare the most specific of amenities, like whether there are "stone floors", "oversized tubs", or "huge windows". Then, assuming you're comfortable with the size of the windows, you can either share the listing with friends via FB/Twitter/email or just click through and book it.