Explore Nepal Through Its Cuisine with These Cooking Classes
From dal bhat to momos, Nepal's food tells the story of its people.
The side-by-side staples of dal (lentil soup made from black or yellow lentils) and bhat (rice) are a way of life in Nepal. Eaten daily and prized for its fortifying, nutritious powers, dal bhat is so widespread and beloved that the tourist stores showcase T-shirts sporting the phrase "Dal bhat power 24 hour," a trekking catchphrase that speaks to the reason many choose to visit the mountainous country.
Nepal's innate appeal for tourists is the vast scale of its rugged wilderness, the jagged crown of the planet adorned with the Himalayas and its ultimate apex, Mount Everest. Whether you aim to traverse these mountains, embark on less harrowing treks across the country, or simply enjoy the astonishing views of it all, you'll need to be well fueled for your journey—and that's where the dal bhat comes in.
Nepali food is ideal for trekkers, but it's also complex and flavorful. And the best way to learn more about the local cuisine isn't just by eating it, but by getting hands-on and learning how to make it. This gives you the opportunity to not only explore traditional dishes and seasonings, but also to hear from the local cooks themselves, giving important human and cultural context to the food. From vegetable curry to momos, the experience of eating is enriched by learning from the people for whom these dishes are a part of daily life.
If you're ready to taste what Nepal has to offer, get your hands dirty with cooking classes in Kathmandu and Pokhara, then eat your way around the country with your newfound culinary knowledge. Wherever you go, it's sure to be delicious.
Cook Nepali staples in Kathmandu
The Nepali capital is home to Seven Women, a foundation dedicated to empowering marginalized women through education, job and skills training, and employment. Visitors can sign up for a cooking class led by some of the women from the foundation, an opportunity I was able to experience as part of an Intrepid Travel itinerary.
On the cooking class menu were half a dozen local specialties, including the ubiquitous aforementioned staples of Nepali cuisine: dal bhat. The two dishes are often served with a collection of accompaniments including assorted vegetables, chutneys, sometimes a meat or two, and papadum.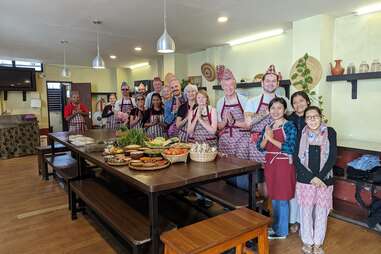 "When we eat other dishes, it doesn't satisfy our hunger as completely as dal bhat, which really does last for 24 hours," says Ram Hari Phuyal, an Intrepid Travel guide. "In our community, rice and beans are common crops, and they play an important role. Dal bhat is also served during many of our major festivals and rituals, such as the rice feeding ceremony for infants at six months old."
In addition to dal bhat, we made spiced rice pudding and other favorites such as achar (a tomato pickle condiment), vegetable curry, and fried potatoes, all graced with a combination of Nepali seasonings such as garlic, onion, cumin, coriander, chili, turmeric, and fenugreek. Those same flavor threads can be picked up from one dish to the next and ensure that regardless of how you mix and match, everything tends to go together well.
Master momos in Pokhara
Continue your culinary adventures with a trip to Pokhara, where you can enroll in a momo cooking class. I took a class at Tashiling Tibetan Refugee Camp (another inclusion via Intrepid Travel, which would need to be arranged via a tour operator with direct access and contacts if you wish to replicate my experience). Alternatively, you could sign up for a Nepalese-style momo cooking class with the popular Cook with Delight, and tack on a Tibetan cultural tour through Airbnb Experiences to learn more about Tibetan communities in Pokhara.
During my time at Tashiling, I learned the art of the traditional Tibetan dumpling that has become omnipresent in Nepal. Momos are steamed, thick-skinned dumplings, and can be stuffed with chicken, buffalo, vegetables, or pork. They can also be served in assorted ways; jhol momos, for instance, are served in a soupy, bright orange chili sauce.
Tashiling itself is a village with about 500 residents, a museum, and a handmade rug store. That's in addition to small vendors and entrepreneurial endeavors, such as Dolma's cooking class, which she runs from her home. Dolma's family fled Tibet more than 60 years ago, and she was born and raised in the camp. It's the only residence she's ever known, and without Nepali citizenship or proper papers for work and travel, there's little—if any—opportunity to create a life beyond it. Dolma is eager to discuss her life and meet with curious travelers, and I found that learning about her story, and Tashiling itself, proved to be fundamental to understanding the saga of Tibetan refugees in Nepal.
At Dolma's home, we sampled Tibetan yak butter tea and feasted on vegetable and potato momos Dolma made in advance of our arrival. We also prepared our own chicken momos, preparing the filling, rolling out and shaping the dough, and then stuffing and folding each individual dumpling into its proper shape and size. It's easier said than done, though I eventually earned favor with my dumpling pleating after watching the specific thumb and finger pinching technique Dolma applied.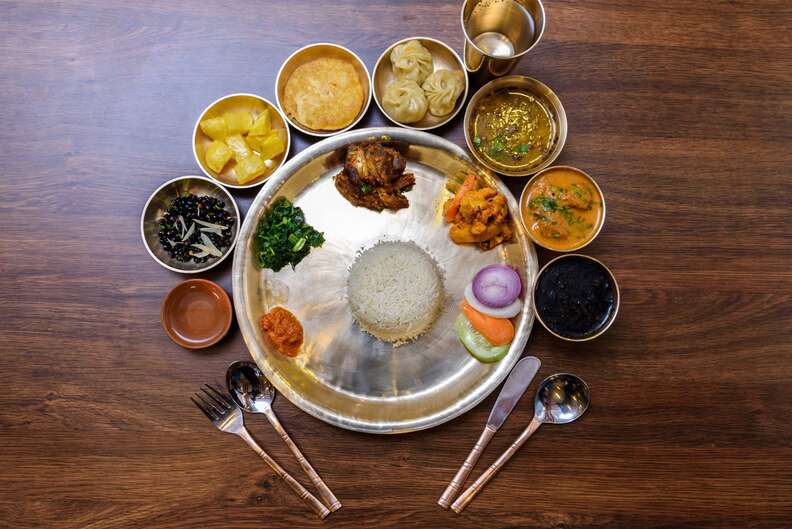 Taste Nepali foods across the country
Beyond hands-on cooking classes, there are plenty of other eating experiences worth seeking out in Nepal. While the previously mentioned staple dishes can be found across the country, expect to discover regional and cultural variation in dishes and flavors. "There are 23 major ethnic groups in Nepal, who have their own dialects, tradition and culture," Phuyal explains.
When it comes to eating, Phuyal particularly enjoys Newari staples such as buffalo with beaten rice and achar. Two areas with an abundance of restaurants serving Newari food include Patan and Bhaktapur, each within striking distance of Kathmandu.
In the capital itself, consider a visit to Bhojan Bhumi, a restaurant specializing in authentic Nepali eats in the Thamel neighborhood. Stuff yourself with—what else—dal bhat and momos, enjoy pours of raksi (a distilled rice spirit), and take in a lively dinner performance. "It's a great introduction to Nepali food and culture through traditional dances," Phuyal says. "The dresses and jewelry worn by the dancers represent their diverse ethnicity."
Much like the food, he explains, the performance is "an opportunity to learn about people and culture."