The Coolest Attractions in Europe That Not Enough People Visit
There are certain de rigueur spots you're obligated to hit on your first trip to a big European city. The Louvre in Paris, Big Ben in London, the Trevi Fountain in Rome -- essentially, whatever's gracing the cover of your Lonely Planet guidebook. You and about 300 other rubes will be there, and some of those sights are as underwhelming as they are famous (a certain portrait that rhymes with Bona Grease-uh comes to mind).
On a continent that's up to its beret in world-class museums, historical sites, and creepy-ass old stuff, you'd do well to break away from the pack. We polled our friends overseas and consulted with Leisure Pass, who curates attraction passes to sites both well-known and less-known in 30 world cities. If a room full of skulls in Milan or an underground wine tasting in Paris strikes your fancy, put these hidden gems on the itinerary.
Berlin, Germany
This 253-acre park sits on Berlin's western fringe, in the historical area of Potsdam. It was the pet project of Prince Frederick William II in 1787, modeled after English-style gardens of the 18th century. Besides its scenic spot next to lake Heiliger See, its most notable attractions are the stately marble palace, the Egyptian-inspired Orangery (a greenhouse for oranges!), and a pyramid dubbed the Ice House, once used as a refrigeration center for all the palaces. The juiciest Neuer Garten factoid: Until the 1990s, it was a forbidden enclave of the KGB.
Zurich, Switzerland
Visits to the local police station are generally something you aim to leave off your travel itinerary. Zurich's is the notable exception. The building originally served as an orphanage, and the entrance hall was then a dimly lit cellar. To brighten the place, Gustav Gull, Zurich's legendary master architect in the 19th century, transformed the vaulted ceiling into a brilliant explosion of color now referred to as "the hall of tiny flowers."
London, England
Fans of "The Knick" should check out this little medical museum near London Bridge. In the early 19th century, students and spectators would gather here to watch doctors perform gnarly surgeries and amputations, making this the oldest surviving operating theater in Europe. Visitors learn about the primitive, less-than-pleasant medical practices and can see the grisly implements the surgeons used. Much of the history of the place remains a mystery, but when dried heads of opium plants were found in the attic rafters, it was assumed apothecaries used the garret space to store medicinal herbs.
Rome, Italy
Though Vatican City and St. Peter's Basilica are obvious tourist stops in Rome, this runner-up has major historical chops: Dating to the fourth century, it's the oldest church in Europe and the official seat of the Pope. The biggest draw is the 21-step Holy Staircase, which once stood in the praetorium of Pontius Pilate. It is said these were the stairs Jesus ascended when he was sentenced to death; devout visitors come to climb the staircase on their knees. The stairs are so frequently traveled the granite is now protected by a thick layer of wood.
Paris, France
Just around the corner from the Louvre, these 18th-century underground caves were once used by Louis XV's sommelier to store the king's wine. After a two-year renovation, this is one of the most distinct spots in Paris to drink and learn about fine wine. Eight rooms are devoted to different aspects of winemaking, and once you've gotten your schooling, you can get a personalized bottle to bring home.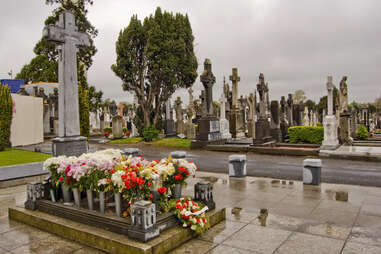 Dublin, Ireland
Glasnevin Cemetery is as much a showcase for famous gravemarkers and beautiful granite monuments as it is a fascinating look into the past few centuries of Irish history. Ireland's first Catholic cemetery of its kind afforded then-oppressed Catholics a place to openly bury their dead. Many interred there fought for Irish independence, including Michael Collins, who still gets Valentine's Day cards 95 years after he was assassinated. It's worth getting a formal tour of the grounds and chatting with locals -- most of your fellow visitors will be actual Irish residents.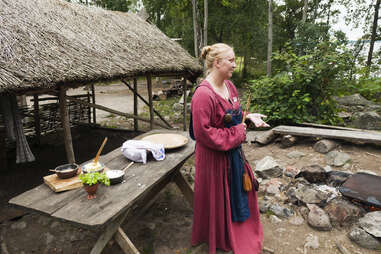 Stockholm, Sweden
The city of Birka is part archeological treasure, part Viking reenactment. A scenic boat tour from Stockholm brings you to the island of Bjorko in the middle of Lake Malaren, where you're greeted by "Vikings" in costume. The reconstructed city is believed to be the first urban settlement in Sweden, dating to the eighth century. For 200 years it was a major Viking trading hub, and the archeological remains earned its distinction as a protected UNESCO World Heritage Site. Daily Viking reenactments lend it a Renaissance Fair vibe popular with local families as much as tourists.
Vienna, Austria
Beneath the Capuchin Church on Neuer Markt, a few blocks from the imperial Hofburg Palace, lies the royal Habsburg family's crypt. You'll see the ornate coffins of 12 emperors, 19 empresses and queens, and a total of 149 members of the Habsburg dynasty. The highlights are the sarcophagi for Empress Elisabeth and Maria Theresia; alas, the most famous Austrian royal of all time -- Archduke Franz Ferdinand -- is interred elsewhere.
Madrid, Spain
Edward Scissorhands would have a field day in this serene Spanish garden where towering hedges are clipped and sheared to look like dinosaurs, dragons, horse-drawn carriages, Disney characters, a live rock band, and countless other random creatures and oddities. The fine art of the Prado it is not, but the Enchanted Forest is the largest collection of living sculptures in Europe. Combined with mazes, 500 species of plants, and a natural waterfall, it's a relaxing place to slow your roll in zippy Madrid.
Milan, Italy
Historic churches in Italy are a dime a dozen, and from the outside the San Bernardino alle Ossa looks like any other. Its origins go back to 1145, when an adjacent hospital cemetery ran out of room for the dead. The church's ossuary (a small side chapel marked "ossario") was built for the purpose of storing bones, and skeletons are now artfully displayed on the walls as crosses, moldings, pillars, and doors.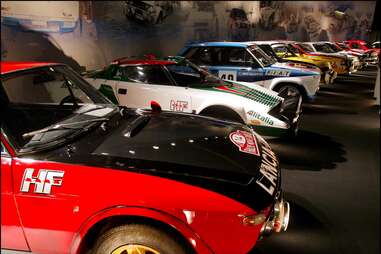 Fontvieille, Monaco
Tucked in a nondescript shopping mall in the Fontvieille section of Monaco is the world's most regal car collection. Celebrity monarch Prince Rainier III opened his impressive collection to the public in 1993, giving you some 100 different models to browse: horse-drawn carriages used by European nobility in the 19th century, open-air Renaults, Formula 1 racers, vintage Ferraris, the works. It's basically a history lesson on the evolution of the automobile via some of the rarest cars on the planet, all for a very reasonable 6.5 euros.
Sign up here for our daily Thrillist email and subscribe here for our YouTube channel to get your fix of the best in food/drink/fun.
Matt Meltzer is a contributing writer with Thrillist who's a sucker for a good wine cave. Follow him on Instagram @meltrez1.