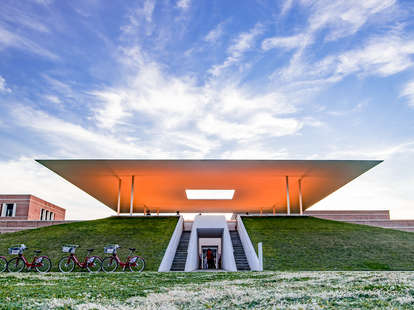 Twilight Epiphany, Houston, Texas

| Flickr/katie wheeler (edited)
Twilight Epiphany, Houston, Texas

| Flickr/katie wheeler (edited)
The Most Badass Buildings in America You've Probably Never Heard Of
Cities large and small across America have some incredibly cool architecture -- but what, exactly, makes for "good" architecture? The legendary architect Zaha Hadid put it this way: "Architecture isn't only about shelter," she said. "It should be able to excite you, to calm you, to make you think." You experience that every time you land in a new city, eager to explore every possible corner, rushing east and west, north and south until you're suddenly stunned by a remarkably cool house or skyscraper. It's a sensation every traveler knows all too well.
In that spirit, here are some of the coolest buildings in America that'll stop you dead in your tracks -- or better yet, that you should go out of your way to see. Are these the most famous structures in the country? No, and they're definitely not the weirdest, which is why we didn't include that bizarre wicker basket building in Ohio. But these underrated showstoppers are all masterpieces in their own right, so make sure you get an eyeful next time you're in the neighborhood.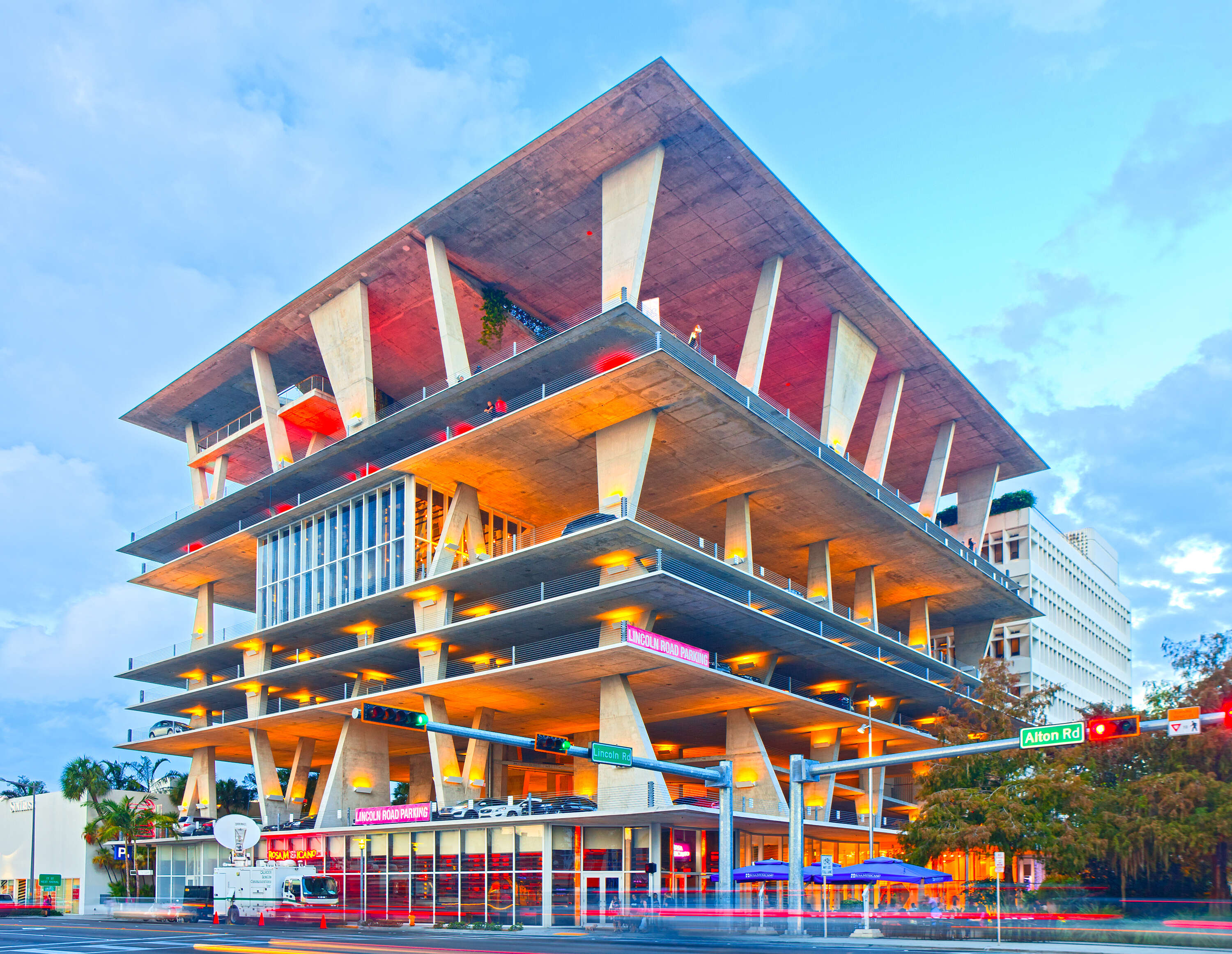 1111 Lincoln Road (The Garage)
Miami, Florida
Completed: 2010
The first building on our list is actually, well, a parking garage. But unequivocally it's one of the best-looking parking garages ever constructed, and it just happens to be in Miami Beach. It's just as badass inside as it is outside, offering up airy city views, and it doubles as a party and event space.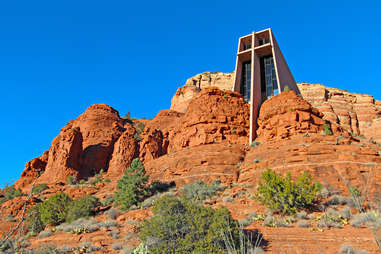 The Chapel of the Holy Cross
Sedona, Arizona
Completed: 1956
You don't have to be religious to appreciate the grandeur of this church rising out of the red rocks of Arizona like a stone periscope. The Catholic house of worship was inspired by the Empire State Building and rests on national forest land, giving it something of an ancient appearance even though it's less than a century old. Check it out next time you're kicking it in Sedona.
Seattle Public Library, Central Branch
Seattle, Washington
Completed: 2004
Smack dab in the middle of downtown Seattle, this Rem Koolhaas-designed library looks more like a modern art museum or overpriced apartment building than public space -- a misdirection the architects had in mind when they designed it. The interior is equally cool; on a sunny day the latticed exterior casts trippy shadows across the floors and workspaces, and there are bright pops of color throughout, like a neon yellow escalator or bright red staircase.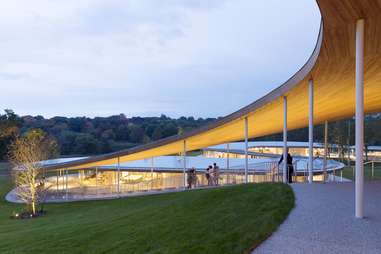 Grace Farms
New Canaan, Connecticut
Completed: 2015
This isn't your typical community center. A few well-heeled individuals in Fairfield County, Connecticut -- a region synonymous with WASPs and wealth -- decided that their town could use a place for folks to focus on nature and the spirit. They enlisted the Pritzker Prize-winning Japanese architecture firm Sanaa to build Grace Farms. (The Pritzker is architecture's equivalent of the Nobel Prize.) The resulting collection of buildings is spell-binding, and well-worth a trip to the Nutmeg State just to stroll around the center's 80 stunning acres.
Milwaukee Museum of Art
Milwaukee, Wisconsin
Completed: 2001
Architect Santiago Calatrava's buildings always end up looking like Dinobots, and the Milwaukee Museum of Art is no exception. One of the best things about the museum is the "Burke Brise Soleil," giant wings that fold open every morning and lower at night or during bad weather.
Twilight Epiphany
Houston, Texas
Completed: 2012
This isn't so much a building as it is a performance space designed by one of the world's most talented visual artists, James Turrell. The massive open structure is essentially a white ceiling supported by eight pillars with a single skylight cutout, like a giant pinhole camera. It sits at the crest of a small hill on Rice University's campus where it's used for musical performances -- the building has impeccable acoustics.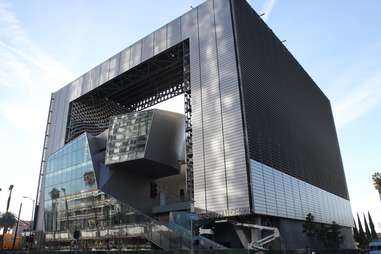 Emerson College
Los Angeles, California
Completed: 2012
In a city defined by its sprawl, Emerson College in Los Angeles strikes a pretty stunning juxtaposition. The structured outer building frames softer, more organic shapes threaded through the middle that serve as a combination of classrooms, student centers, and dorms. Nestled on Sunset Boulevard between Hollywood and the panoramic views of Griffith Observatory, it's the kind of place you can't help but marvel at while you're sitting in traffic.
VIA 57 West
New York, New York
Completed: 2016
Bjarke Ingels is one of the biggest starchitects we've had in the last few decades, and his work on Manhattan's west side exemplifies why. The polygonally shifting apartment building changes forms depending on your viewing angle: a sheer face from the north, a razor-edged shard from the east, a tumbling pyramid from the south. But perhaps its most striking angle is from above where it stands in stark contrast -- both materially and spatially -- from its architectural neighbors. It's the kind of building that's best viewed from a helicopter seat.
Lou Ruvo Center for Brain Health
Las Vegas, Nevada
Completed: 2007
This offshoot of the Cleveland Clinic is unlike any other hospital, and it almost didn't happen. Starchitect extraordinaire Frank Gehry swore he would never build in Vegas, lest his work become another kitschy casino or tourist trap. But his heart changed when beverage magnate Larry Ruvo, who had lost his father Lou to Alzheimer's Disease, asked him to design a research center focusing on neurological diseases. Gehry demurred, but when Ruvo offered to expand the center's research to Huntington's Disease, an affliction Gehry had long since advocated research on, the architect signed on. The building is a Gehry masterwork, all wending spirals of shined metal and tumbled facades with the controlled chaos of the Strip as a backdrop.
Institute of Contemporary Art
Boston, Massachusetts
Completed: 2006
ICA's waterfront amphitheater gives you panoramic views of the Boston harbor, made all the more striking by the massive glass-and-steel expanse that juts out over the seats. Designed by DS+R, this was one of the first residents of the then-resurgent Fort Point Channel area, now home to some of the best food and drink in Boston.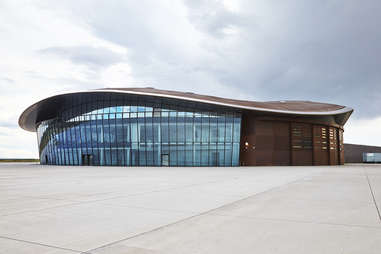 Spaceport America
New Mexico (55 miles north of Las Cruces)
Completed: 2011
This is definitely where Area 51 is. Richard Branson can talk all he wants about this Norman Foster-designed building being the first commercial spaceport, but there are definitely aliens and lasers and whatnot being kept there. This is one of those places you'll have to go out of your way to get to but it's also well-worth the detour: It rises out of the ground like some extraterrestrial burial mound.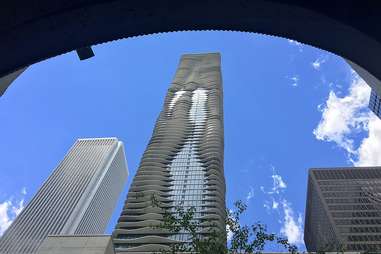 Aqua Tower
Chicago, Illinois
Completed: 2009
Consider Jeanne Gang's Aqua Tower the updated version of one of Chicago's most famous landmarks: Marina City. (They're the towers on the Wilco album.) The building is like someone set the ocean on its side, all white caps and undulating waves. Lucky for you, Aqua is a block north of Millennium Park, so you can check out the wavy apartment complex before taking the compulsory selfie in front of the Bean.
The Broad Museum
Los Angeles, California
Completed: 2015
Billionaire Eli Broad's last name is pronounced like "road" with a "b" in front of it, not like something that is very wide. Now that we've gotten that out of the way, we can talk about this slightly alien-looking museum, constructed to house the Broad family's massive -- and massively valuable -- private collection that includes works from Jasper Johns, Ed Ruscha, and Jeff Koons. The building itself, by DS+R, is what's called a "veil-and-vault" construction where the exterior facade encases an architecturally distinct second building.
The Raleigh Hotel
Miami, Florida
Completed: 1940
There's something about art deco and Miami that just feel right together. The glamor, the luxury, the feeling that you're just on the right side of tacky without getting too kitschy. That's what makes the Raleigh Hotel so quintessentially South Beach. The whitewashed stucco walls and pools stretching out like French gardens are throwbacks to the Kodachrome-era and the perfect place to grab a cabana if you're yearning for some golden-age Miami.
Fountain Place
Dallas, Texas
Completed: 1986
There's something very cool about a building that takes on the characteristics of its surroundings, which is exactly what this mirrored spike of a structure in Dallas does with the big blue skies of Texas. It's a singular presence in the impressive skyline of Downtown Dallas, where it's stood since the '80s. (A twin building was planned but never completed after the Texas oil economy went bust.)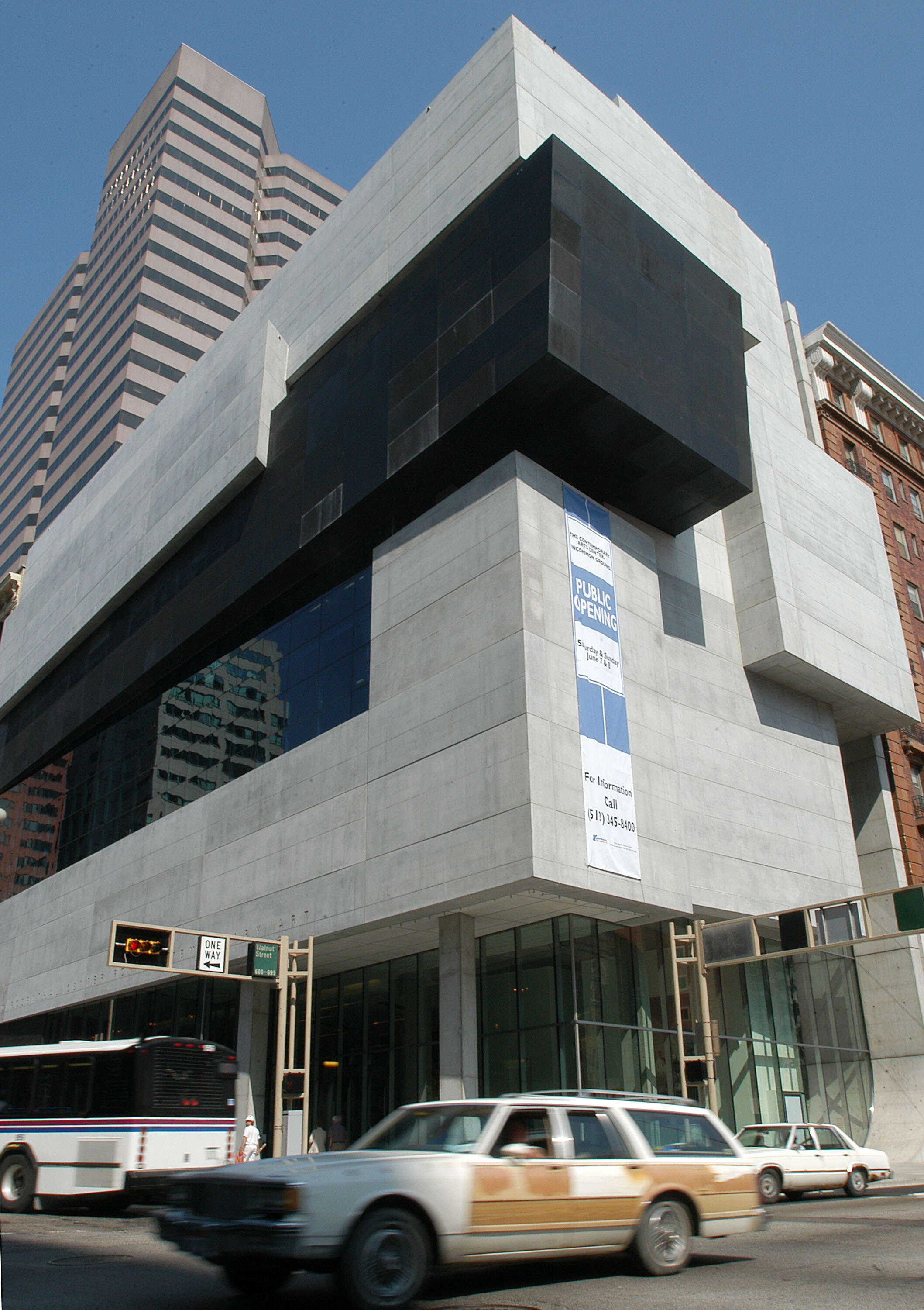 Contemporary Arts Center
Cincinnati, Ohio
Completed: 2003
The Cincinnati Center for Contemporary Art is unique in that it doesn't have a permanent collection, instead focusing on emerging styles and artists on a constant basis. (It was one of the first places to exhibit Andy Warhol.) The museum's new home -- designed by the late, great Zaha Hadid -- highlights that tradition by using massive concrete slabs that look like they're on the verge of falling, like a giant game of Tetris.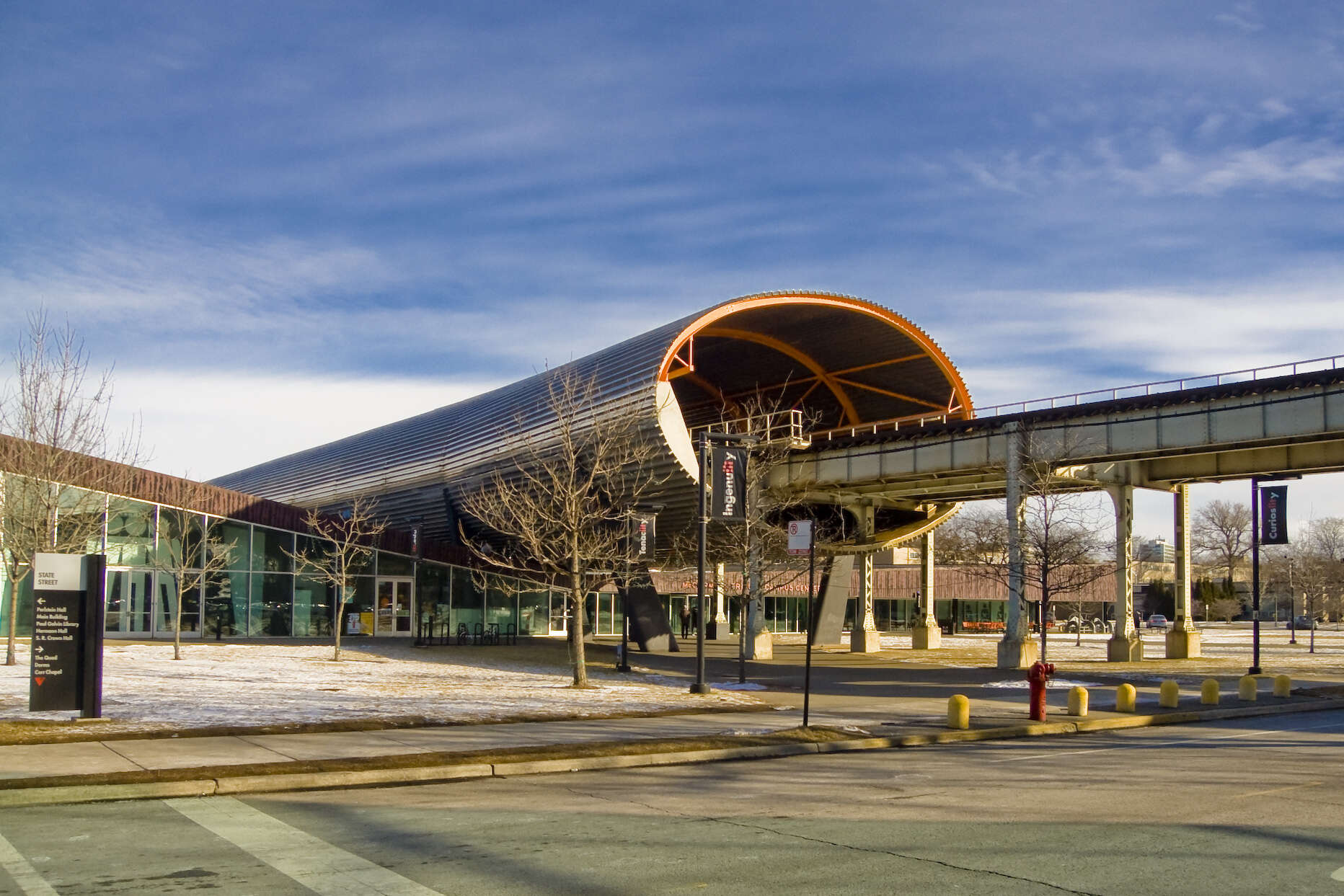 McCormick Tribune Campus Center, Illinois Institute of Technology
Chicago, Illinois
Completed: 2003
The 120-acre campus of the Illinois Institute of Technology might have the best architecture in Chicago, and is definitely worth a tour (Crown Hall is another highlight). The competition for who got to design this building reads like a who's who of major architects: Hadid, Eisenman, Sejima, Jahn. Eventually the iconoclastic Rem Koolhaas won out (the same dude behind the Seattle library up above) and, man, what a building he made. It's equal parts Space Mountain and Space Odyssey, slamming together clean exterior lines with an ingenious interior into a true Chicago landmark.
Sign up here for our daily Thrillist email and subscribe here for our YouTube channel to get your fix of the best in food/drink/fun.

T.M. Brown is a freelancer and recovering city planner based in New York City. He will talk to you about gas taxes and hip-hop with equal passion. Follow him on Twitter: @TM_Brown.