tim gartside / Alamy
tim gartside / Alamy
There's not much more relaxing than strolling down a beach in Jamaica, green hills one side, glistening blue waters on the other, as the aroma of jerk shacks wafts by. But there is more to Jamaica than just relaxation: Spring and Summer are so jam packed with festivals and events, as well as must-do perennial attractions and culture, that Jamaica Tourism has pulled them together for the 90 Days Of Summer series. We've curated the best of the best, in a rad rundown that won't waste a minute. Oh, you weren't planning on going to Jamaica? Prepare to rethink things,
1. Jamaica International Reggae Film Festival
What's on deck: It's a showcase of fifteen flicks from the island's best talent. This year's theme is "Arts in Business" so you should check it out whether you're a film buff or businessmon.
Where it's at:The Jamaica Pegasus Hotel
When it's at: July 7th - July 11th
What else you should know: The 2011 documentary Fire in Babylon was not only a big hit at the JIRFF, but also garnered The British Independent Film and UNESCO awards that year. So skip the Sundance snow and see some shows somewhere you can skip the snow.
2. Kingston Style Week
What's on deck: This gamut of glitzy events spotlights the work of Caribbean-based fashion designers. While the week includes a slew of shindigs, the most prominent is called Fashionblock, on Knutsford Boulevard -- they close down the entire road in New Kingston for the red carpet, where you can presumably drink red, red wine.
Where it's at:Various locations
When it's at: May 19th - May 24th
What else you should know: Don't forget to pack a mock mug for the masquerade ball at the Mercedes Benz Style Week Showcase.
3. Tour of the Appleton Estate
What's on deck: Head to Jamaica's Nassau Valley on the south coast and get schooled on how rum was made in the 18th century; HINT: You needed a donkey. So Appleton's got an ass, his name is Pax, and you get to meet him, plus learn all the different methods for making distinct rum.
Where it's at:Santa Cruz, Jamaica
When it's at: Monday - Friday, 9am - 3:30pm
What else you should know: If the worst should happen, and you find yourself stranded on a desert island, knowing how to make rum might improve your situation, and it almost certainly would have made Castaway more interesting, the charisma of volleyballs notwithstanding. $25 for adults.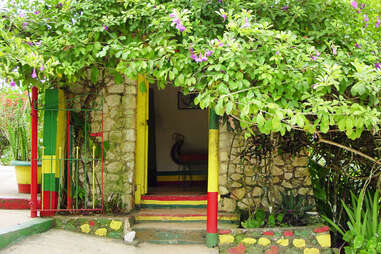 4. Bob Marley Museum
What's on deck: Want to meet a hologram of Bob Marley? Of course you do. And no, we're not scamming, you can be jammin' with hologram-Marley at the museum of his namesake. See where he lived and made music, and find out the rest of the lowdown on this high guy.
Where it's at: Kingston, Jamaica
When it's at: Monday - Saturday, 9:30am - 4pm
What else you should know: The tour is 75 minutes and you're up and walking for most of it, so dress feet sweetly (like you care about 'em) and bring water. $20 for adults.
5. Dub Clubhouse
What's on deck: All right, so this spot is only open on Sundays, but each week, the best local reggae and dub acts gather to perform here. So start your week with real island music, and listen to local talent somewhere as friendly and cozy as a clubhouse.
Where it's at:Kingston, Jamaica
When it's at: Monday - Saturday, 9:30am - 4pm
What else you should know: Located in the Hills of St. Andrew, the Dub Clubhouse overlooks the city of Kingston. In other words, it's a room with a view.
6. Holywell National Park
What's on deck: Take a walk through a rugged tropical jungle where the Blue and John Crow mountains meet, and enjoy the rich flora, where misty emerald-green thickets are punctuated with red, orange, and purple bloom bursts.
Where it's at:St. Andrews
When it's at: Monday - Saturday, 9:30am - 4pm
What else you should know: While this national park is 48,00 hectares, measured as the crow flies, when you account for topography the park is nearly double that, at 78,212 hectares. What's a hectare? 10,000 square meters.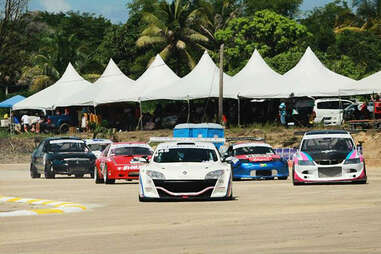 7. "4 Days of Speed" at the Jamaica Race Driver's Club
What's on deck: What sounds like a Hunter S. Thompson novella is actually a rough-and-tumble racecar competition, hosted since 2003 by the Dover Raceway. Like NASCAR? Imagine a grittier island version. Jamaica may have had a bobsled team, once upon a time, but now they have an awesome auto-arsenal, ready to race.
Where it's at:Brown's Town, St. Ann
When it's at: May 21st - May 24th
What else you should know: There are around 80 drivers registered in the club, and all of them are probably parallel parkers.
8. Caribbean Shrimp Festival
What's on deck: There's only one food at this festival: shrimp. But don't assume this shrimpy shindig is small in scale. There are at least as many ways to cook shrimp as there are to skin a cat, which is to say, a lot, from old favorites like shrimp fried rice, and peppered or curried shrimp, to whatever mad dish you can imagine, so long as it involves shrimp.
Where it's at:Montego Bay
When it's at: July 24th, 12pm - Midnight.
What else you should know: The event includes a fashion show, a circus, and something called a "mobile night club," which we choose to assume means a "portable party place," as a "night club for your mobile devices" seems too niche even for a single-food festival. General admittance is $700.
9. Luminous Lagoon
What's on deck: There are only three places in the world with water like this, which glows bright and shimmers to the touch. The dazzling radiance of the water is the result of its residents: a dense batch of microorganisms with bioluminescent bodies, like tiny aquatic lightning bugs. While the phenomenon exists elsewhere, nowhere compares with Jamaica's Luminous Lagoon -- it shines brightest (literally).
Where it's at:Falmouth
When it's at: Monday - Saturday, 10am - 9pm. Sunday, 12 - 9pm.
What else you should know: Make sure you bring a swimsuit and don't forget that lights are prettier at night, so go for a supervised swim then.
10. Jamaica Independence Festival
What's on deck: This assortment of culturally-minded performances, from dancing to drama to spoken word, commemorates Jamaica's journey towards its identity and independence.
Where it's at:Kingston
When it's at: Check here for full listings.
What else you should know: Whether your cultural tastes lean literary, or if you just crave culinary, this festival is a nourishing way to celebrate Jamaica's heritage and national character.
11. Bamboo Rafting on the Martha Brae
What's on deck: The legend of Martha Brae is pretty grim: Martha was a witch who thwarted gold-thirsty Spaniards by leading them into a cave and then changing the course of a river to drown them. Today, the three-mile raft ride is a voyage along an azure waterway, which winds lazily through a sultry (and some say spooky) forest.
Where it's at:Montego Bay
When it's at: Open daily, but reservations required.
What else you should know: You get a complimentary fruit drink so, you know, make sure to pack a flask.