The 12 Coolest Hotels in the West
Courtesy of Post Ranch Inn
Courtesy of Post Ranch Inn
Back in the day, traveling out West took serious gumption -- you had to not die from dysentery, not die from bear attack, and not die of sentimentality because you foolishly packed so many family heirlooms your wagon couldn't outrun the bear. You can still be a pioneer though, by blowing off traditional vacations and heading to these bad ass western hotels that are anything but old-timey.
1. Post Ranch Inn
Big Sur, California

Why it's cool: All the wood-and-glass rooms at this cliff-side coastal retreat are architecturally ridiculous, and offer up either ocean or mountain views. So you can't go wrong, but you can go more right: opt for the Cliff Houses with outdoor, stainless-steel hot tubs and glass-walled bedrooms perched above a steep incline so the coyotes can't see you doing private things. Even if you don't have a private place to soak, the Meditation and Jade infinity spas sitting 1,200 feet above the Pacific are pretty rad.
Perks! There's really no reason to leave, but in case you do want to zip around Big Sur, several Lexus vehicles are at your disposal. The best part: guests have to be 18+ so you won't have to win at thumb wrestling to glimpse nebulas through the resort's celestial telescope.
2. Enchantment Resort
Sedona, Arizona

Why it's cool: Four of the suites at this Boynton Canyon red-rock oasis have private pools (or spa pools) with stunning views of sandstone formations. Or, Mii Amo spa pools are open to all guests -- as long as they're over 16 (so you won't have any kids splashing your Zen). There's also a Tom Weiskopf-designed golf course, tennis, and two Grand Canyon options, one by air, and one by crazy specially built touring vehicle.
Perks! The resort also boasts more than 100 activities a week, all free, from all kinds of yoga, to the most idyllic croquet you've ever played.
3. Ultima Thule Lodge
Why it's cool: You can't get any more West, and the only way out there is via one of the lodge's 5 bush planes, which also transported the wrought-iron stove and sheepskin rug in your cabin, and will take you plane-assisted skiing on virgin back-country slopes. Legendary pilot and hiking guide Paul Claus -- who's compared to Paul Bunyan locally -- will lead you up mountains that don't have a name, on paths no one's ever walked.
Perks! Everything from flight time to the fresh caught salmon is included. Claus is one of the top salmon fishermen in the universe, and once got pulled under -- "chair and all" according to the story above -- by a 1000lb marlin, so you'll probably catch some fish.
4. Coeur d'Alene Resort
Coeur d'Alene, Idaho

Why it's cool: Lake Coeur d'Alene is so beautiful, it makes you question why Idaho is only known for its potatoes. Take a private booze cruise on a handcrafted mahogany boat, or have that boat drop you off at Golf Digest's "Most Beautiful Resort Course" to conquer the legendary 14th's "floating green" (you'll also get the services of someone called a "forecaddie"?). For rooms, the Hagadone Suite is really the only way to go, with soaking trifecta starting with the in-room waterfall bathtub. Outside you've got a Jacuzzi on the balcony and a separate glass-bottomed swimming pool.
Perks! Each room features "superior soundproofing," so no one can here you scream... "OMG look at this waterfall bathtub!"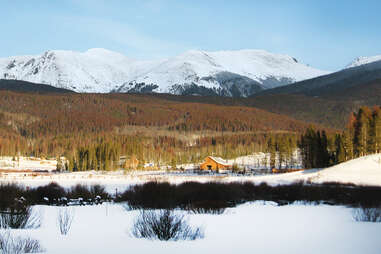 5. Devil's Thumb Ranch
Tabernash, Colorado

Why it's cool: Sleep in a cabin in the woods without leaving behind heated floors and leather couches and maybe a full kitchen. Strewn with artifacts and blankets in the tradition of the indigenous Ute people, the 15 cabins sit in the pines on a ridge above Ranch Creek, about a half-mile from the main lodge and its six-story, three-sided fireplace, plus a pool and hot tub with pretty stellar views of the Continental Divide -- and all this 20 minutes from Winter Park downhill.
Perks! Knowing you might be cursing at your fly rod in the very waters Eisenhower fished back in the '50s.
6. Timberline Lodge
Mt. Hood, Oregon

Why it's cool: Located 6,000 feet up Mt. Hood, this historic hotel sits on a damn stratovolcano (dormant, but still). Timberline hosts one of six ski areas on the mountain and offers the only year-round, lift-service skiing on the continent -- though during summer you can hike to waterfalls dumping fresh glacial melt. The main lodge has three fireplaces at the base of a 90-foot chimney, but the real deal here is the Silcox Hut. Just gather up a group of 12-18 friends eager to be hauled up to 7,000 feet on a snowcat to a cabin where a personal host will prepare breakfast and dinner for all of you.
Perks! The year-round outdoor heated pool is just... well, it's a heated pool with snow all around it. It's cool.
7. Rolling Huts
Winthrop, Washington

Why it's cool: These wood and glass huts come with a fireplace and mountain views and basically everything you need to pretend you're kind-of-sort-of camping, but also kind of sort of in a special issue of Architectural Digest. Modular furniture lets you customize the layout of the space, so if you want to break out the Twister, you can probably make room for that. Parking is right near the huts, but the thoughtful layout ensures that you can't see any of that out the giant floor-to-ceiling windows.
Perks! This is probably the only place in the world that offers free wi-fi and "an adjacent portable toilet."
8. The Ranch at Rock Creek
Why it's cool: This all-inclusive (including all adult beverages) outfits every guest with a personal cruiser or mountain bike so you can get yourself from rifle range to glamping cabin. Said glamping includes claw-foot or outdoor soaking tubs, wood-burning stoves, and other details like leather armchairs -- and, oh yeah, real beds. It's the ideal place to rest your weary head after exploring the 6,600 acres of ranch land with more than 20 miles of hiking trails. Or hanging out at the Silver Dollar Saloon ("equal parts cowboy saloon and luxe club"), which offers a four-lane bowling alley, billiards, and basically any other activity you'd want in a bar.

Perks! A 25,000 gallon outdoor heated pool, and, naturally, a weekly rodeo during the summer.
9. The Lodge and Spa at Brush Creek
Saratoga, Wyoming

Why it's cool: Why stay in a hotel when you can have the run of your own mini-ranch? Besides a lodge, cabins, and one-night stays in its token yurt, this all-inclusive (including dranks) offers up its Magee Homestead -- with private lodge, seven creek-side cabins, and dedicated staff -- to groups of 10 to 24. The individual cabins were once used as housing for cowpokes, but the 15,000-acre property has come a long way in terms of décor, managing to make steer skulls look classy and flannel fancy.
Perks! Stay in the Magee, and you get a private bar, game room, bocce court, and even a freaking stable of horses to call your own. While you stay there. Other guests can't use them, but you can't, like, ride yours back to Houston.
10. Ojo Caliente Mineral Springs Resort & Spa
Ojo Caliente, New Mexico

Why it's cool: For nearly 3,000 years, the eight Northern Pueblo tribal communities have considered these geothermal mineral waters flowing from a subterranean volcanic aquifer sacred. These are the only hot springs in the world with four different types of mineral water -- including lithia, iron, soda, and arsenic -- each with its own reputed properties (arsenic supposedly relieves digestive problems and symptoms of arthritis). The mud pool where you slather yourself in clay, however, is just a straight up good time. For those who want to bathe without any skivvies, private pools let you do what you will, complete with fireplace.
Perks! The pools are all sulfur-free, so you won't be super-relaxed but stinking of rotten egg. Also, maybe this girl will be there?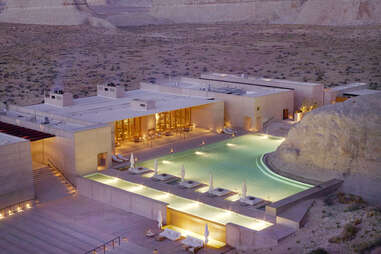 11. Amangiri
Canyon Point, Utah

Why it's cool: On the border with Arizona and looking out toward Grand Staircase-Escalante National Monument, resort sits in a secluded valley and uses the surrounding rocks in its camouflage-leaning architecture. Rooms are designed to avoid any interruption of views (even from your soaking tub), while still maintaining privacy. Entry to each suite is via its own private courtyard, while glass doors open to your own desert lounge, with mini mattresses, a fireplace, and views of the surrounding plateaus and towering bluffs. Since you're nearly a 30-minute drive from the nearest town, you may as well stay put and hit the spa's floatation therapy pavilion, where you can reach a depth of relaxation that takes years to achieve via classical meditation.
Perks! The swimming pool wraps around a rock escarpment. It's pretty damn bad ass.
12. Zephyr Cove Lodge
Lake Tahoe, Nevada

Why it's cool: Forget the cabins and lodge that line the south shore of Tahoe. What you want is one of two Scandinavian-style log cabins off the main trails at Spooner Lake State Park, accessible only by hiking or mountain biking. Opt for the Wildcat Cabin for the sweet lake views above. When you do decide to mingle with the commoners, you'll find a mile-long beach with cocktail service, plus rentable pontoons equipped with a BBQ and waterslide.
Perks! A hefty supply of firewood and hot chocolate. Plus 2 gallons of drinking water per day, which sounds like whatever, but this is Nevada -- it's gonna come in handy.