If you take one lesson away from high school, it's that not everyone is cool -- playing the oboe or starring in Peter Pan usually doesn't translate into being popular. But then you get outside the cafeteria and realize real-world cool has little to do with where you sit at lunch. And that now, artists, musicians, and restaurateurs have a way of finding one another in the hippest parts of town.
With that in mind, we leaned on our knowledge of the best America has to offer -- in food, drink, and travel -- and came up with the coolest neighborhoods in the country.
The Mission
San Francisco, CA
Two main traits make The Mission kickass: diversity and excellent food. Trendy eateries like Lazy Bear and Flour + Water bring good eats to the party, but pockets filled by Hispanic mechanics (if that's not a cartoon, it should be), beauty salons, and street art, like on Clarion Alley, give the Mission its signature feel.

Staying true to its history -- the name comes from Spanish missionaries, after all -- The Mission claims "the best burritos in all of the world," in the words of our SF editor. For a real sense of the neighborhood's soul, check out Dolores Park, populated by hipsters on slack lines, new-money techies, and the area's original Latinos, or Valencia Street, lined with boutique shops, taquerias, and trendy thrift stores.
South of Fifth
Miami, FL
Everyone's heard of South Beach, which is precisely what makes South of Fifth cooler. Formerly a gritty area that no Louboutin would ever grace, the enclave within America's sexiest neighborhood is where cool people who actually live in Miami hang. If you don't get what that means, familiarize yourself with the notion that there's Miami, and there's South Beach, and those worlds are NOT one and the same.
SoFi has quickly become one of the most expensive areas in the city, attracting rich men and the models who wear them as accessories. Boasting bar and restaurant openings seemingly every day, the area draws a beautiful crowd of party animals who frequent locales such as Story, one of the city's hottest nightclubs. When you're looking to eat -- unless you're a model, then you're probably not -- check out Cafe Mistral, which looks like a Parisian hole-in-the-wall but serves good grub without waiters who ignore you. OK, maybe they'll still ignore you. But the food's good.
East Austin
Austin, TX
​East Austin does as much as any neighborhood to keep Austin weird, where struggling artists rub shoulders with moneyed professionals, and weathered shacks juxtapose with lofty new condos.

In a sense, East Austin revolves around drinking of all kinds -- whether you're talking about third-wave coffee shops like Cuvée, combination bar-coffee shops like Brew & Brew, or even a convenience store with 27 beers on tap, Quickie Pickie. And music doesn't just come around just for SxSW. Between Scoot Inn, Volstead Lounge, and Sahara Lounge, you're sure to find a sound you'll enjoy.
And when you're done drinking, dancing, or both, you can go either high or low for your food picks with a food truck like East Side King or a fancy tasting menu from the same chef at qui. Oh, and did we mention some of the country's best Mexican joints?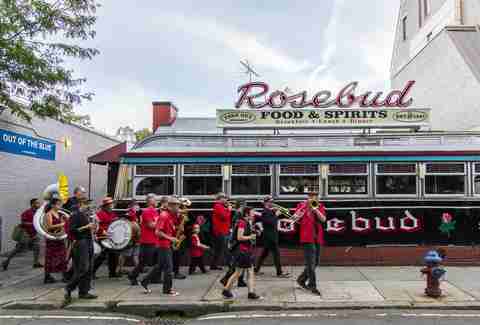 Somerville
Somerville, MA
Townies from Stoneham might tell you Allston/Brighton and Cambridge are the coolest spots around Boston, but the former's too fratty, and the latter too pretentious. Somerville is the "just right" porridge, even though it's not Boston proper. While the area's blowing up, thanks to a HUGE infusion of cool bars/restaurants and the impending Green Line T expansion, the once-dubbed "Slummerville" still maintains its artsy, small-town feel.

And much like Huey Lewis suggests, it's hip to be square in Somerville. Or, at least in one, anyway. Newer spots like Bronwyn, Somerville Grooves, and Union Square Donuts have brought plenty to Union Square; at least eight new restaurant openings in the last year have made a scene in Assembly Square; and new venues, like the retooled Rosebud, or Saloon, a pre-prohibition era whiskey bar, have sprouted up in Davis.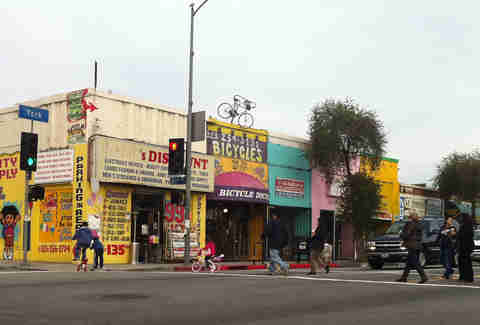 Highland Park
Los Angeles, CA
One of LA's oldest hoods, Highland Park defies LA's general ageism by walking the line between grungy and cool. It helps to have the city's largest historic district, but a backdrop of colorful murals and graffiti mixed with historic Victorian homes and family-run businesses gives this place a feel of its own. And with an unofficial ambassador like Marc Maron -- he should be the official ambassador by now -- Highland Park's already publicly vouched for by someone cool.
As crime goes down, rent goes up -- though it's still cheaper here than in comparable LA 'hoods -- and you can see the change in the influx of cool bars, record stores, and gastropubs. Check out Donut Friend, an artisan donut house owned by the dude who produced Blink 182 before Tom Delonge went nuts and got abducted by aliens, or whatever nonsense he's spouting these days. For drinks, head to The Hermosillo, the best bar in the neighborhood that stepped its game up by brewing beer, or for great Mexican food, dive into the chile verde while being surrounded by local art at El Arco Iris.
Wicker Park
Chicago, IL
Wicker Park has been on the rise since the '80s and has cemented itself as one of Chicago's most sought-after 'hoods. Its walkable galleries, bars, and music venues sit in a pocket that's far enough outside The Loop to weed out tourists, but still comfortably close to civilization. To give you an idea of what you're dealing with: the record shop in High Fidelity, the most Cusack of John Cusack movies, was set here.
Formerly inhabited by rich brewers and merchants, Wicker Park still shows vestiges of its past with opulent mansions dotting the area. The radius around the intersection of Milwaukee, Damen and North Avenue offers up plenty of top tier eating and drinking. Big Star serves killer tacos on its patio, Handlebar make one of the city's best Bloody Marys, and Bangers & Lace combines the love of sausages and beer (in Chicago, downing sausages and beer will never fall out of style).

Alberta Arts District
Portland, OR
North Portland's Mississippi/Williams neighborhood will be jockeying for the position of Portland's coolest once the dust from the endless construction settles, but the Alberta Arts District is the OG of Portland's transitional hipness. The main drag is a 20+ block stretch that, sure, includes galleries, but also includes more than 30 bars and restaurants that reads like a greatest-hits collection of Portland food and drink culture. Bunk Bar, Aviary, Salt & Straw, Bollywood Theatre, and Bamboo Izakaya, and enough food carts to feed most cities for years are all new additions to the ever-evolving hood, which also features favorites like Binks, The Know, Radio Room, Halibut's, Pine State Biscuits, and Tin Shed. All hell breaks out on Last Thursday, too, where an orgy of revelers, performance artists, and tourists throng the streets for Portland's monthly equivalent of Mardi Gras.

Further north, a few blocks away on Killingsworth, things are also heating up, with a small stretch of businesses anchored by celebrity chef Naomi Pomeroy's Beast and Expatriate, hosting everything from resale shops to artisan eateries, cocktail boutiques, BBQ joints, expansive parks, and coffee shops. When you're in a neighborhood where something as cool as the Kennedy School – an elementary school converted into a hotel with multiple restaurants, a movie theater, and a brewery inside – is considered too touristy, you know you're at the epicenter of something truly cool. Even better, you can walk the entire 'hood in about 30 minutes. Or rent a bike. A Fixie. Because you're in Portland.
North Loop
Minneapolis, MN
If there's one thing Minneapolis has, it's snow. If there's a second thing Minneapolis has, it's people with Nordic roots. And if Nordic people know one thing, it's being cool. Unclear if they know a second thing.
But North Loop, aka the Warehouse District, has no shortage of bars, lofts and independent businesses housed in -- you guessed it -- former warehouses. They're still full of that Nordic style, seen especially in local faves like the The Bachelor Farmer, Haute Dish, and Bar La Grassa. But the style's in more than just food. You practically can't escape the artsy vibe emanating from the Traffic Zone Center for Visual Art, and fancy clothiers like Askov Finlayson offer plenty of stylish duds for dudes -- you know, when everyone's not just wearing parkas and galoshes.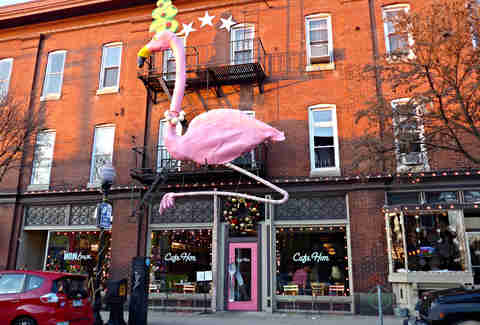 Hampden
Baltimore, MD
Although made famous by John Waters' movies like Hairspray, Hampden still defines itself by blue-collar roots. The once working-class mill town today can only be described as an eccentric neighborhood thick with Bawlmer pride, most obvious on 36th Street, aka "The Avenue." This area comes alive during HonFest, a festival where local ladies tease their hair into beehives, don cat-eye glasses, and rock leopard-heavy outfits to vie for the title of Miss Hon. Hampdenfest is just as oddball, featuring local food, drink, music and art, as well as the infamous Charm City Beard & Moustache Championships.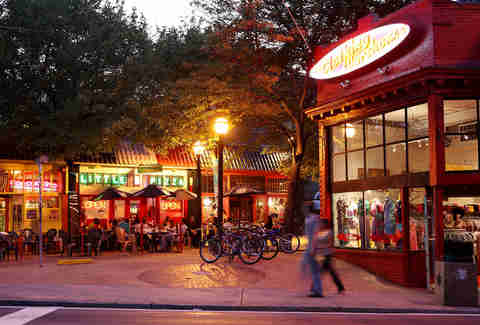 Little Five Points
Atlanta, GA
Welcome to the center of the Southern hipster universe. While Little Five Points might seem stuck in the '90s (grunge, punks, and all), the alternative neighborhood is reliably awesome. In a city hell-bent on horrible traffic -- have you driven through Atlanta? -- this respite offers actually walkable destinations. A leisurely stroll will take you past entire warehouses filled with vintage clothes and costumes, and a plethora of peculiar characters, independent businesses, dive bars, and famous cafés like Aurora Coffee. Oh, and don't forget the area's famous centerpiece, a giant skull-shaped entrance of the 20yr-old Vortex Bar & Grill. And the fact the neighborhood has its own indie radio station and throws a famously raucous Halloween festival are simply gravy.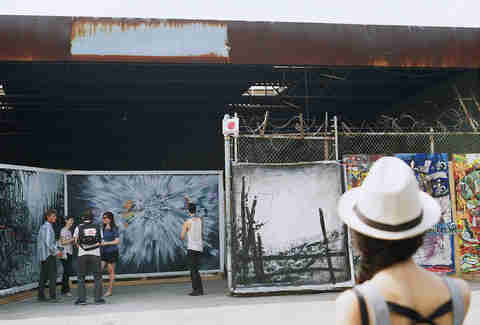 Bushwick
New York, NY
​Williamsburg is soooo 2010. Actually, it's probably soooo 2000. But this still-gritty neighborhood full of priced-out creatives warrants a spot on our list thanks to progressive art galleries, cool bars like The Narrows and Pearl's Social and Billy Club, and world-famous restos like Robertas. There's even a restaurant slinging Dorito Kimchee Carbonara. Read those three words again, just to let them sink in -- and realize it's gourmet, and not just the lunch you came up with from the contents of your cupboard.
Hell, even Vogue calls a Bushwick one of the world's coolest neighborhoods. Who's gonna argue with that? No, but seriously. Anna Wintour is frightening.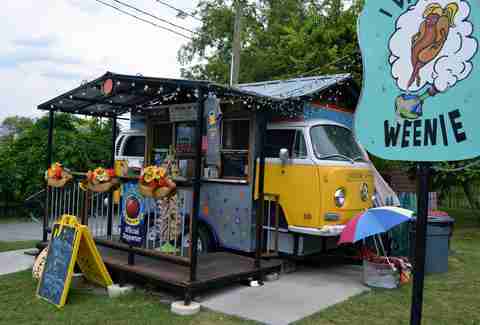 East Nashville
Nashville, TN
Locals describe East Nashville as "over the river and through the 'hood," while Budget Travel describes it as "Nashville's version of New York's East Village." Whatever you call it, this vibrant area across the Cumberland River – which contains sub-hoods like Five Points, Lockland Springs, Greenwood and Inglewood – oozes cool through its bars, restaurants, and music venues. And cool ooze isn't even a health code violation.

Let's start with a few festivals, like the Hot Chicken Festival. You may know this food as "Buffalo chicken." Don't go saying that around Nashville; it's enough a source of pride to throw an entire festival to the foodstuff. And playing with your food becomes a literal art form at the Tomato Art Festival -- take that, mom and dad.
Otherwise, if you ever wanted to eat inside a 1930s gas station, Margot Café and Bar is your spot. Or if restaurants named after '60s sitcoms are more your cup of tea, then head to I Dream of Weenie. Of course, you can just drink at spots like The 5 Spot Live and 3 Crow Bar -- drinking is essential to survival, after all.