Presented By

The Coolest Stargazing Experiences You Can Have Across the US
Trains, hikes, hotels, and even martinis—with a side of stargazing.
Presented By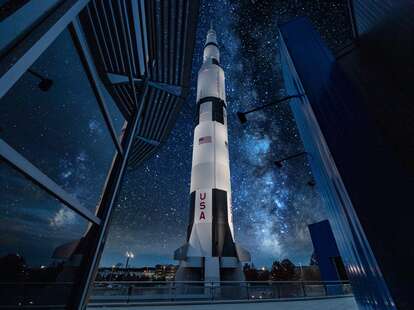 The U.S. Space & Rocket Center

| U.S. Space & Rocket Center
The U.S. Space & Rocket Center

| U.S. Space & Rocket Center
Hear ye, hear ye, city dwellers: It's summer, which means the time has come to get the heck out of town and into the wild. Tramping through national parks, hitting the beach (or lake, or river, we don't discriminate), or taking a crack at heartier adventures like road tripping and car camping all do some good for the soul. There's nothing quite like ending a long day beneath an expanse of stars—an opportunity that urbanites don't often get.
Along with things like star walks and hitting our country's great Dark Sky Parks, there are plenty of ways to enjoy the little holes Mother Nature's poked in the night sky. Below, you'll find a few of the best stargazing experiences across the States, from astronomical hotels and bars to late-night star parties, that will add extra sparkle to any outdoor adventure.
Take a ride on the Star Train
Ely, Nevada
Typically, the sights that make a train trip memorable are best seen in daylight. But not this time! Just 244 miles from Las Vegas, hop aboard the Nevada Northern Railway's Star Train, a summertime locomotive that'll take you far from the city lights to the best stargazing spots in Nevada. Starting and ending in Ely, you'll take the train out into the desert at dusk to watch the sun set over the Steptoe Valley. Once it gets dark, you'll disembark to spot the stars, planets, and constellations overhead, guided by Dark Sky Rangers from Great Basin National Park—one of the most beautiful places to visit in the state. A 90-minute ride costs $56 roundtrip and departs at 7:30 on most summer Fridays. The Star Trains tend to sell out pretty far in advance, so if you can't catch a ride, check out the Sunset, Stars, and Champagne Train, a similar program run by local astronomers.
When you want the best views of a starry night, there's only one thing to do: hop in your car and take a drive to Nevada. A trip with friends on the open road will be the stargazing adventure you don't want to miss out on. For the best spots to see your favorite constellations alongside your favorite people, visit Travel Nevada
Drink and stargaze at an astronomy bar
Tucson, Arizona
From Nevada, journey south through the desert to Arizona—a strong contender in the competition for the state with the most space-related activities. In Tucson, aside from hectic gem shows and big-ass cacti, you'll also find the Sky Bar. Along with pizza and martinis, this "solar-powered cafe by day, astronomy bar by night" has telescopes lined up on their patio, as well as on-site astronomers to dole out tips on stargazing and astrophotography. Before you pop in, check out their running calendar of upcoming celestial events like meteor showers and interesting planetary movements.
Try your hand at astrophotography
Colorado
A wise man once said, "pics or it didn't happen." That goes for spotting the Milky Way, too. Luckily, if you head to Colorado, you can book a night photography tour and learn how to capture the stars in all their glory. Pro photographer Maggie Martin leads nighttime star hikes around Colorado's best parks, campgrounds, and Rocky Mountain lakes—with transportation, equipment rentals, and even memory cards all included for under $200. Martin also offers a few add-ons for our woo-woo types out there: ask in advance, and she's also happy to arrange star namings, intention setting ceremonies, and astrological birth chart readings for you.
Spot potential UFOs in West Texas
Marfa, Texas
Now, listen. We know that since they were first recorded in 1883, plenty of theories have emerged as to what exactly causes the mysterious lights to dance over the Chinati Mountains in West Texas. Among the most common are "reflections from cars" and "small fires," both of which are far less exciting than "literal extraterrestrials." Regardless, these orbs of white, yellow, pink, blue, and red that dart and whirl above the Chihuahuan Desert are a little too strange to be of this earth. To get the best view, head to the viewing platform about nine miles east of Marfa on US–90. And if theorizing alongside some fellow alien enthusiasts sounds like your idea of a good time, plan your trip around the Marfa Lights Festival in September.
Go to adult space camp and live your childhood dreams
Huntsville, Alabama
If you, like yours truly, are way too bad at math to actually work for NASA, you can still become the astronaut your childhood self imagined at adult space camp. Hosted by the US Space & Rocket Center in Huntsville, Alabama, the camp is for burgeoning spacefarers 18+ and comes with training exercises and challenges, an aircraft tour, museum admission, and more. Best of all, the weekend-long program is actually relatively inexpensive at just $200-300 per person, far less than the $28 million Jeff Bezos is paying to go to space for 11 minutes.
Ride Oregon Trail-style to the cosmos
Wet Mountain Valley, Colorado
Out in Colorado's Wet Mountain Valley—part of the state's first International Dark Sky Community and, at an elevation of 7,900 feet, the highest in the world—you can see the stars the way that the pioneers once did with an Amish wagon ride at the foot of the Sangre de Cristo Mountains. Jump in the back of a wooden wagon and let Sunset Ranch's two noble steeds, Diesel and Duramax, carry you on a quick half-hour jaunt along a wide-open country road to Grape Creek from the Bluff Park (which is also home to the rustic Smokey Jack Observatory). After your ride, you can even continue the adventure with a private star party. You will see the heavens. But you will not, we repeat, you will not die of dysentery!
Check into an astronomy-themed hotel
Nationwide
Obviously, stargazing is a late-night activity, and one you'll want to follow by going immediately to sleep. There are two ways to do that: sleep on the ground in a tent, or spend the night in a nice hotel with an astronomy program. We pick option #2! In Virginia, book a few nights at the Primland Resort, a hotel on 12,000 acres in the Blue Ridge Mountains with resident astronomers and a fully equipped observatory. It's not always easy to find stargazing opps on the East Coast, but here, you'll find unmatched views of the firmament year-round. Alternatively, try the Compass Rose Lodge in Huntsville, Utah; they've got telescopes, an observatory, and guided star tours all on deck. For a West Coast option, check out this UFO Airbnb in Joshua Tree.
Take a celestial navigation course so you never get lost
Captiva Island, Florida
Before the stars were guiding us to avoid texting our Sagittarius exes, they were guiding our forebears across vast oceans. At Offshore Sailing, you can learn exactly how our ancestors were able to sail by the skies with a five-day celestial navigation course, where you'll learn how to create maps, judge distance, and navigate based on the position of the stars. After a few days at the South Seas Resort sailing school on Florida's Captiva Island, you'll be able to trade Google Maps for the heavens.
Attend (or host!) a star party
Nationwide
Leave the cottagecore picnics to the folks on Tiktok and be the first of your friends to host a star party instead. It just takes a few things: a wide, open space as far from nearby cities as possible, with unobstructed views of the sky; some snacks and drinks; a laser pointer for pointing out constellations or planets, and ideally some telescopes, although naked-eye viewing can be just as exciting. Invite people to arrive around sunset, and consider planning around a special celestial occasion like a meteor shower. (You can find a pretty detailed party planning guide here!)
And if you don't feel ready to host an event yourself, see if there are any upcoming star parties near you; there might already be a local community of stargazers, astronomy clubs, or certified Dark Sky Rangers who can show you the ropes.