You Haven't Lived Until You've Accidentally Gone Off-Roading in Costa Rica
Buckle up for volcanoes, waterfalls, and hot springs.
Published on 5/15/2023 at 12:00 PM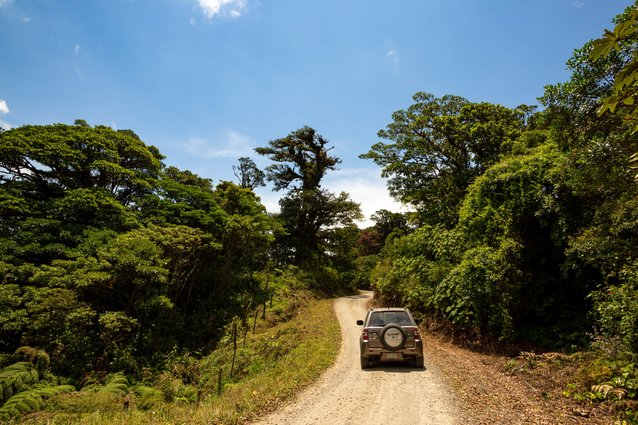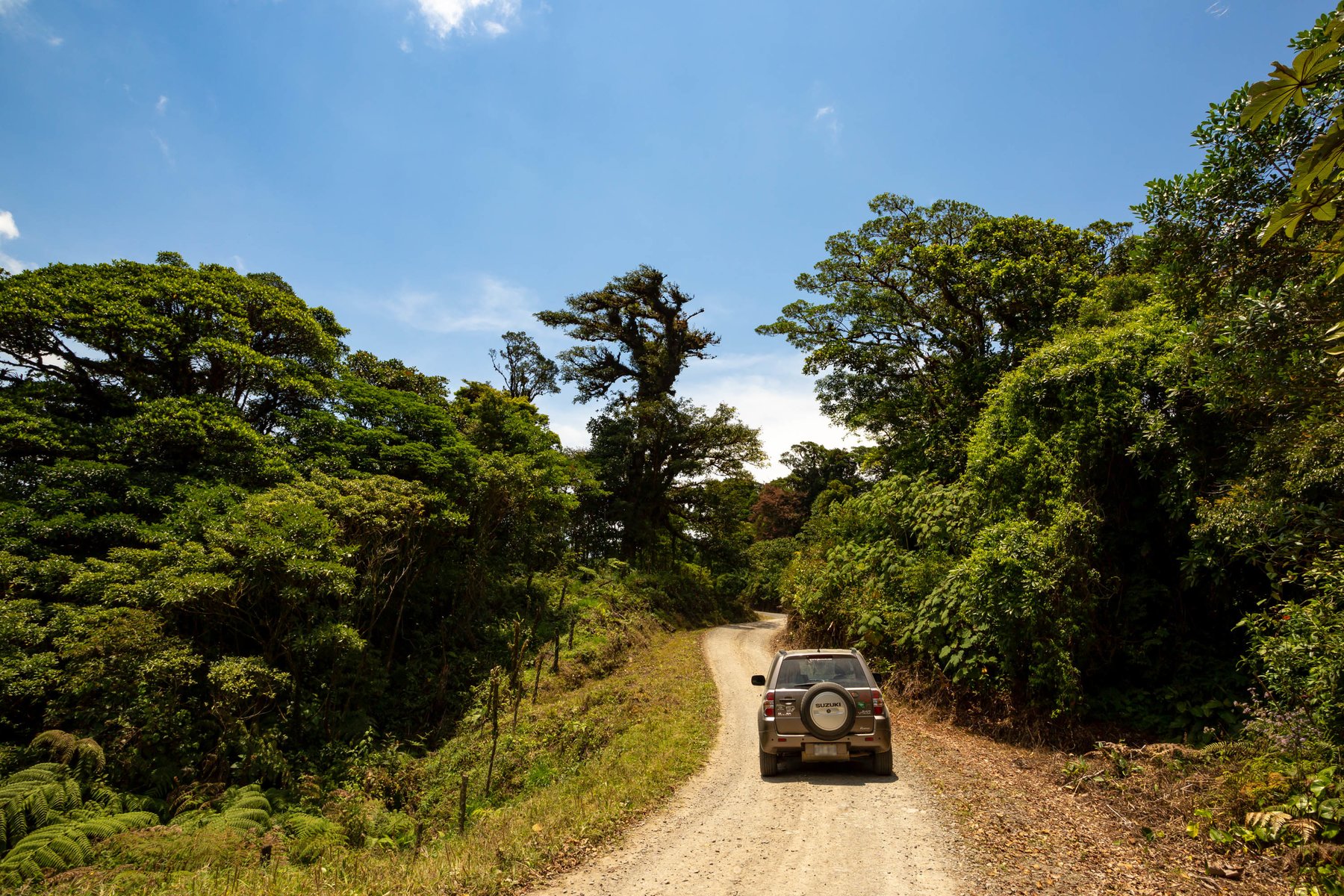 Off-Roading in Costa Rica | Photo by Carla Orozco Odio for Thrillist
Travelers, start your engines: You are now entering The [Scenic] Route, a rip-roaring exploration of the world's most incredible international road trips, from lush Rwandan jungles and ancient Peruvian mountains to seaside Irish villages, dreamy Japanese forests, and twisty Romanian hillsides. For more reasons to hit the pavement—plus tips, interviews, and a custom road-ready playlist—cruise over to the rest of our coverage here.
---
Okay, truth—you have no choice but to go off-roading while in Costa Rica. It's not the sort of ride where you crank up the tunes and hit cruise control. Nor should you just put all your trust into your map and weather apps without second thought. You definitely won't get by on just two-wheel drive. But the unavoidable adventure is what turns your vacation road trip into an unforgettable expedition.
Costa Rica is famous for its stunning landscape, wildlife at every turn, and chilled-out tropical moods—and the best way to see all those different personalities is by driving through it. For a fairly narrow country, you have to traverse quite a bit of terrain to get from free-spirited surfing beaches to hanging bridges in cloud forests, waterfalls to volcanic rivers, or vegan bites to coffee tastings.
Along the way, you might encounter lanes hugging steep cliffs, curvy turns, or dirt roads. But it's often down these kinds of rougher paths where you're less likely to come across over-tourism and instead will find a rich natural environment. There's a triumphant feeling to road tripping here, best captured in moments of pulling over and taking in the expansive views.
This 400-mile loop covers the country's most iconic attractions while taking you deep into the pulse of the "pura vida" vibe. Let yourself become small under the immense, luscious landscapes, fall in love looking into the eyes of an endangered butterfly, or find a new passion for rappelling down slippery cliffs. Costa Rica is like that, where you can feel like you're breathing with the Earth and everything on it all at once. Grab your sunscreen, poncho, Keens, and DEET, and make for the coast. Here's how to do a road trip in Costa Rica.
Portia Hart, founder of Blue Apple Beach | Photo by Victoria Holguín for Thrillist
Best time of year to road trip
With amazing warm weather, there's never a bad time to travel to Costa Rica—there's just a drier time and a wetter time.
Winter here lasts from May through November, when the country sees regular rain. The biggest drawback of visiting during those months is many roads become muddy, and it's nearly guaranteed you'll ford across newly sprung creeks.
The upsides? This period is bookended by cheaper prices and fewer crowds. You'll get to watch afternoon lightning storms creep in over the ocean and hike alongside swollen, roaring streams. And you'll feel like you've never seen the color green until you've seen the rainy season in Costa Rica—it's a whole other thing.
That being said, many people do choose to come during the dry season to avoid rain. This summer time is also lovely, though you will get those higher prices and more people.
Volcán Arenal | Photo by Carla Orozco Odio for Thrillist
How to rent a car in Costa Rica
Costa Rica has two international airport options: one in San Jose and a second in Guanacaste. Either works as a starting point.
Assuming you want to bury your toes in golden sand ASAP though, land in Liberia. All the standard rental car agencies are available here, plus a handful of highly-rated independent choices. You can even have a camper van from Costa Rider delivered to your terminal, if you plan on overlanding.
It'll be easy enough to drive in any type of vehicle on the main streets leading to urban areas, but to get into the countryside comfortably, you'll want an SUV or 4WD. The extra clearance you'll get on lesser-maintained roads will offer you priceless peace of mind.
Don't forget: Manual transmission cars are the default here, so you should specify in your reservation right away if you want automatic. Also double check what's covered by your rental agreement and that mandatory, pricey insurance.
See colorful toucans from Tamarindo to Monteverde
Spend a few days unwinding in the boho-chic beach town of Tamarindo, renowned for its surf, sun, and sustainability. Sharing the shore with iguanas, it's impossible not to lean in to Tarmarindo's laid-back atmosphere.
From here, it's a three hour drive to Monteverde, but some worthy stops turn this leg into a full-day journey.
Go east on 152 until you arrive at LADE Spa for a taste of luxury R&R. Indulge in an open-air lavender soak complete with panoramic views of primitive jungle.
Steering north through Liberia and into Canas, there are twisting ups and downs and long stretches of manicured streets that pass through authentic Costa Rican towns. It's a legendary cycling route, so remember to share the road. You'll veer south after Tilaran, and here's where you can be glad you sprung for the 4x4—it's a rough ride and totally possible you won't see anyone else on this stretch. Ultimately, you're heading towards a pitstop in Piedra del Indio, an under-the-radar archeological site, privately owned waterfall, and swimming hole tucked into a bamboo forest. As you trek down, look up—families of toucans color the sky.
During your last detour, the highway becomes more like a cliffside hike, and you play slalom with rogue cows. But it's worth it to drop-in at Santa Elena's Ficus La Raiz. The tree's many roots extend to the riverbed below, creating a natural bridge, a quintessential Costa Rican backdrop for vacation pics.
Selvatura Suspension Bridges | Photo by Carla Orozco Odio for Thrillist
Climb trees and rope bridges from Monteverde to San Jose
Nothing feels so surreal as arriving in Monteverde. Clouds sublimely ascend the hilltops and rainbows stretch across emerald valleys, connecting distant peaks. The region overflows with life. It's the country's home for nature and adventure travel, and it's super fun to explore aimlessly with the right rig.
Grab breakfast at Colibri Cafe to observe hummingbirds and try not to let coatis steal your latte. Move on to Selvatura Park where you'll spot howler monkeys and traverse a series of suspension bridges. Opt for the aerial tram for added excitement. Pop into the Orchid Garden and try to find the world's tiniest flowering plant.
Absolutely plan for a tour in Savia Monteverde, which is a protected cloud forest reserve. Here you can climb inside hollow trees or up sustainably built tree houses to see the sunset from the canopy. Opt to picnic amid the treetops. After you climb back down, the trip becomes a night tour as your guide uses flashlights and extensive knowledge to see all the activities and hunting frogs, birds, and other strange creatures get up to in the dark.
As you're leaving town, immerse yourself in a full coffee experience, including a permaculture farm tour and sommelier style tasting at Santuario Ecologico. Now you're on your way to San Jose. This 85-mile stretch is the least predictable in terms of timing and traffic, and Waze is the better friend. With anything from unannounced construction to washed-out roadways causing a delay, play it safe and plan for some potential extra travel hours.
Downtown San Jose | Photo by Carla Orozco Odio for Thrillist
Go from city life to hot springs from San Jose to La Fortuna
San Jose is a busy hub with plenty of culture, nightlife, and of course, traffic. Rule of thumb for the metro area is no matter what ETA the app says, double it. Also, if you're not used to driving in busy urban cities—especially international ones—this requires some extra vigilance.
Costa Rica's largest city offers awesome amenities. The boutiquey Escazu neighborhood is the comfiest place for a base in the country's capital, and there are swaths of overnight options. Some other must-sees include the Central Market, an important landmark founded in 1880. If you can, swing by the Lankester Botanical Garden with its impressive collection of plants, including an amazing native cacti display. The one thing you don't want to do in San Jose, though, is leave before eating the torta chilena at Spoon. It's a cake to fly for.
When you're ready, it's time to head to La Fortuna. When you see signs warning you to watch for wildlife crossings, you're getting close. If you time your arrival for sunset, you'll be rewarded two-fold: sherbet hues paint a colorful scene behind the monumental silhouette of Volcan Arenal. One of the first things you'll want to do (and maybe repeat every day you're here) is go for a dip in the geothermically heated river. The entrance is next to a pull off on the side of the road near Tabacon spa, just 15 minutes southwest of the city.
El Choyin – Hot River | Photo by Carla Orozco Odio for Thrillist
Look for sloths from La Fortuna to Liberia
Navigation of the little, leisure-based town of La Fortuna is best done on foot. Wander the brightly painted facades facing the central plaza and walk over to vegan-friendly Cafe Mediterraneo for tunes, tapas, and wine.
La Fortuna offers an awesome opportunity to try wild camping. Pick up supplies and go west toward the rural village of El Castillo, then park by the pizza shop on the languid shores of Lake Arenal. Just make sure you've picked up knowledge on your previous night tour of which snakes and poisonous frogs to avoid. You'll have to backtrack to hit up popular attractions like sloth-spotting in the wetlands of Bogarin Trail, but waking up in paradise is worth extra miles.
Once you've experienced the surprisingly spirited slow-water rafting with Calypso Adventures, you're in the home stretch of this epic road trip.
It's 85 miles to return to Liberia and some of the nation's finest is yet to come. Halfway to the airport is Rio Celeste, a turquoise waterhole nestled within a lush forest. The environment is tranquil and perfectly picturesque. After your swim, pause for lunch at Tom's German Bakery and head to your final stop: Las Hornillas Geysers. Costa Rica's Yellowstone sits bubbling at the foot of the majestic Miravalles Volcano.
From here, you can fly back home out of the Liberia airport—though you probably don't want to leave. It'll just be a matter of when you come back next time.
Colleen Kelly is a contributor for Thrillist.
Want more Thrillist? Follow us on Instagram, TikTok, Twitter, Facebook, Pinterest, and YouTube.