Costly Travel Mistakes You Should Stop Making
GOLFX/Shutterstock (edited)
Let's be honest, a lot of conventional travel wisdom -- from always book your trip early, to exchange currency at the airport -- is out of date in an increasingly digital and connected world. And travelers who still follow such misguided advice end up wasting money, losing time, and missing out on opportunities.
As a travel writer, it's easy to tell people what they should do on their adventures -- and to share the best travel tips and tricks. But sometimes it makes more sense to tell them what not to do, at least that way we can hope to finally dispel many of these pervasive travel myths.
To that end, here are 12 common mistakes every traveler should avoid.

DON'T use US-based search engines exclusively
All search engines have blind spots, no matter where they are in the world. But by using only the large US search engines, you are reducing the chance of finding a deal. Many sites like Kayak, Orbitz, and Expedia don't include smaller budget airlines or seasonal carriers.
What to do instead: Use Google Flights, Skyscanner, and momondo to find foreign and budget airlines. In fact, go one step further and mix-and-match your flights to save big money. For example, I once needed to fly from New York to Paris but the fare was $900. So instead, I flew to Dublin for $600 and hopped a $60 budget flight to Paris. It took longer, but the $240 I saved was worth it. With more budget carriers around the world these days, it pays to at least take a look -- and you're not going to see those airlines on the big US travel sites.

DON'T book too early
It's easy to get excited about your trip and -- to make it feel real -- book your flight, hotel, or resort right away. It's done and you are going! But that's a mistake, and more often than not, you'll be the person paying more than your fellow travelers. When it comes to travel, the early bird doesn't always get the worm. Don't be overeager. Wait for the deals.
What to do instead: The best window to buy airline tickets is six to eight weeks before your flight, or around three to four months in advance if you're traveling somewhere during peak season. For cruises or tours, wait until the last minute. Companies have to fill boats and tours, so they offer amazing last-minute deals.

But DON'T wait too long!
Conversely, getting a deal is about acting fast. No, you don't need to lock down your trip to Spain two years in advance, but at the same time, airlines don't let underpriced fares sit around for long.
What to do instead: If you've been following the fares and see them plummet, book it. You have 24 hours to cancel the flight without paying any penalties. Take the deal, think about it, cancel or keep it. But if you wait to think about it BEFORE you buy, you're going to miss out and kick yourself. And remember, those who wait for fear of "missing out on a deal" (FOMOOAD?) always pay the most!!
DON'T take taxis
Taxis are where travel budgets go to die -- they are always overpriced. And sometimes, they're scams. The only time it's worth taking a cab is if you're splitting the fare among several people or need to get somewhere super late at night.
What to do instead: Use public transportation as much as possible.

DON'T skip the travel insurance
It may seem like a ridiculous added expense, but travel is about the unknown, and you never know what can happen on the road. You can break a leg, lose a camera, pop an eardrum scuba diving, or have to leave a country because of a natural disaster. Travel insurance shouldn't be avoided -- it protects you in case of both medical and non-medical emergencies overseas, and it's a smart thing to buy -- even when you just shelled out a ton of money for a trip and can't fathom paying any more.
What to do instead: Get travel insurance!
DON'T rule out hostels
Most people think that hostels are smelly, bedbug-ridden, and aimed at poor college students. It's a common stereotype perpetuated on TV and in movies over the years. However, nowadays, most hostels offer a variety of amenities, from pool tables to movie rooms, Xboxes, free computers, and laundry facilities, as well as organized tours, day trips, free Wi-Fi, and small private rooms with bathrooms.
What to do instead: Stay in a hostel! The modern hostel is not just for cheap backpackers but is a hub for likeminded, travel-loving individuals. Here are lists of party hostels, luxury hostels, and the best hostels in the US. Talk about blowing stereotypes out of the water.

DON'T eat near a major tourist site
The food served near any major attraction is usually going to be double the price, and not nearly as tasty or authentic. The reason is simple: when restaurants know customers aren't coming back, they don't worry about quality. And what do tourists know about "authentic" local cuisine anyway, right? They're just happy to tell friends back home about the "amazing" pizza they ate in front of the Colosseum.
What to do instead: Follow the "six-block" rule. Walk six blocks in any direction from a major tourist attraction. The further away you are, the more local, cheap, and delicious the food will be. Use websites like, well, Thrillist to find the best restaurants and Foursquare or OpenRice to find out which spots the locals are rating highly. Finally, whatever you do: please, PLEASE, avoid restaurants with glossy menus in multiple languages. Just keep walking.

DON'T avoid the sharing economy
Sure, it can be weird sleeping in a stranger's bed, or catching a ride with them to the next city, or even going to their best friend's house for a meal, but the travel sharing economy is real and it's amazing. It will help you save money, get off the tourist trail, and experience life as a local. After all, that's why you travel right? The travel sharing economy makes that happen.
What to do instead: Use Couchsurfing or Hospitality Club to stay with locals, those sites or Meetup.com to meet people, BlaBlaCar or Gumtree to catch rides, and EatWith to share a meal!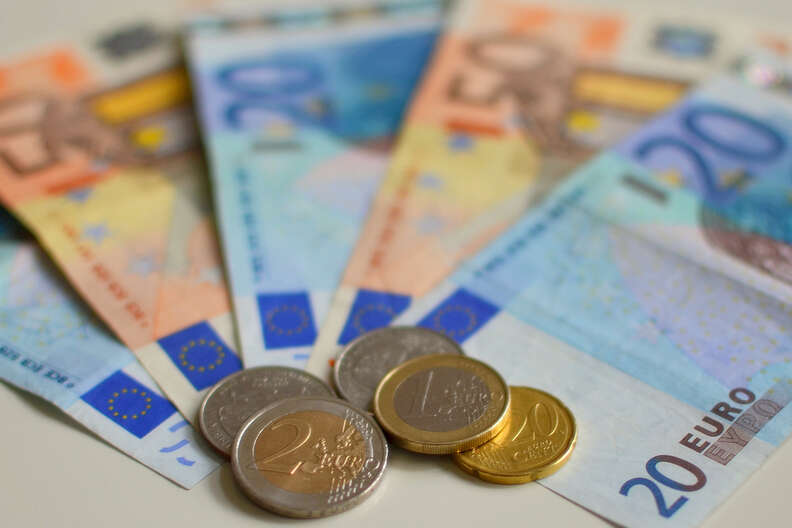 DON'T exchange money at the airport
You're better off lighting your money on fire than exchanging it for local currency at an airport. Simply, the further away you get from the currency markets, the worse the exchange rates. And airport banks and bureaus are way down the totem pole. Also, any place that says "NO FEE" simply means it is making its money by giving you an even worse exchange rate!
What to do instead: Never exchange cash unless you absolutely have to, but if it's a necessity, do so at a large bank downtown where you'll get better rates and fewer fees. And to get the best rates, withdraw cash when you arrive using an ATM or credit card.

DON'T bring traveler's checks
That's not even a joke, people still think they should travel with these things. In 2016! For those born in the '90s, traveler's checks are checks issued by banks for a predetermined value that allow the bearer to exchange the check for cash anywhere in the world. In the time before ATMs, they were the best way for travelers to have access to money.
What to do instead: Use an ATM or credit card. Again... it's 2016. Ninety-nine percent of the world has ATMs and accepts credit cards. And the places that don't? Well, they won't have banks to take your traveler's checks anyways! You'll need cash!

DON'T use a bank card with fees
I don't know about you, but I don't like giving the banks my money. I'd rather spend my cold, hard cash on travel, beer, and food. Get a bank and credit card that has NO foreign transaction fees so you can avoid ATM fees and other surcharges.
What to do instead: Use Charles Schwab for a no-fee ATM card and Capital One for the simplest no-foreign-transaction-fee credit card (though I prefer the Chase Sapphire or Barclays Arrival Plus World Elite MasterCard because you can earn points with them). There are a lot of options out there so be sure to check with your local bank.

DON'T skip the local tourist office
I'm always surprised at how few tourists visit the local tourism board. It's always my first stop on any trip. They have advice on current events, festivals, and off-the-beaten-path information you aren't going to find in any guidebook. And their job is to literally know everything about the place you are in. Moreover, they often sell city tourism cards that offer free or discounted access to museums, attractions, and public transportation.
What to do instead: When you get to a new city, head to the tourism office and ask for information on what to see and do, and where the deals are. Grab a map or discount card, and if you haven't found a place to stay yet, let them help you book accommodations.
Sign up here for our daily Thrillist email, and get your fix of the best in food/drink/fun.
Matthew Kepnes is a travel writer and author of New York Times bestseller How to Travel the World on $50 a Day and the creative force behind Nomadic Matt, a website that provides detailed information on how to travel cheaper, better, and longer. His advice is often featured in Time, CNN, The Wall Street Journal, The New York Times, Lifehacker, BuzzFeed, National Geographic, BBC, and The Guardian, among other publications.