Forget Scandinavia—Bhutan Is the Coziest Place on Earth
Climb into a hot stone bath and grab a mug of butter tea.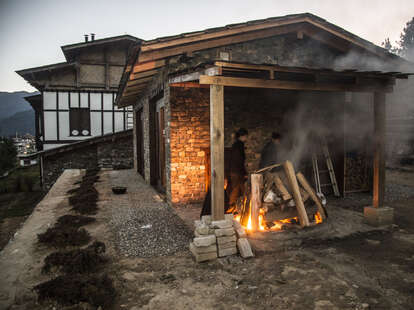 Photo courtesy of Gangtey Lodge
Photo courtesy of Gangtey Lodge
To some, fall is the coziest season. Cardigans get pulled from storage, pumpkin spice hits the shelves, and a chill enters the air. But in the Himalayan nation of Bhutan, you can feel cozy all year long.
Scandinavian countries may have plenty of relevant cred, but I'd argue that Bhutan has them beat when it comes to feeling safe and warm. The country doesn't have a word in its official tongue to describe that supreme feeling of contentment (the closest is "detokto," which translates to "comfortable") but the feeling is there nonetheless. You can credit the area's cool mountain air with the need to bundle up and seek out the comforts of a flickering fireplace, but it's the homey hospitality and soothing traditions that give you that undeniably fuzzy feeling. The country has perfected hot baths and wool clothing, steaming beverages and roaring fires. And best of all, while these treats are usually limited to the colder months in the States, Bhutan can offer them at any time of year. Here's how to make the most of the country's coziest offerings.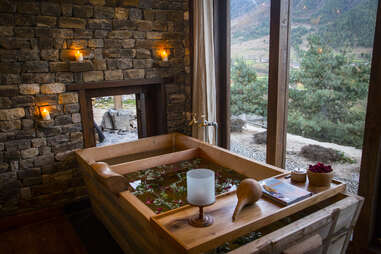 Take a traditional hot stone bath
Flickering candles surround rectangular wooden tubs filled with medicinal herbs and steaming water; bathtime in Bhutan puts any romance novel to shame. And while the above may seem like a treat-yourself experience, the majority of the country's 780,000+ people have a hot stone bath in their homes.
In a practice dating back hundreds of years, Bhutanese people fill up their tubs as soon as they feel a cold coming on. Made using heavy local timber, there is a thick wooden divider at the foot of the tub. Smooth river rocks are collected and placed into an open fire until they glow a fiery red. Bathers then use metal tongs to place the scalding hot stones into the sectioned-off area of the bath, where they sizzle and sputter in the water. The water is filled with local medicinal plants and herbs meant to soothe whatever ails you while also melting all your worries away.
The country has a huge range of hot stone bath experiences to offer, but after trying several different options, the spa-like baths at lodges like Six Senses Thimphu and Gangtey Lodge still stick in my mind. Accompanied with cold towels, freshly brewed iced tea, and a bowl of vanilla ice cream, there's no better bath in the world.
Wrap yourself in yak wool
When the temperature drops in Bhutan, it really drops. Winters here can dip into the negatives, so staying warm here is priority number one, and luckily, the locals are experts at it. As you drive the zigzag passes around the country, you'll see citizens wearing stunning patterned clothing to keep out the cold. An art form and a practicality, hand-weaving clothing and blankets using a traditional loom is common practice.
Sold at various tourist shops and stops throughout the country, you'll find a kaleidoscope of colorful items made from yak wool to drape over your shoulders or across your lap. To learn more about the different types of patterns and techniques, visit the Bhutan Textile Museum in Thimphu, a part of the Royal Textile Academy, which is dedicated to preserving this unique cultural art.
Sip a steaming mug of butter tea
A warm cup of tea and a good book next to the fireplace is peak cozy, but in Bhutan, the tea tastes a bit different. Known as suja or butter tea, this creamy, salty beverage is made from boiling cow butter with natural local leaves. Salt and butter are then whisked together, giving it a smooth, buttery taste.
While cow butter is common, yak butter is even more prized. There are tens of thousands of yaks roaming the mountains and hillsides of Bhutan. Used for farming, wool, milk, cheese, and butter, they're a major contributor to the country's coziness factor.
Butter tea is poured throughout the day, typically with meals that include momos and ema datshi, the national dish of cheese and chilis. You can also bet a Bhutanese ngultrum that you'll find it at almost any social interaction. The tea is often served with a side dish of puffed rice, and locals tend to add a few teaspoons to their cups before sipping.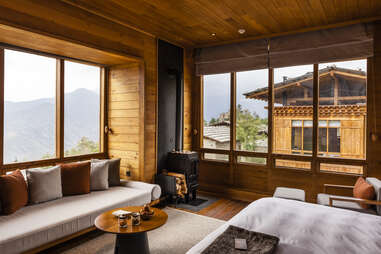 Relax in a Bhutanese lodge
I stay at hundreds of hotels a year, but Bhutanese lodges simply set the standard for cozy and comforting accommodation. Travelers can choose from major chains like Six Senses and Aman, or independently-owned lodges like Gangtey Lodge and Zhiwa Ling.
At Six Senses Thimphu, homemade chocolate chip cookies wait in your room. Rooms here are outfitted with a wood-burning fireplace and a soaking tub overlooking the capital city, so you'll basically never want to leave. In the common areas, fireplaces are lit, and a large heated pool beckons. Don't skip out on the hot chocolate served here; it's made with Bhutanese chilis.
In Gangtey Valley, at the incredible Gangtey Lodge, guests are greeted with warm apple cider made from local apples and led to sit on comfy leather couches surrounding two stone fireplaces. The 12 identical lodge rooms have heated floors, wood-burning stoves, and tubs for total relaxation. When you return to your room at night, you'll find the fireplace roaring, your favorite warm beverage waiting, and a wool-covered hot water bottle heating up your bedsheets. There's really nothing cozier than that.