Crazy Cheap Deal: Fly to 10 Countries in 30 Days for JUST $160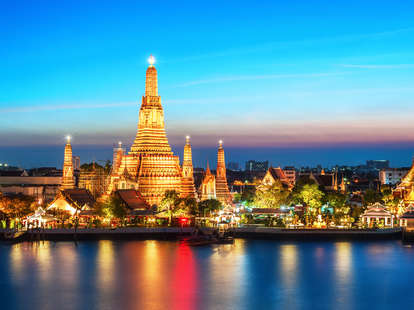 If you want to travel a lot for not a lot of money, Southeast Asia is your destination. And besides being cheap, the region offers some of the world's best party countries, like Thailand and Singapore. And right now, there's a country-hopping deal you simply can't beat.
AirAsia's just rolled out a new pass that allows travelers to fly between Malaysia, Indonesia, Singapore, Thailand, Brunei, Cambodia, the Philippines, Laos, Myanmar, and Vietnam as many as 10 times in 30 days for just $160. Yes, you read that right: 10 flights(!) for less than the cost of your ONE roundtripper to Wichita. Not that there's anything wrong with Wichita.
The Asean pass operates on a credit-based system, and one or three credits will get you a one-way flight, depending on the destination. Two passes are available: a 10-credit card you have to use in 30 days, which costs $160, and a 20-credit card that's good for 60 days, available for $290. And the genius part is, credits apply to flights regardless of fare hikes (which means you don't have to count days to book the cheapest ticket), and you can buy up to five passes per person to bundle up your savings and travel for months.

Obviously, there are catches: you can only redeem a route once; you have to book at least two weeks before departure; baggage, in-flight meals, and taxes aren't included; and you're not guaranteed to find a seat -- especially around busy times, like national holidays and weekends.
Sure, it's a bummer that you have to shell out for fees, but we're talking about $160 for 10 flights. Plus, you won't be spending much in each destination: you can live like a king for less than $50 a day.
So plan your escape, buy a pass here, and get ready to cross a bunch of countries off your bucket list.

Chloe Pantazi is an editorial assistant on Thrillist's travel team. Yes, that's a British accent. No, she doesn't watch Doctor Who. Follow her on Twitter at @ChloePantazi.