Crazy Themed Road Trips for the Obsessed Nerd in You
There's nothing more American than hitting the open road on a cross-country trip, only to discover two days in that you had absolutely NO idea how big America was. And really, dear Lord, how can we STILL be in Texas?!?!
The best part about driving across the US though -- other than the fact that you can visit the weirdest roadside attraction there -- is the ridiculous number of routes you can take to get from one side to the other. And since we already plotted out five classic ones here, this time we took to the internet to round up six themed road trips aimed at everybody from foodies and hikers, to beer lovers and bookworms.
Epic road trips from literature
If Kerouac's On the Road ever inspired you to, well, get on the road -- this is the map for you. In addition to Kerouac's travels, it outlines the drives taken in 11 other novels including Wild, Roughing It, and Travels with Charley -- and it's interactive! Play with it before your next big literary adventure, here.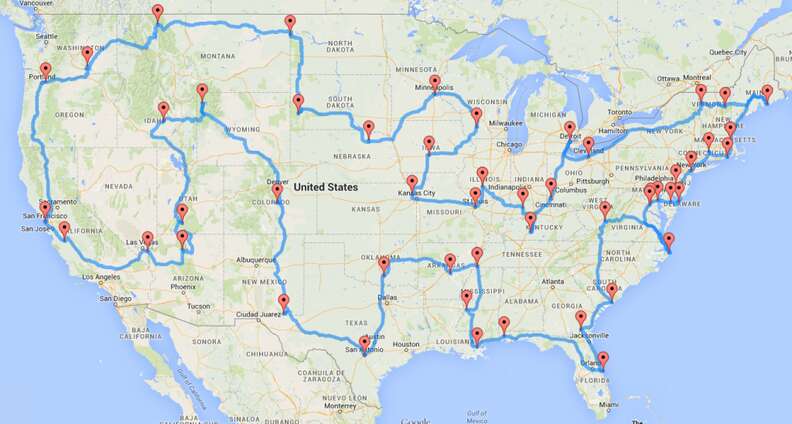 (Almost) every state
The road-trip equivalent of the everything bagel, this map was created by data scientist Randy Olsen and uses an algorithm to supposedly determine the "optimal" road trip across all 48 contiguous states. It covers 13,699 miles, hits a variety of national parks, landmarks, and monuments, and can reportedly be driven in around 224 hours, assuming the traffic is good. You can get all the details here.
The brewery tour
With the help of an algorithm, beer lover Nathan Yau computed the optimal brewery road trip. It hits SEVENTY top rated breweries in 28 states, covers 12,299 miles, and can be done in 197 hours of driving. Just not all at once. BE RESPONSIBLE! Study all the trip details here.
48 states in 10 days
The map shown is one of many routes for the Iron Butt Association's famous "48 states in 10 days" biker trip for "seasoned riders." Yes, that's the ENTIRE country in a mere 240 hours. While this map starts in Laughlin, Nevada, there are others on the Iron Butt website; or you can create your own route, as long as it follows the association rules and guidelines here.
The foodie run
Recipe Girl did her own road trip from San Diego to Boston, and surprise, surprise, it showcased some of the best eats in the US. Her trip took 12 days, clocked in at just over 4,000 miles, and included plenty of good ol' American cooking -- all of which she elaborates on here.
Sign up here for our daily Thrillist email, and get your fix of the best in food/drink/fun.
Kara King is a Writer at Thrillist and loves a good country road. Follow her to West Virginia at @karatillie.