The United States has a fine assemblage of haunted bars, ghost towns, and creepy places you can visit if you're jonesing for a bone-chill. But in matters of the macabre, Europe's got us beat. It's been around considerably longer (birthplace of Western civilization and all that) and has seen its fair share of tragedy and terror: the Black Plague, medieval torture chambers, bloody wars, vicious rulers, dungeons, dragons, natural disasters. As a result, Europe is rolling in burial crypts and ancient castles where malevolent poltergeists have taken up residence. Of course, tourists will be tourists; here are the creepiest places you can visit firsthand.
Quinta da Regaleira
Sintra, Portugal
This sprawling 19th-century estate is a UNESCO World Heritage Site and one of the most touristed spots in Portugal. But wandering around the grounds, it's easy to get a not-so-chill feeling -- maybe it's the eerie Gothic chapel and palace (towers, spires, gargoyles, the whole shebang) or the densely wooded park that's littered with mysterious symbolic monuments linked to alchemy and Freemasonry. No, wait, it's definitely the elaborate system of caves and tunnels connecting two massive, spiraling wells used not for water, but for mystical Tarot initiation rituals.
The Cliffs of Moher
Liscannor, Ireland
You may remember these as "The Cliffs of Insanity" from The Princess Bride. Ireland's most visited attraction sees over a million tourists a year, but their rugged beauty masks an unpleasant reality: Numerous bodies have been recovered from the wild tides below, as it's become a common spot for suicides. Miss the turn to the neighboring town of Doolin at night, and you'll drive right to the gate -- and that combination of pitch-dark and menacing waves is just enough to make your skin crawl.
Edinburgh Castle
Edinburgh, Scotland
With centuries' worth of bloody history under its belt -- we're talking witch trials, epic battles, and grisly torture -- it's no shocker that Edinburgh Castle gets top billing as one of the most haunted places in the world. A motley crew of resident specters haunt the castle's many vaults and chambers, including a phantom piper, a headless drummer boy, a ghost dog, and scores of prisoners from the Seven Years War and American Revolutionary War. Staff and visitors report sudden drops in temperature, shadowy figures, green lights, and the sensation of being pulled or touched. NBD.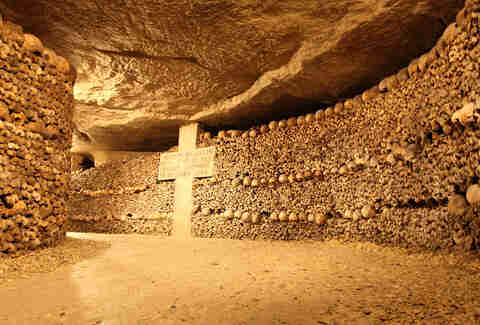 Paris Catacombs
Paris, France
The City of Love happens to house the world's largest crypt deep beneath its Metro and sewer systems. Artistically lined with the bones and skulls of about 6 million Parisians, this intricate network of tunnels and caves spans 200 miles -- though only a tiny section is open to the thousands of tourists who come through each year. In 2015, a Brazilian man won a contest to sleep in the catacombs over Halloween night. Apparently he brought his mom.
Karosta Prison
Liepaja, Latvia
This former Nazi and Soviet military prison was once used to confine Latvian deserters; now it's a "boutique hotel" where guests willingly pay €17 to be treated like a prisoner under 24-hour surveillance. The package includes a night on a cot behind bars, being interrogated and verbally harassed by guards, and a dinner of good ol' Communist era slop. What's not advertised is the extra perk of having the bejesus scared out of you by the ghosts of prisoners who died there, who apparently get a kick out of opening cell doors and unscrewing lightbulbs.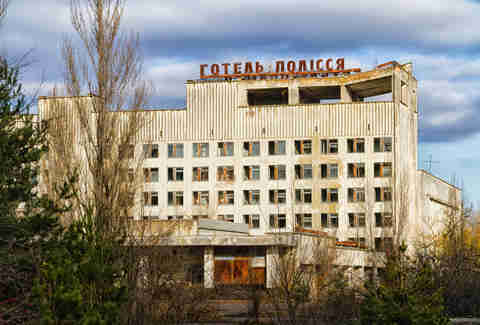 Pripyat
Ukraine
The ghost town of Pripyat brings new meaning to the whole "take nothing, leave only footprints" mantra. Near the site of the Chernobyl power plant explosion, visitors are asked to sign a waiver and advised not to touch anything, or even sit on the ground, at the risk of radioactive contamination. The Ukrainian government still allows visits to the nuclear disaster area (with a lot of restrictions) and you can spend anywhere from a day to a week exploring remnants of the town, like an abandoned amusement park, derelict buildings, and the homes of evacuees.
Borgvattnet Vicarage (The Haunted Vicarage)
Borgvattnet, Sweden
This modest house is reportedly the most haunted joint in Sweden. It was originally a residence for priests who, in the late '20s, started reporting inexplicable events like their laundry being torn down from the line. The ghosts' origin story involves vengeful maids and babies buried in the backyard, but over the years, the deceased vicars have apparently joined in on the fun. There was even a failed attempt at an exorcism in the late '80s. Now it's a small B&B -- spend a full night without leaving and you're awarded a special certificate! Expect terrifying shadows, ghoulish screams, and a rocking chair that won't stop rockin.'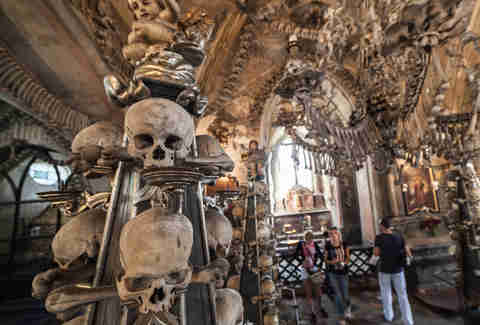 Sedlec Ossuary (Bone Church)
Kutna Hora, Czech Republic
Not sure whether to be nauseated or impressed by this one. This heavily touristed Czech chapel is elaborately decorated from floor to ceiling with the mix-and-match bones of over 40,000 skeletons, mostly dating back to the Black Plague. And it's actually kind of... pretty? Look out for candelabras and pyramids fashioned entirely from osseous matter. The cartilage pièce de résistance? A massive chandelier made with at least one of every human bone.
Corvin Castle
Hunedoara, Romania
One look at Corvin Castle and you may opt to run into the Carpathian Mountains instead. This enormous 15th-century Gothic masterpiece in Transylvania bears grim stories of slave labour and imprisonment, including Vlad the Impaler who went cuckoo in captivity here for seven years. The medieval ruler, often dubbed the real-life Dracula, supposedly tortured rats for practice for the bloody havoc that he'd wreak upon his release.
The Vodnjan Mummies
Vodnjan, Croatia
The Church of St. Blaise looks like your typical Venetian-inspired church -- cream-colored exteriors and a handsome bell tower. But behind the main altar is a cringe-worthy collection of mummies that are said to be mystical for failing to decompose despite almost two centuries in open air and no embalming. One of the corpses, a nun from the 1500s, is said to have magical healing powers, also being among Europe's best-preserved mummies herself.
Sign up here for our daily Thrillist email and subscribe here for our YouTube channel to get your fix of the best in food/drink/fun.