Evan Lockhart/Thrillist
Evan Lockhart/Thrillist
Why the Greatest American Road Trip Is Averaging 100mph From NYC to LA
Because America's too big and beautiful to confine its birthday celebration to a single day, America Week keeps the party going the way the founding fathers (well, at least Franklin) would have wanted.
A sunset in southwestern Missouri gives unexpected credence to the phrase "God's country." When the golden light catches the Ozarks, the green of the hills seems unfathomably deep, and the landscape seems primed to impart some secret truth. But the darkness doesn't descend so much as collapse. You realize you're in the middle of nowhere, there's no ambient light to keep you awake, and no one's nearby to save you once you swerve into a crevasse. If twilight on rural I-44 is a honeymoon, darkness is "honey, we need to talk."
All of this goes to explain why earlier this year I was doing 95mph in a rented sedan, trying like hell to make it across Missouri before nightfall. My wife and I had been driving non-stop since Columbus, and by this point the sunlight was all that was keeping us awake. "We'll stop to eat in Oklahoma," I told her as I checked my mirrors and watched the hills behind me grow ever darker. Every westward mile I drove gave us more daylight. I realized I was racing the sunset. I smiled -- how absurd! -- then hit the gas.
We were driving like maniacs because we'd done a rotten job planning our vacation. We had booked a week's stay at a hotel in Palm Springs, and then, dispirited by the high cost of airfare, put off buying plane tickets until prices dropped. Friends, they did not. Prices went up and up and up, busting our budget and leaving us with no good way to get from New York City to California.
We were left with two options: cancel the vacation, or rent a car and floor it for three days. We chose the latter. We chose wisely. In so doing, we low-key joined a storied American lineage of east-to-west highway dashes called cannonball runs. We hauled ass for three days and considered ourselves champs. But the tradition of these long-distance sprints goes much deeper and gets more intense than we realized as we shot across the continent.
The Cannonball Run record-holders are super-intense
Even for us amateurs, there may be no surer way to feast on America -- its weirdness, its efficiency, its sheer bulk -- than by driving through it as fast as you possibly can. You'll push your mental and physical limits without ever getting sweaty or breathless. The drive gives you time to really dive into your music collection, to meditate on your life choices, and to marvel at the flip-book of scenery. When it's over, you'll come away with a bug-splattered windshield, a persistent ache in your gas-pedal knee, and a heightened appreciation of this great, vast country: its contours and its contrasts, its literal and figurative highs and lows, its sheer balls-outness.
"You experience the diversity of landscape of America so fast that you don't really comprehend it," says Ed Bolian, an Atlanta man who's basically the LeBron James of cross-country endurance driving. "I remember just hundreds of miles of thinking, like, What happens in your life, apart from witness protection, when you actually live here?"
In 2013, Bolian and two other people drove a tricked-out Mercedes-Benz from Manhattan to Redondo Beach, California in 28 hours and 50 minutes, obliterating the existing transcontinental automobile record by more than two hours, a feat he recently chronicled in book form. "Driving across the country really, really fast," he says, "is solving a problem that the world solves in a different way, in your own way."
For centuries, intrepid travelers have been crossing the United States as fast as they could: on foot, by mule (probably), aboard wagons and carriages and trains, via dirt paths and back roads and finally, happily, interstate highways. Most have gone for pragmatic reasons. Many go for pleasure. A few -- an intense few -- go just to beat everyone to the other side.
"I grew up in Western Pennsylvania, where my license had either been suspended or revoked on numerous occasions before I even turned 19," says Carl Reese, who holds multiple transcontinental speed records, including the solo motorcycle record and the cross-country electric vehicle record. Today, Reese lives in California, where he sets a yearly budget for speeding tickets -- "If you really want to open a car up, Utah is your state," he advises -- as part of his continued quest to push his limits.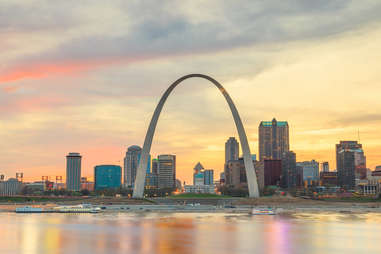 Bolian and Reese are cannonball runners: a cohort of speedy drivers who have made it their mission to keep pushing the cross-country driving records ever downward. The verb "cannonball run" refers to the act of driving cross-country as fast as possible. It began life as a proper noun thanks to Erwin "Cannon Ball" Baker, an early 20th-century stunt driver who spent much of his life driving various vehicles coast-to-coast at increasingly breakneck speeds.
Starting in 1971, Car and Driver's Brock Yates organized occasional coast-to-coast auto races that he dubbed the "Cannonball Baker Sea-to-Shining-Sea Memorial Trophy Dash." The objective: Race from New York City's Red Ball Garage to the Portofino Inn in Redondo Beach, California. In 1981, the Burt Reynolds film Cannonball Run dramatized the 1979 race, which had featured dozens of teams, an ersatz ambulance, and an all-lady team driving a stretch limo that rolled over en route when the driver fell asleep.
"When you talk about the idea of running a cannonball, it sounds like this huge, insurmountable idea," Bolian says. "The greatest lesson that I learned from the whole thing is that it doesn't really matter how big or complicated some idea is. Literally anything can be broken down into smaller, achievable, approachable goals."
What you need to drive cross-country
So let's set some achievable goals! If you're going to do it, here's what you'll need to do.
Plan a route. If you're going from NYC to LA, I recommend taking I-76 and I-70 to St. Louis. From there, take I-44 southwest to Oklahoma City and then head through the west on the fast-driving I-40. If you're driving to some other destination, just find your own balance of speed and scenery. Reese researches speeding laws state-by-state and plans his driving behavior accordingly. For my part, I wasn't pulled over once during my drive, entirely a luck-based outcome.
Bring maps, snacks, and patience. "People assume that averaging 100.3 miles per hour for 2,813 miles across the country was a hair-raising, Dukes of Hazzard-style Transporter drive," Bolian says. "But it's actually undramatic. A lot of it just comes down to spending some time thinking about what the existence inside the car is going to be like."
My wife and I had a very simple plan: I would drive, and she would use the time in the car to catch up on her sleep. Beyond that, we had nothing. No hotel reservations, no specific intermediate stops in mind, no food in the car. No clue, in other words. "Crossing Manhattan is gonna be the hardest part," I assured her on the Williamsburg Bridge as we drove east out of Brooklyn. "It's gonna take an hour to get to the Holland Tunnel, but once we're out of the city, it'll be easy." Sometimes, when it comes to haphazard travel plans, it's best not to know what you're getting into.
We figured things out on the fly. We would drive until we got tired, and then find a room in the nearest city. (The Blackwell Inn and Conference Center, on the Ohio State campus in Columbus, Ohio, beats any roadside motel in a 2,000-mile radius.) Neither of us have smartphones, so my wife navigated via Rand McNally Road Atlas.
We often wished we had GPS, like when we ended up driving frantically around Oklahoma City at 2am after 15 hours in the car, trying to find the airport, because there are usually motels near airports. (We eventually found a serviceable Howard Johnson's -- are there any other types of Howard Johnson's? -- but it took some doing.) Still, there was something cool about driving cross country with nothing but an atlas. Reading a map is becoming a lost art. And now I'm officially Andy Rooney.
Enlist a co-pilot. "Quick, long-distance driving is a team activity," Bolian says. Bring a friend or two to keep you company, handle navigation, and take over at the wheel when you get tired. High-strung passengers need not apply; you're looking for some good-natured Stoics, or, at the very least, someone who will gladly join you in belting out the chorus to "Living on a Prayer" when fatigue brings you to the carpool karaoke portion of your trip.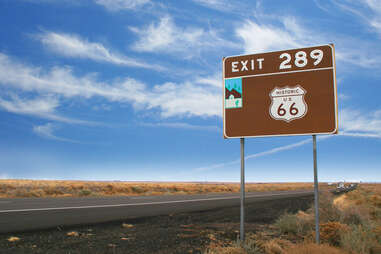 Eat only the mildest foods imaginable. The cross-country road racer has two mortal enemies: highway patrol and roadside fast-food restaurants. Pack food that will settle gently in your stomach and obviate the need for emergency roadside stops throughout New Mexico. (I learned this lesson the hard way; for the record, you will find plenty of usable toilets at the Hotel Albuquerque, minutes off of I-40.) "For us, diet is everything," says Reese. "It's high-energy, low-sugar foods. No Red Bulls, no energy drinks, none of that kind of stuff." And no stopping at the gas station for Mountain Dew and Combos, either. "On our trip, nothing joined the car that didn't start in it, other than extra gasoline," Bolian says.
Consider your kidney functions. Drinking plenty of water is also a must, as is minimizing the time spent addressing the result of drinking plenty of water. During his record-setting transcontinental motorcycle trip, Reese cut down on bathroom breaks by wearing a condom catheter that allowed him to urinate in transit without wetting his pants. "A catheter's a little extreme for just your average cross-country trip," he says. "But it definitely saves time, and you're able to stay hydrated to the levels where you need to be, and not wasting time stopping."
Play podcasts, music, whatever's your jam. The professionals do not generally listen to music. Bolian says, somewhat cryptically: "It's not that you can't do those things, but you have to understand that the consequence is that you're going to go a lot slower. And the risk, particularly of exhaustion, is going to elevate."
If you're not trying to set a record, go ahead and soundtrack your drive. We packed three CD cases with Dawes, Spiritualized, The Cars (a little on the nose, but whatever), Scott Walker, Laura Cantrell, and, for some reason, Eric Clapton's Unplugged album, the most-owned, least-remembered CD of our time. Seriously, back in the '90s every single person in America owned this record. "The tears are for his dead son," I noted gravely, somewhere in the middle of Indiana. "Can we please listen to something else?" my wife asked.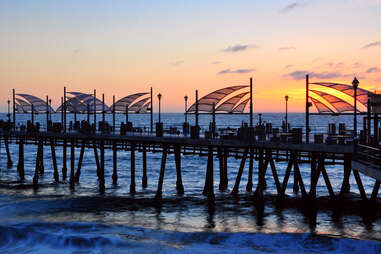 When you get to the end, rest in style. The canonical cannonball run ends in Redondo Beach, at the Portofino Hotel and Marina. "Our tradition has been to go to the Redondo Beach Denny's, because we arrive in the middle of the night or early in the morning and there's just nothing else open in that little beach town," says Bolian. "I wouldn't say that's necessarily the appropriate fanfare, but at the same time, what you really feel is this catharsis. For me, the celebration is always just standing at the marina at Portofino, sort of looking out over the ocean, thinking 'Alright. It worked. And we made it.'"
When you arrive, you're going to want to collapse and remain recumbent for several days. My own cross-country trip ended at the Ace Hotel in Palm Springs, where my wife and I spent a restorative week just flopping out by the pool in 100-degree heat, taking in the San Jacinto Mountains and trying to process the things we had seen on the road: the mountains, the desert, the quietly beautiful plains of Illinois and Indiana, the malodorous stockyards in Amarillo, the sepulchral desolation of Oklahoma, the central-casting cowboy in Flagstaff who ambled up to the bar in his buckskin jacket and confidently ordered a glass of Chardonnay.
Looking back, we'd broken pretty much all of the professionals' rules over the course of our drive. But we made it to Palm Springs nevertheless, and -- to our surprise -- we were looking forward to the return voyage. The Ace was nice, but the road was calling.
Sign up here for our daily Thrillist email and subscribe here for our YouTube channel to get your fix of the best in food/drink/fun.
Justin Peters is a correspondent for
Slate
and the author of
The Idealist: Aaron Swartz and the Rise of Free Culture on the Internet
.