Cruises Are Trying to Be Cool Again, and It's Actually Working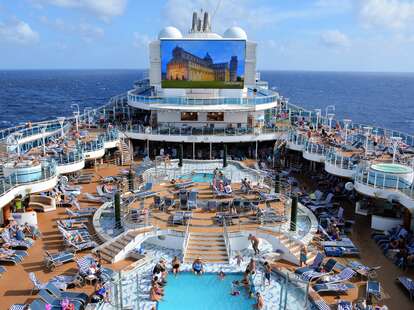 Cruise ship pool

| Vintagepix/Shutterstock.com
Cruise ship pool

| Vintagepix/Shutterstock.com
Cruises are coming back harder than the second-half Patriots. After years of stagnant revenues and slumping stock prices, seemingly out of nowhere cruise lines seem to be some of the most consistently profitable businesses in the world.
In May of this year, Royal Caribbean announced it's seen record numbers in both bookings and revenue. And this was after it doubled its first quarter net income to $214.5 million, versus the same period in 2016. Carnival did even better, raking in $352 million in the first quarter compared to $142 million in 2016. And Norwegian Cruise Lines has seen its earnings-per-share QUINTUPLE since 2013.
You don't have to be a finance geek to get it: Cruise lines are hand-over-fisting it this year. But why? Low fuel prices and newer, fuel-efficient ships are a big reason why. And retiring Baby Boomers who put off vacations during the financial crisis are an easy answer. But cruise lines are doing a lot to make themselves -- and your vacations -- way better. We talked to executives from the three largest cruise companies in America -- Carnival, Norwegian, and Royal Caribbean -- and they weighed in on why the industry is flat-out killing it.
Cruises aren't just for retirees anymore
Cruising for most of its history was considered the domain of retirees or spring breakers; basically a big, floating southwest Florida. But that perception is changing.
"Cruising in general is becoming more mainstream," says Jason Liberty, Royal Caribbean's Executive Vice President and Chief Financial Officer. "As we add more activities and venues onto ships, it's attracting a type of consumer who thought we were a lot closer to the Love Boat than we actually are today."
"People used to think they'd be confined or bored or get seasick, but all of that has changed," says Andy Stuart, President and CEO of Norwegian Cruise Lines. "These ships now are bigger than some of the islands we go to, the idea of being (any of those) is ridiculous. If [I'd] have said in 2007 you'd have a race track on the top of a ship, you'd say I was nuts. Now you go to the top deck -- you find waterslides like you'd find at Wet'n Wild. That goes a long way into changing those misconceptions."
People are putting a premium on experiences. And cruises offer a lot of experiences.
That cruise ship with a racetrack Stuart mentioned? It sits atop the Norwegian Joy, which debuted in China this summer. But it's far from the only outlandish attraction to hit ships in the past few years.
Carnival's Vista boasts an IMAX theater and top-deck bike ride. Royal Caribbean's Harmony of the Seas has a FlowRider, a zip line, and a giant dry slide that drops passengers more than 200 feet. And like students in a cutthroat prep academy, every cruise line pushes the rest to do better. "There's definitely pressure to innovate," says Stuart. "Clearly, we're all looking to bring out the next element that everyone's talking about."
Cruise lines have upped their shore excursion game considerably as well. It's almost become marketing cliché to say millennials value experiences more than stuff, but like a lot of clichés, it's true. Where once you might get a typical city tour, or maybe a one-tank scuba dive, today shore excursions on most cruise lines allow for customizable tours or itineraries. Cruise lines pay special attention to the types of shore excursions offered when choosing new destinations, to make sure they're the kinds of things their guests can walk away from with a great story. And it pays off.
"We see less money spent on retail and more on shore excursions," Liberty says. "So that's a good tailwind for what we do."
The bar for food, drinks, and entertainment has gotten higher
"I used to get so irritated when I'd watch American Idol and Simon would tell someone, 'The only place you belong is on a cruise ship,'" Stuart says in a Cowell-esque British accent. "So in 2009, we set out to prove Simon wrong. We started by putting Blue Man Group on the Epic, because we felt like ship entertainment should be on par with Las Vegas or anywhere else."
The entire industry has joined Norwegian in disproving Simon's barbs. MSC Cruises introduced two ships this year with Cirque du Soleil onboard. The ice show and the water show on Harmony of the Seas include former Olympians.
"The feeling is if people wouldn't be satisfied with a show on the west end of London, why should we give them that on a cruise ship?" Stuart says. "And your steak needs to be as good as Morton's and your slides need to be as good as any land-based waterpark. That's now the mindset of the entire industry."
So while you're still welcome to stuff yourself silly at the midnight buffet, if your palate is a little more refined, cruise ships have options. The Carnival Vista has an onboard brewery, and the world's only full-time brewmaster at sea. Norwegian features wine bars by Michael Mondavi, and names like Thomas Keller (Seabourn), Guy Fieri (Carnival), and Miami's favorite Pubbelly Boys (Norwegian) have spots on cruise ships as well.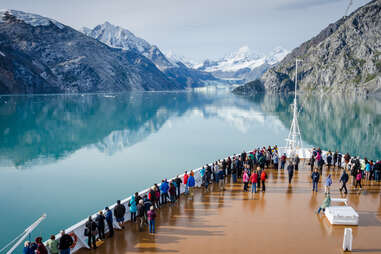 And cruise lines have gotten a lot better at marketing
"People in the industry are beginning to learn not every cruise is for every person," says Christine Duffy, President of Carnival Cruise Line, which has nine brands under its umbrella including Seabourn, Princess, and Holland America. "We've gotten a lot smarter about who we target to get on which ship."
Much of this is done through targeted advertising via social media and search engines. In their ads, cruise lines are overhauling their image for the youngsters who might have never considered it for a vacation.
"With social media and digital marketing, we can be much more personalized on who we focus on," Duffy says. "For the Carnival brand, it's always been known as the fun ships. People who enjoy a Carnival Cruise want to socialize. They want participatory fun, something fun always going on."
Cruise lines are aggressively competing for millennial consumers who want to balance international travel and action with pure, uncut laziness at sea. Ship designs have gotten ever bigger, and more insane. The food and entertainment are better than ever. Costs are down. If this is a golden age for cruise lines, there's little wonder why they're winding up with all the gold.
Sign up here for our daily Thrillist email and subscribe here for our YouTube channel to get your fix of the best in food/drink/fun.

Matt Meltzer is a contributing writer to Thrillist who still appreciates the tailored nuance of a midnight buffet. Follow him on Instagram @meltrez1.