The CIA teaches you how to cook like a Michelin-star chef
No, not that CIA, these dudes are the Culinary Institute of America; an organization founded precisely one year before the coup-factory in Virginia in 1946, and since that time, the only way to gain access to their own set of whipping, beating, and tenderizing skills was by attending their school. Now, however, they're opening their gates to amateur chefs and cooking fans for a 3-5 day course at one of their three US locations.
Unlike most "Boot Camps", you'll be eating your face off and learning how to cook pretty much whatever it is your heart, errr... stomach desires: Mediterranean, Asian, French, American regional, Italian, etc.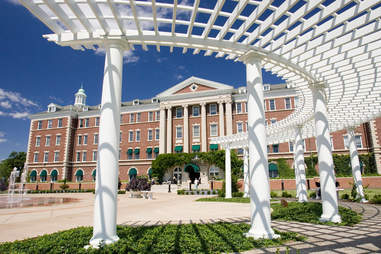 Find yourself skipping across the quad, again, at their three campuses across the US: Hyde Park, NY; St. Helena, CA; and San Antonio, TX.
The pro instructors are the same that teach in the world's premier culinary college (theirs). They have many, many awards between them, and they ALL wear those cool hats.
If you've got two left thumbs, that's not natural. You should probably see someone. But, if you understand that figure of speech, sign up for dexterity teaching courses like skill development.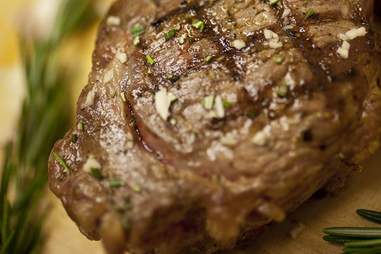 In the "Grilling and BBQ" class you'll learn how to grill the perfect steak, hot smoke stuff, and barbecue everything from seafood, to meat, to....
... poultry. Yes, you'll learn about the ole beer can and chicken dance.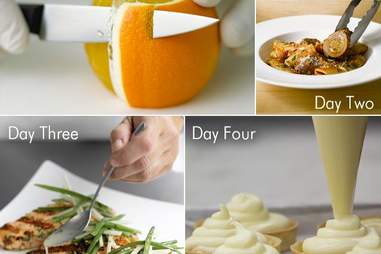 Those that can't make up their mind will sign up for the "Best of CIA Boot Camp", where each day of Boot Camp has a different theme (baking, desserts, bistro cooking, etc.).
Wine enthusiasts rejoice, as the CIA also has a course that will properly train your palate as professionals teach you tasting techniques to find the quality characteristics of wine, how to engage all of your senses, and learn how to describe the wines made from them. Which, we might add, are all trade secrets.