Too bad that Sandals vacay is nonrefundable, because we just got done exploring the place you should've booked for this Winter's tropical vacay: Club Med Curaçao; a Caribbean island located three shakes of Hugo Chavez's buried fist north of Venezuela. It's got everything your precious Sandals has, plus a namesake blue liqueur, and some of the most hospitable locals this side of those people from that strange village at the start of Big Fish. Eat iguana, play the Caribbean equivalent of Pebble Beach, and cook that pasty jaundice away with our tales from the tropics.
Recommended Video
There's a Stock Market-Themed Cocktail Bar in Hong Kong
First thing any potential tourist should know is that, despite its colonial relationship with Holland, weed is VERY illegal here, and smoking/ possessing it will likely get you thrown in the clink. And not one of these fancy-Dan jails. The second thing you should know is Curacao's actually the proud owner of a tropical savannah climate, which makes it downright steamy hot.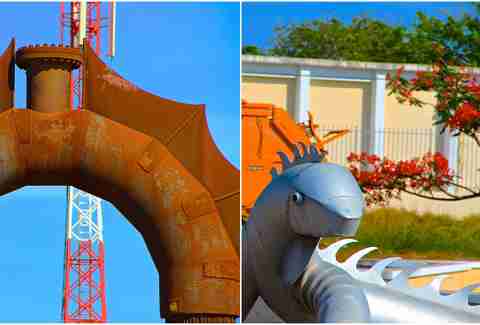 Check out these large iron/ steel sculptures, which likely signify the merging of industry (note the oil refinery in the background) and nature. I steadfastly maintain, however, that they were erected in homage of the lizard gods back when pot was still legal. It just makes more sense.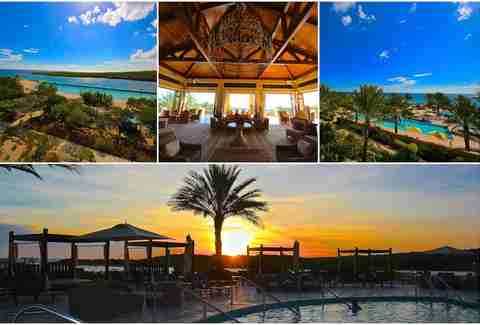 In one direction there's a beachy paradise, but look the other way and you've got lush desert. Either way, it's that tropical savannah thing that makes this one of the more visually diverse, iguana-laden 18-holes going.
And because all that golfing will leave you parched, be sure to acquaint yourself with the island's three most prominent beers. Amstel Bright is like what every Mexican beer aspires to be, only with real damn flavor. Presidente's a reasonable second choice, but the third option, Polar, is actually imported... Straight from New York.
Hit Amsterdam's prodigal-Jimmy-Buffet-brother capital city of Willemstad; yes, it really is this insane looking.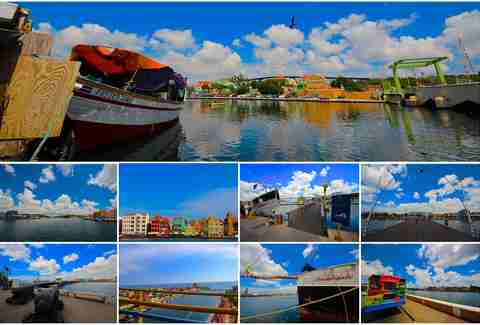 Lining two sides of a harbor and framed by a gate-keeper pontoon pedestrian bridge (the Queen Emma) and colossal arch (the Queen Juliana), Willemstad's known for colorful Dutch facades that date back to the mid-1700s. The town buzzes daily with a floating market (made up of fishing boats) where they peddle everything from fresh conch to tourist tchotchkes.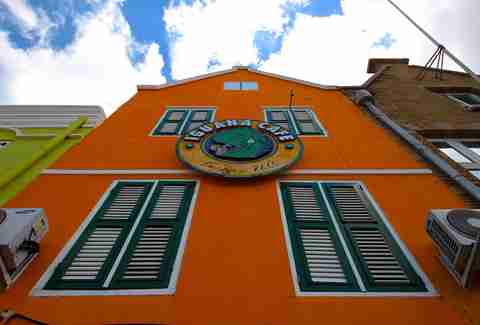 Want to venture off the generic guidebook "must see" list? This place serves uber-lethal puffer AKA "lion" fish as an off-menu option.
Pirate-y old islands are always loaded with ancient forts guarding their harbors. Instead of turning theirs into some stuffy museum, the powers-that-be in Willemstad repurposed Fort Riv into an open-air mall with shops, restos, and even a casino.
Pardon Plasa Bieu for yelling at you, but it's pretty excited to be THE place for authentic Curacaon grub. The name means Old Market in Papiamentu, one of the three main languages (English and Dutch being the other two) spoken on the island. The more you know!
Goats roam the island freely... so expect to see stewed goat on many a menu.
A local delicacy loaded with bits of seafood, okra soup is really tasty once you get over the "I'm swallowing snot" sensory panic that's certain to overtake you.
On Friday nights, those in the know make their way up to this epic vista... and not just because of that tidy sunset, though that's certainly an added benefit.
It's an official/ unofficial resto named Equus, which's actually just a space in that bald guy's backyard horse stable. His name's Roger, and what literally started as a weekly meat-skewer BBQ for friends and family more than 20 years ago is now Curacao's worst-kept secret. The ordering is simple: pick a steak, chicken, or combo skewer (there's a veggie option too), then sit back and sip on some Amstel Brights or vino while Roger cooks it up. Eschewing utensils, they literally hang your skewer at your table and you eat with your hands.
After sleeping off your meat coma, hire an ATV to see the innards of the island.
This radness is referred to as Big Knip. Knip... hehehehehehe.
Playa Forti is THE favorite beach of the locals, and with water this insanely clear, it'll be one of your top daytrip spots as well.