At some point, waiting in line outside Best Buy on Black Friday in the freezing cold to save $100 on a pair of Beats became as much a part of the holidays as Santa Claus and reruns of A Christmas Story. But for those of us who prefer our post-Thanksgiving coma to last past 4am, Black Friday holds about as much appeal as a day at the DMV.
Instead, many folks prefer to chill till Cyber Monday, and reward their patience (and/or love of sleeping in) with some ludicrous flight deals. And even then, don't do a bunch of slapdash searching. We have you covered already. Here, in one place, for you, the lazy shopper and motivated traveler, are the best Cyber Monday travel deals this year, including flights, hotels, cruises, and private islands -- all at steep discounts.
Recommended Video
Spoil Your Pup at The Dodo's Best Dog Day Ever Event
Thinking about a trip to Disneyworld, or just wanna check out how cool a city Orlando actually is? Via Airlines will be offering 25% off all flights to and from Orlando-Sanford International Airport when you use the code CyberMonVia2017 to book online. Offer must be booked on November 27 for travel dates November 27 through March 31, 2018.
If Canada is in your plans, that country's leading discount carrier WestJet will have fares starting at $99 each way to Toronto, Montreal, and Vancouver, plus deals to Mexico from Canada if booked by 11:59pm on November 24. Here's a breakdown of what they're offering.
Air New Zealand -- those pioneers of zany in-flight safety videos -- will be offering 100 London-LA round trips for $231. Flights from London-Auckland will also be available from $527. If you miss those insane deals, they'll also have $400 off US-Australia/New Zealand flights, and $100 off LAX-London.
Ever thought of going to Fiji? Well, maybe now's the time. Fiji Airways is cutting prices nearly in half for flights from the West Coast to those Pacific islands. Flights from LAX, SFO, and Honolulu will go going for $799, with flights from those cities to Australia and New Zealand on sale for $899 through Monday.
For the sake of your wanderlust/your not-so-viral Instagram account, here's your chance to fly to Europe with Norwegian for less than $200. Fly from New York to Rome and Barcelona for $140, travel from Boston to Paris and London for $150, or hit Dublin from Providence for a mere $90. 
Princess Cruises has two interesting deals available until November 29. If you're looking to sail between now and the end of spring 2018, you can save up to $1,000 per stateroom or $500 per guest on select six- to-60-day cruises. Cruising next summer? Try the Sail Later, offer, where summer 2018-spring 2019 sailings bring three amenities for everyone in the stateroom, including free stateroom location upgrade, free gratuities, and up to $600 credit per stateroom.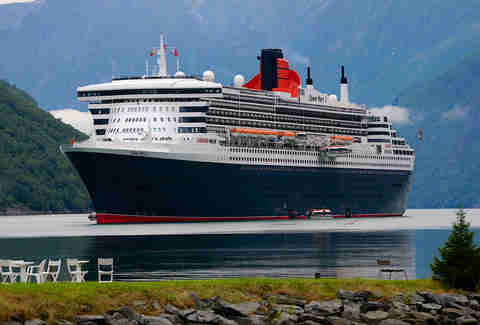 For those looking for the old-school steamship experience, Cunard -- operators of the Queen Mary 2, among other stately vessels -- will give free gratuities, half off third and fourth guests, and a $200 reduced deposit on all new reservations made from November 21-30.
The usually-too-expensive-for-you Viceroy is dropping rates to actually-affordable levels with deals at 30-40% off on hotels from Beverly Hills to Central Park, Riviera Maya to St. Lucia. The deals start on midnight on Monday and run through December 4, for stays from now until December 21, 2018.
Not to be left out of the brand-wide sales event, Marriott is offering sales at literally all of its 3,500 hotels across 20 brands in the US, Canada, the Caribbean, and Latin America from November 23-27. Reservations must be booked through Marriott.com, with rates starting a $89 for stays between December 7 and January 15, 2018.
Flights to Hawaii are getting crazy cheap, and you can book a similarly cheap hotel to go with it. From November 24-28, Outrigger Hotels are offering 40% off all their hotels in the Aloha State for stays through May 31, 2019, including the Waikiki Beach location with one of the best beach bars in America at Duke's.
Possibly the best hotel package deal on Cyber Monday comes from the Grand Lucayan on Grand Bahama Island. For $91 per person, you'll get breakfast, a $50 spa credit, and a free round of golf on The Reef Course. Book between November 23-20 for travel November 25 to January 31, 2018 with a two-night minimum, and use reference code BLKFR when booking.
Tranquil Marigot Bay in St. Lucia has half off all rooms when you book between Friday and Monday. The travel window is November 24 - March 30, 2018 for a minimum three-night stay.
Looking to get married in 2018? The Gates Hotel and 24 North Hotel think you should consider Key West. So much so they'll give the bride and groom three free nights if they book their wedding at either spot between November 20-27. Just make sure you get married before the end of next year. Contact sales@thekeyscollection.com and mention the deal.
One of Riviera Maya's finest resorts at the Mahekal Beach Resort will give you up to half off, starting at $149/night if you book between now and December 8, for travel November 21 to October 31, 2018. If you stay four nights or more, they'll throw in a $200 food and beverage credit. Wait till Tuesday to book, and the resort will donate 10% of your purchase to earthquake relief.
The Grand Mayan in Nuevo Vallarta, Mexico is taking 67% off your room rate, offering $300 rooms for $99 if you book by 11:59pm Monday.
You know who rocks harder than anyone? Shenzhen. Don't believe us? Head to China and see for yourself, where the local Hard Rock Hotel has free chilled champagne in the lobby bar plus half off room rates during its Cyber Monday flash sale.
Secret Escapes is offering three nights' hotel on Edinburgh's Royal Mile, plus entrance to the famous Edinburgh Castle, for $179 all-in. Book that by 11:59pm Monday.
Rare is the Cyber Monday deal on modern-era youth hostels, but Selina -- the folks who offer everything from $25 shared bunk rooms to $400 luxury king suites -- is taking 30% off at all 13 of its properties throughout Central and South America. Book all day on Monday, for stays through December 22.
If you haven't experienced the beaches in Panama, you should. The country that's so much more than a canal has a beachfront hotel at the Westin Playa Bonita slinging rooms for $80 a night, half off the usual rate. Valid for travel December 1 - June 30, 2018. Use promo code CYBER.
Stay on the best beach in Florida at Clearwater Beach's tony Sandpearl Resort, which will offer 40% off selected room types for travel between November 27 and February 13. 2018. Visit www.sandpearlresort.com and use promo code CYBER 17.
If you saw our sleek Miami guide and thought "Damn, I need to get me to the 305," Cyber Monday is your permission slip. Some of South Beach's  swankiest hotels are half off this Cyber Monday, with the Mondrian, Gale, Kaskades Suites and Shelborne offering 50% off their best available rates. Book here to take advantage.
Even though we lean on Cheap Caribbean for travel data, they wouldn't even tell US where their 60% off specials will be for 12 days starting on Cyber Monday. Head to the site each day from Monday through Friday, December 8, and find out which destination they're discounting.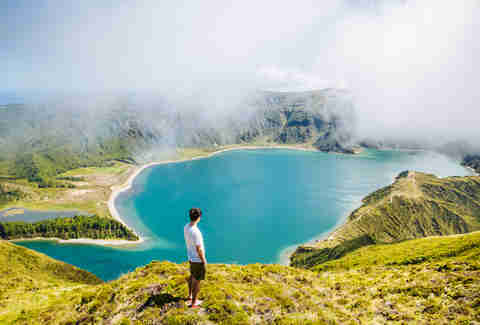 The Azores, a small archipelago about halfway between the East Coast and Portugal, are offering insanely cheap packages on curated vacations. Azores Getaways will give you seven nights accommodations, some meals, and activities like exploring the lava caves of Algar do Carvão, and whale and dolphin watching. All for $499, inclusive of round trip airfare from Boston.
Take a quick Bahama break at Resort World Bimini, who gives you a two night stay, plus airfare from Miami for travel November 22 - March 1, 2018 for $199 per person.
Universal Orlando Resort will give you two days of unlimited park admission to Universal Studios Florida, Islands of Adventure and Volcano Bay when you buy two days of three-park passes. Buy through VisitOrlando.com and use the promo code GIFT from November 22-28 to save an extra 10%.
SeaWorld Orlando will knock of $42 per ticket on two-day, two-visit tickets, valid at SeaWorld, Aquatica and more. VisitOrlando.com gives you that same 10% off if you buy between November 22-28.
LEGOLAND Florida Resort will let you save more than $20 per ticket on a one-day pass. By now you should know the routine with VisitOrlando.com.
You'll have to fly yourself there, but if you want to explore some of the undiscovered gems of Sydney, Topdeck Travel knocks 70% off its five-day Sydney Discovery tour, starting off at an appallingly low $159.
Contiki, those purveyors group travel for young adults, are offering 30% off trips to Ecuador, Costa Rica, New Zealand and other locations, plus $150 off flights to get there. Book between now and December 4.
Also among Topdeck's offerings: the two-week Road to Marrakech through Spain, Morocco and Portugal with stops in Madrid, Granada, Marrakech, Seville, and Lisbon. The 15-day trek starts at $542 if you book between November 23-27.
Looking to take a Euro-trip with your travel buddy or significant other? Take a look at On the Go Tours, who're offering buy-one-get-one-half-off deals on tours through Italy, Spain, and Portugal. The small group tours stay in boutique hotels and the deals are available Thursday to Monday. You can get details on the tours at On the Go's website, but you'll have to call 1-866-377-6147 to book.
Expedia might have the most dramatic deals of the season, offering a staggering 90% off hotels booked through its app from noon to 7pm ET on Monday. Beyond that, 2,000 hotels are offering 50% off, and Expedia will give $100 off any $1,000 travel package, or a $100 hotel credit to anyone booking a cruise.
Seeing Europe by bus is cool now. Do it all summer long when you buy Busabout's $869 "Unlimited Hop-on Hop-off" pass that connects 47 of the top destinations in Europe. The deal is good until November 30, and you can also get 25% off  Croatia Sail departures, Summer Series, Ultimate Eastern Adventure and the Thai Island Flexi Hopper.
What do you get for the skier who only wants weed for Christmas? Lift tickets! Liftopia -- sort of like the StubHub of lift tickets -- is offering to add up to 25% the value of any gift card you buy, up to $250. The offer is good from now until 11:59pm on Tuesday.
And finally, what Cyber Monday is complete with a private island? Turneffe Island Resort will rent you an entire island in Belize for 25% off if you book by the end of the day Monday. Minimum stay seven nights, and it's good June 30-December 21 of next year. It might be a little out of your price range, but still probably a better time than rioting over headphones.
Sign up here for our daily Thrillist email and subscribe here for our YouTube channel to get your fix of the best in food/drink/fun.