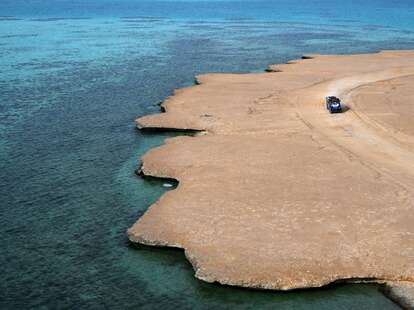 Wave at the Red Sea, but maybe stay far away from the edge.

| Franck Fife/ AFP/ Getty Images
Wave at the Red Sea, but maybe stay far away from the edge.

| Franck Fife/ AFP/ Getty Images
Go Off-Roading with an International Rally Champ
Discover the world—and yourself—behind the wheel of a rally race car.
Travelers, start your engines: You are now entering The [Scenic] Route, a rip-roaring exploration of the world's most incredible international road trips, from lush Rwandan jungles and ancient Peruvian mountains to seaside Irish villages, dreamy Japanese forests, and twisty Romanian hillsides. For more reasons to hit the pavement—plus tips, interviews, and a custom road-ready playlist—cruise over to the rest of our coverage here.
Shot from above, the Saudi Arabian desert is almost otherworldly: expansive sandy terrain pocked with alien hoodoos and undulating dunes stretching as high as 600 feet. There are salt flats and quicksand (not just for Indiana Jones movies!), sandy banks that drop into turquoise oceans, jutting escarpments, and mountainous borders that have birthed prophets. The only desert in Asia (technically an extension of the Sahara), it's also hostile terrain—people regularly get stranded or led astray in these parts. Temperatures range from blisteringly hot in the daytime to freezing at night. And then there are the animals. You might encounter camels making languid trails. Or Arabian oryxes, ibexes, gazelles and wolves who might be less than forgiving of your intrusion.
And for about two weeks every year since 2020, there are machines. Fleets of cars, ATVs, motorcycles, and massive six-wheel trucks descend for the renowned Dakar Rally, an off-road multi-day endurance race that zig-zags through some 9,300 miles over 14 stages plus a prologue. Like metal beasts crawling the landscape, their engines hum in the omnipresent wind as they're piloted by both fancy factory-sponsored professionals—who come outfitted with their own support teams, sometimes even including masseuses—as well as adventurous amateurs who arrive with nothing but serious driving and mechanical skills, diehard friends, and a prayer.
Routes change annually since the first race in 1978, but the epic landscapes remain a constant. From the original journey of Paris, France to Dakar, Senegal to its later shift to South America in 2009, prompted by security concerns in Mauritania, to the modern race, now fully ensconced in Saudi Arabia. This year's journey kicked off December 31, 2022 at a "Sea Camp" on the shores of the Red Sea, then crossed the country to finish in Dammam along the Persian Gulf.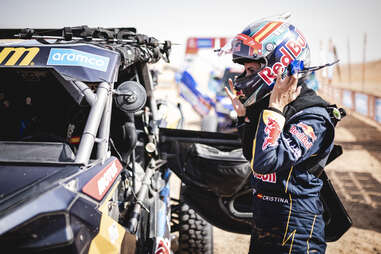 It's been called the toughest race in the world. And not everyone makes it to the end. In 2023 there were 383 total vehicle entrants; at its conclusion on January 15, there were just 233. But for a host of adrenaline junkies like Spain's Cristina Gutiérrez, a 31-year-old driver on her seventh rally—her third with Red Bull, and in 2023, her first competing in a Side-by-Side Can Am—the race that kicks off the World Rally Championship series is the pinnacle of off-road racing. And not just for the prize money, which can get into the hundreds of thousands with sponsorship payouts, but as the ultimate test of mental dexterity, physical endurance, navigation skills, and sheer bravery. When you're sent out daily to unfamiliar, tough terrain with nothing but a digital roadbook given to you 15 minutes prior to taking off, (and, to be fair, for everyone except those on motorbikes, a navigator), a whole lifetime can be compressed into 14 days.
In the world of rallying, anything does happen. Like the time in Abu Dhabi when Gutiérrez thought she was stuck in a dune, but had in fact climbed onto the rotting corpse of a camel. ("The smell was horrible," she recalls.) Or last January in Saudi Arabia, when torrential rains poured down, creating a soupy mud river coursing through a supposedly dry ditch she and her team were in the process of crossing (the close call was also caught on television for all to see). Ever wondered what happens when it rains in the desert? It's not good.
"In five minutes, the water reached our necks," says Gutiérrez. "There was a very strong current, and I had to stay inside the car accelerating so that no water got into the engine." She remembers her engine revving, but there was no budging. At one point, she thought that the car might capsize, trapping her inside. But two fellow competitors in massive trucks came through with assistance, eventually pulling her rig out in true Dakar sportsmanship fashion. Here, you help if you can, because you have no idea what can happen to you down the road. "Today you can help someone, but surely tomorrow you will be the one who needs help," says Gutiérrez. "It is a lesson that we must know when doing a Dakar."
Before a race of this magnitude, you prepare by knowing your machine, knowing yourself, and, most importantly, being ready for anything—including getting lost, which is how this whole thing began in the first place. But first, some rally racing history.
A challenge, with a French accent
In 1907, the modern motor car was still somewhat in its infancy, and with manufacturing technology still a few years out from Henry Ford's assembly line, the motocycle, as the horseless carriages were called, was still the domain of the elites who could afford to tool around town. But French newspaper Le Matin saw their potential for more: a tool for exploration and adventure, connecting man and his vast surroundings.
So they issued a challenge. "What needs to be proved today is that as long as a man has a car, he can do anything and go anywhere," the paper proclaimed on January 31 of that year. "Is there anyone who will undertake to travel this summer from Paris to Peking [Beijing] by automobile?"
The result was the Peking-to-Paris Challenge, which left a few months later on June 10 and traversed a 9,317-mile route spanning both on- and off-road conditions. It wasn't a race, per say, but a test of just what these new machines could do when combined with the mechanical and driving skills of exploratory minds. There were no rules except to finish what you started, and the first one to make it to the end was rewarded with a celebratory magnum of Mumm Champagne.
Initially, interest was high, with 40 people signing up to give it a go. But, presumably deterred by the distance, and lack of, well, actual roads—so much so that, in the end, the official challenge was actually canceled—the majority dropped out. By race day, just five people decided to go through with it; four people finished. The winner of the whole shebang was Prince Scipione Borghese, an Italian aristocrat who, with Italian journalist Luigi Barzini Sr. at his side, completed the course through China, Russia, Poland, Germany, and Belgium over two long months. (But, if we're being technical, it was his chauffeur who did most of the driving.)
Nevertheless, the Peking-to-Paris set the tone for the modern rally, distance races that last from a few days to weeks at a time, sending drivers crashing through paved roads and rugged terrains, often with a speed component. Some, like the Dakar, are based in navigation and regimented in stages with timed sections called "Specials" (you can win a single stage, but to win the entire thing, you have to have done it in the shortest amount of time with no penalties). Others though, are let's say… flexible, when it comes to rules.
There's the Ferrari Cavalcade Classiche, an invitation-only competition limited to Ferrari-owners only, as well as the madcap Mongol Rally (tagline: "Motoring stupidity on a global scale"). The latter covers 10,000 miles from Europe to Russia across the Mongolian desert, requiring participants to raise money for charity, improvise their own routes, pilot only vehicles with small engines, and, throughout it tall, dress "fancy" (think: top hats). Considering the spectacle, unsurprisingly the 19-year-old race quickly achieved YouTube fame.
There's also the Monte Carlo Rally, first launched in 1911 by Prince Albert I, the Safari Rally through Kenya, and the Mille Miglia, which, from 1927 to 1957, ran as an endurance race and has since been reborn as a classic car rally involving vehicles made prior to 1976. There's the Africa Eco Rally, the Silk Way Rally, the Abu Dhabi Desert Challenge, and the Sno Drift Rally, where drivers are almost guaranteed to encounter snow or ice. There's the all-encompassing World Rally Championship, which includes the Dakar. And Peking-to-Paris, incredibly, still exists. Revived in 1997 and running sporadically (the next one begins in May 2024), competitors must now drive vintage or classic cars, while the grand prize is still, charmingly, an oversized bottle of Champagne.
But it was the Abidjan-Nice Rally from Côte d'Ivoire to Côte d'Azur that truly inspired the Dakar Rally. And curiously enough, it never would have happened if in 1977, one Thierry Sabine hadn't gotten lost in the desert.
The man, the myth, the Thierry Sabine
A Frenchman with a need for speed, Sabine was trying his hand at Rallye Côte-Côte when he fell off his Yamaha bike, smashed his compass, and found himself unable to navigate his way out of Africa's Ténéré desert. Out of gas, he abandoned his ride and began traveling by foot. After three long days, he was discovered dehydrated and near death. And yet, while most logical humans in such a state would stay far, far away from any similar situation for the rest of their lives, the fully recovered Sabine, as if bewitched by the desert, looked out at the same dusty, unforgiving landscape that had nearly ended him and thought, I bet an amateur would have some fun driving on that.
Thus he created the Dakar Rally, a 7,460-mile off-road race beginning in Paris, France before transferring across the Mediterranean via southern Spain and continuing to Dakar, Senegal. The first race lasted 19 days, from December 26, 1978 to January 14, 1979. In alignment with Sabine's interests, contestants would not be corralled into using just one type of vehicle. That first year, 80 cars, 90 motorcycles, and 12 trucks assembled in front of the Eiffel Tower waiting for the signal to start.
Sabine's motto? "A challenge for those who go. A dream for those who stay behind." And since then many have accepted this challenge—the Dakar Rally has since become the most prominent rally in the world.
Over the years, the Rally has racked up more than a few good stories, some involving celebrity drivers. In 1985 and 1986, Prince Albert of Monaco entered the competition armed with a Mitsubishi Pajero. He failed to make it to the finish line in both attempts, petering out at around the same point. In 1985, his big sister (and co-competitor) Princess Caroline faced a similar fate alongside her husband Stefano Casiraghi when their $800,000 15-ton supertruck flipped over just as they hit the Algerian desert.
French actor Claude Brassuer has also competed, as has French singer Johnny Hallyday. And in 1982, Mark Thatcher, the ne'er do well son of then British Prime Minister Margaret Thatcher, went missing in Algeria during the race, accompanied by his co-driver Anne-Charlotte Verney and their mechanic (an incident played out in the fourth season of The Crown). Thatcher subsequently called the British Ambassador in Algeria, and a large-scale search and rescue mission was launched. Six days later, the battered racers were spotted off-course by an Algerian Air Force plane low on supplies. The rescued Thatcher somewhat arrogantly said everything was fine; all he needed was "a beer and a sandwich, a bath and a shave."
But not all tales of Dakar have a happy ending. The Rally's flipside—and some of the draw, if we're being honest—is its mortality rate. Over 80 people have died since that first race in 1978, from participants to spectators. Drivers have rolled over at high speeds, been crushed by their vehicles, crashed into rocks, and lost control due to tough terrain and unforeseen natural disasters. They've had heart attacks, succumbed to head injuries, and gotten into accidents with non-participants. And in one extreme case, Charles Cabbanes, a support truck driver for the Citroën World Rally Team, was reportedly shot and killed by rebels in Mali (though no organization ultimately claimed the murder). As a New YorkTimes headline put it in 2007, Death is Part of the Race's Allure.
Perhaps the Rally's most notable casualty was founder Thierry Sabine himself, who, in 1986, was conducting a search and rescue mission by helicopter, looking for vehicles stuck during a particularly bad sandstorm. Met with high winds and bad visibility, the low-flying chopper crashed headfirst into a 100-foot dune near Timbuktu in Mali, killing Sabine along with the four other people on board.
Remember your nuts
Don't be fooled by the term "amateur." It takes both a hefty amount of cash and a fair amount of experience to compete . Sure, anyone over 18 can enter the Dakar, but you must also obtain a skill-vetting FIA (Federation Internationale de l'Automobile) or FIM (Fédération Internationale de Motocyclisme) Off-Road Rally Licence. The association holds the right to refuse your entry based on poor sportsmanship or past racing results. Participants wishing to man motorbikes and quads must first enter a qualifying race, which include those listed under the Road to Dakar label plus certain races affiliated with the FIM World Championship and the Bajas World Cup.
Obviously, there's a baseline to enter. But the rest is on you. "Cross-country is an endurance category within the motor world," says Gutiérrez, noting that both your own and your vehicle's durability will be on the line. You'll see big brands like Audi, Porsche, Peugeot, Mini, and Yamaha showing off by equipping drivers with new specially-designed vehicles—after all, if they do well, it's a pretty good advertisement for the brand. And for the racers, the Dakar is not just a race of human endurance, but also of mechanical ability. If a piece of the car pops off, especially during the marathon stage, you're the one responsible for sticking that puppy back on. "That's why it is important to have notions of mechanics, because only the driver and co-driver are allowed to repair the car," adds Gutiérrez.
You'll travel the world and see extraordinary landscapes in ways you'd never experience, say, on an airplane, but you'll have to know how to contend with terrain. Desert sand is notoriously fickle, and not all patches are created equal. "The desert is one of the most challenging terrains of all," says Gutiérrez. "Each desert is different—you have to know how to read the sand, read the dunes. Knowing if the sand is soft or hard is one of the most important things because that way, you will know how you have to carry your car. It's important to do many miles on this surface to have more experience."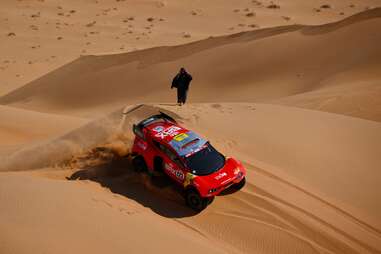 If you're thinking about entering, plan to ship your competition clothes, warming devices, helmet, and HANS safety device, if applicable, to Saudi Arabia—or wherever the race might be—well ahead of time. And when in doubt, ask past competitors to make sure you've thought of everything. "Many times you learn [when it's too late] that you have to take something essential when you don't have it," says Gutiérrez. "The next year, you won't forget it again."
One thing you should never forget? Plenty of snacks (Gutiérrez recommends nuts). Driving lasts all day, from 5 or 6 am straight through to 6 or 7 pm, if all goes well, and there are no formal meal breaks. "We don't eat during the race because I can't take my hands off the wheel," says the seasoned driver. "We can only drink with a CamelBak, but as the stage is usually very long, we stop to refuel for 20 minutes, and that's where we take the opportunity to eat something."
Suffice it to say, you'll also need to train your bowels. "The Dakar Rally is a marathon, not a sprint, and the number one goal is to finish each stage," says Gutiérrez. "If you have a problem, you may be driving for many more hours. You may not arrive back at camp until dawn, or even sleep in the desert overnight."
If you're interested in getting in on the action try attending as a spectator first to see it from the inside and chat with experienced competitors. Then start with something shorter, the three-day Cortez Rally, perhaps, or the six-day Baja Rally. Maybe you'll even stumble upon something a little closer to home. Gutiérrez's first rally was a cross-country race in her hometown of Burgos, Spain, chosen largely by chance. "Some friends of my parents competed in that discipline, and I began to ask them everything about the rally," she says. "It was the easiest way to start."
Above all, go into each rally with as much humility as you can muster, understanding that you are small, and the Dakar—or any road race, for that matter—is large. "We risk our lives inside a car—you have to take it very seriously and always have the respect it deserves," says Gutiérrez. "There is no bigger mistake than thinking you have controlled the Dakar."
Vanita Salisbury is Thrillist's Senior Travel Writer. Her preferred sand is at the beach.