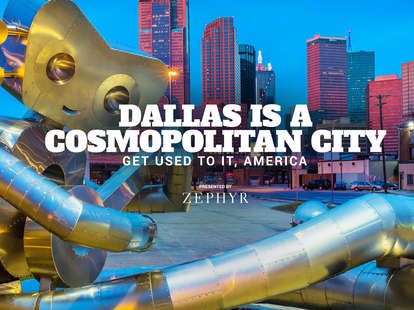 Dallas Is a Cosmopolitan City. Get Used to It, America.
How could anything worth a damn come from a soulless, plastic, cultural wasteland like Dallas?
Easy -- because Dallas isn't any of those things and hasn't been for a while. If you think so, kiss Erykah Badu's ass.
If you think so, you should have been at Badu's 45th birthday at the end of February. For hours, she took people to church inside The Bomb Factory, an actual former WWII-era bomb factory located in the same Deep Ellum neighborhood where Leadbelly and Blind Lemon Jefferson used to play on street corners. It was one of those nights that you can feel is A Moment for every single second. You should have been there. Dave Chappelle and Andre 3000 were.
Erykah doesn't take Dallas for granted, but she's pretty much alone in that respect. I mean, look, I get it, OK? I understand that the widely held view is that all Dallas has ever contributed to the culture is two versions of an eponymous nighttime soap, the Dallas Cowboys Cheerleaders, and a Roman legion of reality-TV hopefuls, and I understand why. TV has kicked us in the jeans for decades, but we can't seem to say no to it. I cringed when they announced the Real Housewives of Dallas, because 1) I knew I'd probably become guiltily addicted to it and 2) it would reinforce every dumb thing people say about Dallas.
To be clear, some of that exists. Of course. But it's only part of what goes on here, and not a huge part. It just tends to get the most attention. When I think of people who best represent what Dallas is right now, I think of people like Ben Fountain, author of the brilliant Billy Lynn's Long Halftime Walk, the basis for an Ang Lee film coming later this year.
I saw Fountain at an event in 2015 at a house in the Oak Cliff neighborhood that had been turned into a bookstore and cafe, called "The Wild Detectives", by a pair of Spaniards, Paco Vique and Javier Garcia del Moral. On a table were books from Deep Vellum Publishing, a publisher of translated works started by Will Evans, another transplant, a couple of years ago. Evans recently opened his own book shop in Deep Ellum, a few blocks away from where I and several thousand others shared a moment with Badu. I could go on. People used to leave Dallas to make their mark. But now they're doing it here, and it has little to do with oil or personal brands.
But, sure, we're just a city of J.R. Ewings and Real Housewives.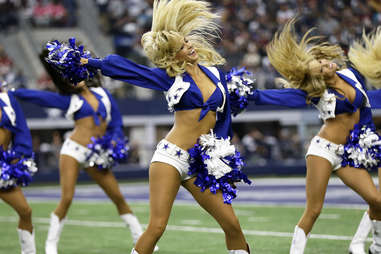 Speaking of dumb things people say? A few years ago, I was in Austin for South By Southwest, the gargantuan annual music/film/whatever festival that takes over the city for a couple of weeks every March. The first night I was there, I was with a couple of friends and a forty-something Austin woman -- I knew she was from Austin because she had a tambourine hooked over one shoulder -- approached us. She asked my friends where they were from and she made small talk about their respective cities when they told her. Then she asked me.
"Dallas," I said, with a smile even though I knew what was probably coming. And it did: her face immediately changed. Have you ever seen a baby eat something particularly unpleasant? Like that. She slapped me hard in the chest. "Why would you ever live there?" she said. She spun around, removed the tambourine from her shoulder, as if she needed a talisman to ward off my evil presence, and rattled off into the night.
It was a recurring theme. A couple of days later -- in the parking lot of a Whole Foods, of all places -- I overheard a man accuse another of "Dallas-ing up [his] Austin." I knew what they meant without asking, just as I know what most of the country means when they talk about Dallas. You could hear a light echo of it recently when the august New York Philharmonic announced it had hired Jaap van Zweden from the Dallas Symphony Orchestra as its new music director.
It comes from the lingering stench of a reputation that was never 100-percent based in fact. Dallas the TV show wasn't really about Dallas the city. It could have been called Houston or Texas. And, obviously, the Cowboys have plenty of blame to shoulder. All that "America's Team" business -- crafty marketing -- led to a national fan base that could be fairly described as being made up largely of frontrunners, dudes who have a Cowboys cap on a rack next to Lakers and Yankees hats. That's not our fault. The Cowboys haven't even played in Dallas since the 1960s, no matter what B-roll footage on Football Night in America might suggest.
We don't do ourselves any favors. The Dallas Convention and Visitors Bureau's slogan is "Big things happen here," which plays off the ridiculously overused "everything is bigger in Texas" cliché, and means that we end up trumpeting the fact that Dallas has the largest arts district in the country -- 19 contiguous blocks spread over 68 acres of museums and performance halls and a performing arts high school that produced Badu and Norah Jones, among others -- rather than anything regarding its quality.
Which is a shame, because none of the institutions there need to hide behind mine-is-bigger-than-yours boasts. The Nasher Sculpture Center, for instance, contains (inside a Renzo Piano-designed building) one of the finest collections in the world, with works by Jasper Johns and Willem de Kooning and Joan Miro and Matisse. It is not all of the art amassed by the late Raymond Nasher. The rest is located in his other contribution to Dallas, NorthPark, and that's where it gets tricky. Because NorthPark is a shopping mall.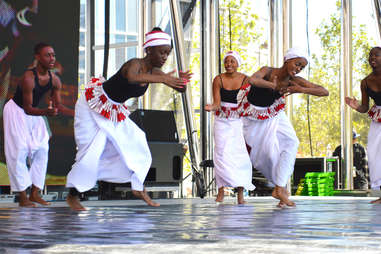 People no doubt roll their eyes when they learn that one of the city's malls houses an estimable collection of modern art -- mostly sculpture, but also a large grid of Warhols and pieces by Frank Stella and James Rosenquist, among others. You can't walk too far without coming across another installation. Some might argue this is a perfect distillation of the city's culture: "Oh, of course Dallas keeps all of its art in a shopping mall." Counterargument: yes, isn't that awesome? Wouldn't it be great if all malls did that? It's a free museum.
Ray Nasher is just one of Dallas' bold-faced names that struck it rich and then used a big chunk of that money to enrich the city's culture. But because they put their names on every park and theater and museum, it probably doesn't change the stock opinion that Dallas is a city of status-obsessed strivers constantly worried what the rest of the country thinks of us. You have to understand that, for an older generation, it was a very real worry.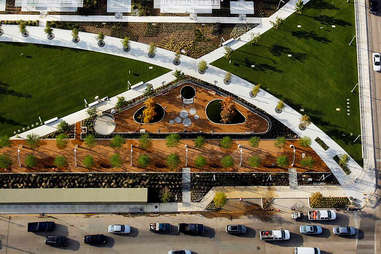 The assassination of President John F. Kennedy in 1963 was a stain that no amount of boosterism could wash away, but that didn't stop anyone from trying. For decades, the city looked for a magic bullet that could make everything OK again. So we tried shit. We turned a bridge into a park over the Trinity River and built another park over a highway. (Austin only has another highway on top of its highway.) There is an old guard that still thinks in those terms, forever touting this project or that one as the final step in making Dallas "world-class." Those two words are used so often they might as well come pre-printed on press releases.
But here's the deal: Dallas is already there. Is it a work in progress? Sure. Guess what? So is everywhere else. Every city is in some form of transformation, rebuilding or reimagining itself. But we have the bones of a great city. We have the people.
In late 2014, when Dallas became a flashpoint in the Ebola epidemic, Mayor Mike Rawlings awkwardly noted that the arrival of Ebola showed what an "international city" Dallas had become. It was an odd tone to strike at the time, but Rawlings was not wrong. In my neighborhood, there are Eritrean and Vietnamese churches. The city has one of the largest Sudanese populations in the country, part of a large and thriving immigrant community. Last year, when Texas Governor Greg Abbott pledged to keep Syrian refugees out of the state, Rawlings refused, saying it was "the spirit of Dallas" to welcome them, and it is. But I'm not just talking about refugees. On a recent weekend morning, for example, I went to the grand opening of a new coffee shop and cafe in the Dallas Farmers Market started by one transplant from southern Italy and designed by another from northern Italy.
You can feel that multiculturalism most, perhaps, in the food, especially the Chinese and Korean and Thai from the northern suburbs' deeply rooted Asian communities and the best tacos in the state (yes, better than Austin's) scattered mostly in the south. You want something fancier? We've got that, too. Dallas not just a barbecue town -- although we have one of the best barbecue joints in the country, Pecan Lodge, if that's what you're after. It's a city of fantastic, inventive chefs: Matt McCallister at FT33, Teiichi Sakurai at Tei-An, David Uygur at Lucia, Omar Flores at Casa Rubia, and Misti Norris at Small Brewpub -- and those are just the ones nominated for James Beard Awards this year.
Not that we need awards to prove ourselves to anyone. The city's younger generation is no longer terrified about how the rest of country and world thinks about us, but it maintains the can-do spirit born during those lean post-assassination years. We still try shit. That's what Dallas has always done.
And that's why I live here, tambourine lady.
Zac Crain is a senior editor at D Magazine, the author of Black Tooth Grin: The High Life, Good Times, and Tragic End of "Dimebag" Darrell Abbott, and a former elementary school janitor. Follow him on Twitter at @zaccrain