Why Dark Skies Are Disappearing—And How to Get Them Back
Plus, how to visit some of the best stargazing spots in the world.
Few things in the world are as reliable as the rising and setting of the sun. Every day, the Earth is plunged into darkness after sundown—until we turn on the lights.
The invention of the lightbulb nearly 150 years ago is arguably one of the turning points in human society, allowing us to more safely illuminate our surroundings at night without fire. But there's a tradeoff.
"I think the brightening of the night sky over our cities, the places we live, actually represents one of the most profound transformations of the natural environment," says Ruskin Hartley, executive director of DarkSky International, an organization dedicated to preserving the night sky. "We've introduced lights into the dark, natural environments in a way that it has never experienced before in the more than 4 billion years of the Earth's history."
One such impact is on our ability to see the night sky. Stargazing has been culturally significant to humanity for millennia, from the ancient Greek, Roman, and Middle Eastern societies that created legends in the constellations to the Polynesian navigators who used the night sky for wayfinding.
But light pollution affects far more than the night sky. In fact, it affects nearly every living thing on this planet—mostly detrimentally. Overall, light pollution is stress on the natural environment, just like habitat loss and climate change.
Hartley notes that many people are likely familiar with the impact of artificial light on sea turtle hatchlings. After the sea turtles emerge from their eggs, they naturally move towards the brightest horizon. Typically, that's over the sea, but due to light pollution, the sea turtles accidentally travel inland, where many perish.
That's not the only big example. "I think there's a growing awareness that light pollution is also impacting migrating birds. It's drawing them off their path, and they're colliding with brightly lit buildings in our large cities. Billions are dying each year," says Hartley. He also points to a number of other situations being studied where light pollution might be a problem, from the insect apocalypse (the global insect population has decreased by five to 10 percent over the past 150 years) to the behavior of predator and prey in Utah. "It's even affecting life below the waves," Hartley adds. "For instance, the clownfish does not reproduce under artificial light levels that are found in the coral reefs."
Light pollution goes well beyond a behavioral impact on wildlife—it contributes to global emissions, too. In 2021, light pollution represented one percent of global emissions—by contrast, aviation contributed two percent of global emissions in 2022. Ultimately, the invention of light is beneficial for human society, but too much of a good thing leads to waste. And in the case of light, there's a lot of waste that's impacting the natural environment.
The solution isn't to eliminate light altogether, but to reduce the waste of light. And it's far easier to do than you might expect. "It really means thinking about how we use light responsibly at night to meet our needs whilst minimizing its impact. And because of the way light functions, it doesn't mean giving up visibility or safety," says Hartley. "Do we really need to have our porch light on at two o'clock in the morning when there's no one around, or can we put it on a motion sensor, so when someone returns home late, it comes on and turns off five minutes later? It's thinking about thinking about darkness as a precious resource."
To show you how easy it is to reduce your light pollution footprint, DarkSky has partnered with the Illuminating Engineering Society to publish the Five Principles for Responsible Outdoor Lighting. Some suggestions to reduce your light waste include using motion sensors on outdoor lights, as mentioned before, as well as using warmer sources of light instead of white lights. You should also keep electric lamps facing downward to prevent spillage into areas that don't need artificial light at night.
And it's not only up to individuals to make a difference. DarkSky is also working on a policy level to reduce light pollution, notably in Europe, which is the world's most light-polluted continent. Partnering with the Czech Republic Ministry for the Environment, the organization has recommended steps that the European Union can take to mitigate light pollution. Again, it's not as difficult as it might seem. "Cities across Europe are starting to turn their monument lights off at 10 or 11 at night to save energy, but it also reduces light pollution," says Hartley. "But we still have a long way to go."
If you're looking to find places that have already made a change in the way they use light, there are hundreds of them around the world. Since 2001, Dark Sky International has been certifying destinations both urban and rural as International Dark Sky Places, awarding the designation for the implementation of responsible lighting policies and a dedication to public education about light pollution. Today, there are more than 200 Dark Sky Places in 22 countries on six continents—and that number only continues to grow. Discover five of them below, and see the full list at darksky.org.
If you do visit one of these Dark Sky Places, remember that it's not all about looking up at the stars. "Look down around you," says Hartley. "Maybe the fireflies are out, or maybe the frogs are croaking. See what's going on in the nighttime environment."
Flagstaff, Arizona
The very first International Dark Sky Place, Flagstaff impresses because it's not a park, but a city. That said, it's long had connections to the night sky—It's home to the Lowell Observatory, from which Clyde Tombaugh discovered Pluto, and the U.S. Naval Observatory Flagstaff Station. Flagstaff's dark sky initiatives predate its designation by decades, as the city introduced the world's first outdoor lighting ordinance in 1958.
Aoraki Mackenzie, New Zealand
Comprising Aoraki/Mt. Cook National Park and the Mackenzie Basin on New Zealand's South Island, this Dark Sky Reserve honors the Māori stargazing tradition for navigation and lore. There are nearly 1,700 square miles of protected land under the Dark Sky Place designation, meaning there's plenty of space for visitors to enjoy the nighttime environment and the stars. The designation also protects the Mt. John Observatory from light pollution, allowing scientists even better views of the night sky.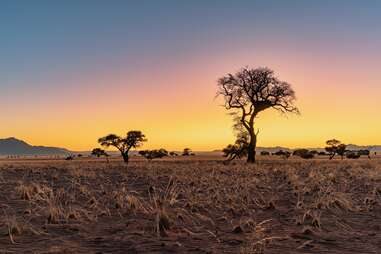 NamibRand Nature Reserve, Namibia
The NamibRand Nature Reserve in Namibia's Namib Desert is home to the Namib Desert Environmental Education Trust (NaDEET) Centre, a hub for environmental and night sky programming. It hosts overnights for local schoolchildren as well as international visitors, educating guests about the region's biodiversity in both flora and fauna—and provides ample wildlife viewing and stargazing opportunities.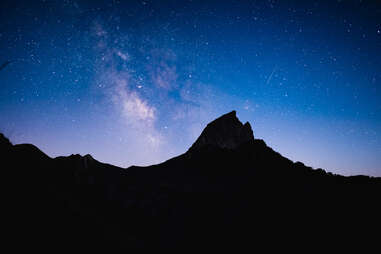 Pic du Midi, France
Pic du Midi International Dark Sky Reserve, or the Réserve Internationale de Ciel Etoilé du Pic du Midi, spans the UNESCO World Heritage Site Pyrénées-Mont Perdu and Pyrénées National Park. While it welcomes some 1.5 million visitors per year, it's also an important research site—scientific instruments measure the quality of the night sky here, which is particularly important given Europe's severe light pollution.
Kozushima Island, Tokyo, Japan
Just 112 miles from Tokyo, one of the world's brightest cities in terms of artificial light, Kozushima Island is a designated Dark Sky Island, providing a sanctuary for both stargazers and wildlife. In 2020, the village on the island replaced some 400 outdoor lights with dark sky–friendly fixtures to continue its efforts to reduce light pollution. During the day, it's a prime beach destination with snorkeling and diving opportunities—and there are hot springs for soaking.