How to Use Dating Apps to Make Friends When You Travel
Alex Robinson/Getty Images
Imagine you land in a new country, and immediately an attractive local whisks you away to the best, unknown spots in the city. You eat at non-touristy restaurants, dance away the night in hidden clubs, and maybe spend some cozy time canoodling with your pop-up tour guide.
This is how many travelers are now conducting vacations. They fire up their dating app of choice -- be that Tinder, Grindr, Bumble, Happn, what have you -- and start swiping. Before long their phone is full of cultural ambassadors who genuinely want to show a traveler the best aspects of their city. When you really luck out, you get to practice the language, maybe share a home-cooked meal. And, of course, sex stuff might happen.
Landing a "Tinder Tour," though, has pitfalls. There are best practices to know and mistakes to be avoided when swiping your way across a new country. We asked some seasoned travel swipers and got the low-down on how best to use a dating app to sweeten a vacation.
Consider changing your dating location ahead of your trip
Tinder Passport is a change-your-location function built into Tinder Plus that allows you to swipe through profiles anywhere on earth. It is, unfortunately, not free. But if you're about to go jet-setting alone, or are hell-bent on lining up a string of coffee dates in London or baller restaurant recs in Istanbul, Tinder Passport will be your copilot.
All over the world, people crush hard.
The advantage of swiping before you leave is obvious: You get time to build rapport with the Berliner or Dubliner whom you're foisting yourself upon for the week. Also, the dangers of anonymous dating multiply in a new place, so chatting for an extra day or two is a very good idea.
Since you're already doing some planning ahead, like finding housing, reserving restaurants, and booking tours, you might as well consider swiping as a part of the process. Who knows -- if it goes well, you may not need a hotel after all.
Take a chance, but do listen to your gut
Going on a date with a strange person in a strange land can be an intimidating prospect. But then, traveling abroad is all about doing and eating and seeing things you never could at home. By his second date with a Tinder match, Jay (not his real name), an American diplomat stationed in the Middle East, got invited to a raucous Islamic wedding -- a cultural extravaganza he wouldn't have experienced otherwise.
Shelly (also not her real name), an American fashion executive traveling through Australia with her best friend, swears by swiping apps to quickly learn the best spots in a new place. "It was such a cool way to meet locals who gave us this really insider view of Sydney and unique experiences we wouldn't have had if we just tried to meet people out and about," she told me.
Obviously you don't want the next Taken movie to be based on your first blind date in Amsterdam. So use your Spidey sense with sultry locals. Don't ignore the weird vibe you get from your sexy Swedish chat partner. When you've made a date, confirm with a friend that you're not taking silly risks. Share your phone's location with a trusted confidante in the city. And remember, it's much better to meet a local in a well-lit cafe near the Louvre than in their fifth-floor walk-up out in the 18th Arrondissement.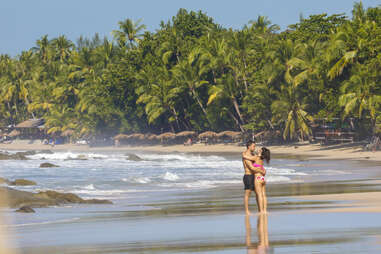 Announce upfront that you're a visitor, and maintain your boundaries
You're only going to be around for a few days? Might as well roll with it. After all, you're a mysterious traveler with a fascinating accent and intriguing stories about places the locals have only read about. Anyone who swipes right on someone who's "just visiting" is generally cool with a short-term arrangement and skipping the small talk.
But don't discount the possibility of something longer-lasting: all over the world, people crush hard. My cutest match in Thailand kept in touch with me for months trying to find another way to see each other. Shayne, an American media executive who uses Tinder and Grindr to meet men while abroad, had a similar experience.
"I met a dancer at the Moulin Rouge through Instagram -- but it turned into a little more, because he's gorgeous."
"In Prague, I met this wonderful guy (on Tinder), who fell really hard and really fast," he said. "I'd cast some very interesting spell that I was unaware of. He's a very genuine, very legit, successful, decent person -- you could tell he wanted someone in his life. He offered to come to the States to see me. Yes, he's attractive, sweet, has a good job, but I was like, 'That's too fast."'
Jack Harrison-Quintana, the director of Grindr for Equality, confirmed this is not a rare occurrence. "We recently heard a story from a user who traveled to Italy from the US, met a few people on the ground through Grindr, and in fact fell in love and is now married to his Grindr travel guide," he said.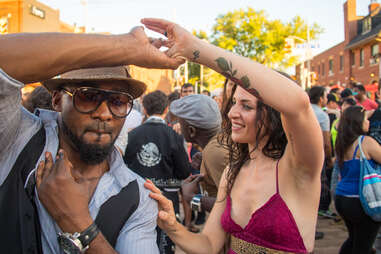 Tinder scams are a thing anywhere you go, so watch out
Swiping abroad carries added risks for women and men alike. Especially in developing countries where job options are few, and preying on travelers can be lucrative.
For instance: A Laotian woman I met in Siem Reap, Cambodia, took me bar-hopping to an awesome live music venue where she knew the house band, and then to a dance party that spilled out into the streets. Plot twist, though, when we returned to my hostel. She demanded I reimburse her $50 for drinks, more than I'd otherwise spent the entire weekend. When I refused, she screamed and threatened to set fire to my hostel. I dropped $20 in her lap and ran.
The best ways to avoid a scam is to know what they are, and to be on the lookout for signs of a con. If your date knows every worker in a nightlife area, for instance, there's a chance they're in on the racket. A good move is to suggest moving to a neutral location. If you're getting skeeved out, wait till your date leaves for the bathroom, and ask another traveler to weigh in on your situation. If you're being scammed, there's a chance a good Samaritan will have heard of this ruse and clue you in.
Apps can help you cut through holiday clutter
Holidays often pack the best parties, but local celebrations anywhere can be complicated, expensive, and generally clusterfucky. There's no better time to have a local plug you into house parties, private events, or free public happenings that are actually, you know, good.
Once again, cue horny locals for saving the day. Katie, an American economist living in Manila, went to Australia with a friend and realized everything they wanted to get up to was sold out. Cut to Katie and her friend swiping right like mad on Tinder.
Anyone who swipes right on someone who's "just visiting" is generally cool with skipping the small talk.
"I matched with a guy whose first message was something like 'you want to come to the best NYE party ever?'" she tells me. "Of course I said yes, that my friend and I had no plans. The guy seemed kind of full of himself, but he and his buddies ran a hedge fund out of an apartment on the harbor. We got creepy vibes from the (main) guy, but we had each other's backs, and we met a ton of cool people at the party. Plus we were on a balcony with views of the opera house and the harbor bridge."
Instagram is the stealth dating app you're already on
Don't overlook Instagram as a great way to meet people abroad with whom you have a ton in common. The romantic pressure is lower on social media than on a dating app, and profiles are often a more genuine and accurate portrayal of a person's looks, interests, and personality.
Shayne's Insta hack is simple: When you get somewhere, start posting pictures and see who likes them. "Every once in awhile you come across a new person," he says. "You click on their profile, 'Oh, this person lives in Paris, works in fashion, loves coffee,' you get an idea of their day-to-day, and then I'll shoot a message, 'Hey how's it going, love all your pics,' but not much more. Some take the bait, then it almost organically materializes, it's coffee. I met a dancer at the Moulin Rouge through Instagram -- but it turned into a little more, because he's gorgeous, and we managed to stay friends ever since.
"It's much more of a serendipitous process. Those people have stayed friends a lot longer than through the likes of Tinder."
The best friendships, the best romances, and the best vacations all have a tendency to sneak up on you. Let the universe hand you something unexpected, and you may find that you wind up with all three on your next trip.
Sign up here for our daily Thrillist email and subscribe here for our YouTube channel to get your fix of the best in food/drink/fun.
Brent is a writer from Los Angeles living in New York. He studied foreign affairs at USC, earned a graduate degree in Egypt, and then did counterterrorism analysis for the US Government before resigning to spend more time typing in coffee shops. Follow him on Twitter @BrentGiannotta.