In Death Valley, These Giant Mysterious Rocks Move On Their Own
The pioneers used to ride these babies for MILES!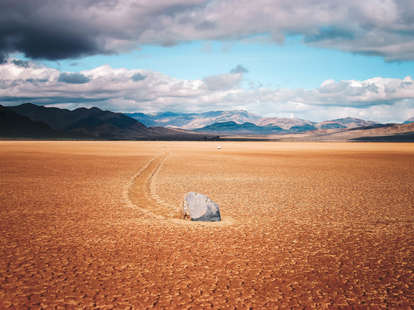 It's not just tiny rocks. It's really, really big rocks.

| Caleb Weston/EyeEm/Getty Images
It's not just tiny rocks. It's really, really big rocks.

| Caleb Weston/EyeEm/Getty Images
We really love the desert. Not just because it's beautiful, but because of the strange and ridiculous things you can find out there: Cowboys! Aliens! Ghost towns! Dinosaurs! And in this case, a bunch of rocks who have decided they'd like to be sentient.
California's Death Valley National Park is the hottest place on the planet, the driest place in North America, and home to the eerie and at times haunted-seeming playa—or dried lakebed—known as the Racetrack. This is where you'll find the park's famous "sailing stones:" stones that slide across the cracked, dry surface of the Racetrack with nothing appearing to push or pull them, leaving sharp, eerie tracks in the mud behind them.
The stones sometimes weigh upwards of 500 pounds, can move more than 15 feet in a single minute, and often leave trails of up to 1,000 feet in their wake. But the strangest thing of all? No one has actually seen them move—at least not in person, though in 2014 they were finally caught in motion via remote time-lapse photography.
Spoiler alert: The mystery behind the stones has been solved. According to a Death Valley National Park representative (who was apparently unable to share their full name or title with us, which is very mysterious and thus on brand), the stones are difficult to catch in action because they only move under special conditions.
"The phenomenon usually happens in winter after we get rain," the rep said. After a storm, thin but extremely slippery ice can form on the playa, allowing strong winds to push even bison-sized rocks across the surface and leave tracks in the mud behind them. If the playa doesn't receive enough rain, the stones stay put another year. And considering Death Valley is infamously dry, that means opportunities to catch the stones in action are scarce.
Your best bet may be to head out between December-February and check the forecast for rain. But the likelihood of seeing the stones go gliding all across creation is pretty low. Still, the trails they create in the earth are a pretty wild sight.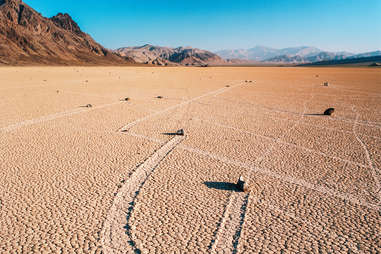 How to see the sailing stones
You can drive into the Racetrack, but you'll probably need a high-clearance vehicle with four-wheel drive, lest your rented sedan be claimed by the playa. Park at the Grandstand, which is about two miles from where you'll start to see the sailing stones. The southeastern segment of the Racetrack generally makes for the best views.
During your visit, remember that this is a fragile place: avoid leaving tracks, offroading, or moving the stones (they can do it themselves, dammit!). Keep in mind there's no cell service out here, so pick up (or download) a map before you head out.