Stop letting James Cameron have all the fun by boarding a vessel doomed to sink in the middle of the ocean with deep sea submarining by heading to Roatan, Honduras, and boarding a custom-built sub that'll dive 3000ft into the Cayman Trench so you can be face-to-face with one of the rarest sharks on the planet: the Six Gill.
Recommended Video
Please Don't Hang Up: The Best Things to See, Eat, and Do in Seattle, WA
Most of the shark-diving available to the general public looks something like this -- a handful of scared-ass peeps suspended just a few feet below the water, in a cage that may or may not have been welded properly. You will be going down about 3000 feet...
...in this: Shark Diver's custom submersible, specifically designed to take a pilot and two passengers into the Cayman Trench. With three different spheres, it's "one of the most unique undersea vehicles ever constructed".
Once down there you'll be looking for one of the ocean's largest and rarest sharks. That's one, two, three, four, five, and, holy Mary mother of god, six gills... Take that you silly surface shark divers.
You'll be down there for about six hours, meaning that you'll be able to scope all sorts of Six Gill action from the sub's nine view ports (which offer nearly 360 degrees of visibility), including them mowing some grub... don't worry though, you'll have a three day emergency supply of food with you, too.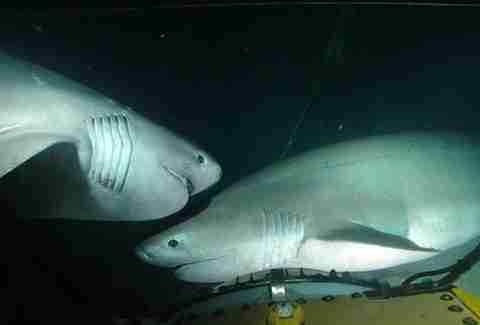 Just like James Cameron, you can never un-see two Six Gill sharks making love in the cold, dark depths of the Cayman Trench.