6 defunct airlines that were doomed from the start
Assuming it isn't already circled on your new 2014 Divas of WWE wall calendar, tomorrow marks the eighth anniversary of Hooters Air calling it quits -- a moment of silence, please. Before you cry into your plate of wings though, we thought it'd be fun to run down some other niche airlines that barely got off the ground, either literally or figuratively. Here are few you might've missed, starting with our favorite:
Hooters Air
Operated: 2003 to 2006
Flew from: Headquartered in Myrtle Beach and operated by Pace Airlines, HA flew to as many as 17 cities during its heyday, including the Bahamas, Las Vegas, and scenic Gary, Indiana.
Gimmick: Their sexy, scantily-clad waitresses served wings and brew at altitude. Was that so wrong?
Naked-Air
Operated: 2003 (May)
Flew from: One flight only... ever. From Miami to Cancun for "Nude Week".
Gimmick: A gimmick indeed, this one-day airline was the PR stunt of a Houston-based travel agency that (still) provides "clothing-optional vacations and cruises worldwide". It amounted to a single flight, during which 100 or so charter passengers -- most of whom nobody wants to see in the buff -- disrobed.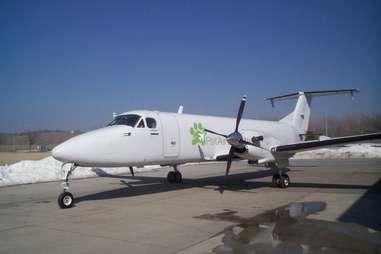 Pet Airways
Operated: 2009 to 2012
Flew from: Starting with service between California and New York, PA eventually branched out to 14 cities and announced they'd service five more when they promptly took the emergency exit from operations.
Gimmick: No doubt targeted at the same crazy pet owners who take their schnauzers to dog psychiatrists for chronic depression, they exclusively shuttled animals (which they affectionately termed "pawsengers") around the country.
Erotic Airways
Operated: 2006 to 2009
Flew from: While much was being "serviced", routes were not among those things.
Gimmick: Based in Australia and essentially nothing more than one tiny, twin-engine plane outfitted with a double bed and healthy supply of chocolates, champagne, and condoms, EA provided passengers the opportunity to join the Mile High Club during a 45min flight over Brisbane. A similar company recently took to the skies in Cincinnati -- check 'em out right here.
Smokers Express
Operated: 1993 to never
Flew from: While they envisioned many flights between 11 different destinations (including Tulsa, Dallas, and Atlantic City), they only scheduled one -- to Washington DC from Raleigh-Durham -- and it was cancelled due to a lack of interest.
Gimmick: The brainchild of a former Walt Disney executive eager to combat the increased crackdown on smokers' rights of the day, an "exclusive" membership to SE (at the cost of $25 a year) would allow you to fly an airline "founded to give the 54 million Americans who smoke a choice when they fly". In addition to "a choice", SE flights would also give away free cigs, burgers, and steaks. Sadly (?), they were never able to raise enough cash to get off the ground.
Roots Air
Operated: 2001 (March to May)
Flew from: For their three short months afloat, Roots Air flew between Toronto, Vancouver, and Calgary.
Gimmick: Free sweaters on every flight. JK! That would be pretty sweet though, right? No seriously, RA was the popular Canadian clothier's failed attempt at a discount airline, and was even pitched at the outset by funnyman Dan Aykroyd.
Dave Baldwin is Thrillist's senior travel editor and once spent a long, sleepless night in the stairwell of a Spanish parking garage. Follow his exploits at @ThrillistTravel.