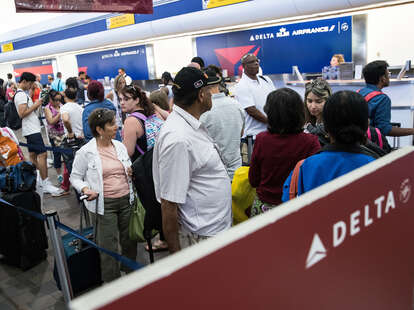 Drew Angerer/Getty Images News/Getty Images
Drew Angerer/Getty Images News/Getty Images
The Delta Air Lines meltdown that began with a computer failure on August 8th dominoed for days into a full-on air-travel crisis. Hundreds of flights were canceled, and thousands of people across the United States bivouacked on terminal floors. Travelers took to Twitter to complain about waits as long as three hours in cramped seats on airport tarmacs.
Who wasn't complaining: anyone with the luck or foresight to have bought travel insurance during this fiasco. If you were stuck in a parked plane for more than two hours, for instance, and had bought travel insurance from Berkshire Hathaway Travel Protection (BHTP) AirCare, you'd have a $1,000 payout headed your way.
While not every travel insurance policy is so robust, airline snafus like the hundreds of delays and cancellations that Delta suffered can highlight the value of getting covered -- if you choose your plan wisely. It may not be worth the extra expense on every trip, but travel insurance should be part of every savvy -- and cost-conscious -- traveler's vocabulary.
Shopping for insurance doesn't have to suck
To begin what's sure to be just a super-exciting tour of insurance products, hit up the comparison site Squaremouth, which allows users to compare and purchase travel insurance plans from every major US provider. That's helpful, because plans can run the gamut. For example, some credit cards' travel insurance policies only cover accidental death or dismemberment and loss of luggage while you're on the road – and only if you paid for the trip with that particular card.
According to Squaremouth, many policies offer coverage for travel delays and missed connections caused by any airline delay, which would have included Delta's computer malfunctions. The remuneration can really run the gamut, from $150 to $1,000 per person, per day.
And be warned: "In many cases, travel insurance won't cover cancellation due to an airline's computer glitch, though more limited coverage may be available for extra expenses, like hotels or meals, due to the delay," Squaremouth spokeswoman Rachael Taft said.
At least two insurers, AXA Assistance USA and Tin Leg, have said they'll cover customers affected by the Delta outage to the full extent of their policies, according to Airfarewatchdog founder George Hobica. He added that he would expect most travel insurance policies to cover expenses related to delayed flights, such as meals or hotels.
Christina Ausland-Franzen, 33, a mother of three from Pillager, Minnesota, is banking on that. Her Delta flight originally scheduled for Monday night ended up being delayed for more than 26 hours. She said that by Tuesday evening she'd racked up about $600 in expenses, including hotel costs, for her family of four while waiting for her flight, which she hoped would be covered by her Allianz travel insurance policy.
"My plan is to file a claim as soon as we arrive [at our destination]," she said. "I am keeping every single receipt. And really crossing my fingers that they reimburse me."
As for BHTP's aforementioned $1,000 payout, AirCare customers who did, in fact, wait in a plane on the tarmac for longer than two hours during the Delta snafu will get a quick grand, Brad Rutta, BHTP's vice president of marketing and communications, confirmed.
"Keep in mind the compensation is also cumulative," Rutta added, explaining the policy, which starts at $34 for domestic flights. "So if you have a flight delay, followed by a tarmac delay, and your bags are delayed, you would get $1,550." Not too shabby for a couple of extra hours reading a magazine and eating shrink-wrapped biscotti.
Michael Brune-Waelser, 20, from Seattle, said he was on the receiving end of BHTP's $1,000 tarmac delay coverage in September 2015. "They weren't kidding when they said the money would be in my account immediately," he said. "It was paid out the same day."
Concierge service will save your day
When his own Delta flight was canceled on Tuesday, Rutta saw firsthand the benefits of concierge service, which is included in all of BHTP's plans.
"My saving grace was our team of travel professionals that worked behind the scenes to make sure I was able to get a seat on the next flight," he said. "They also had a backup plan with a hotel room at the airport should I have not been able to make that flight."
Cassie Stallings, 41, a travel agent based in Columbia, South Carolina, pulled an all-nighter Monday to walk a client through a woefully scrambled trip on Delta.
As a travel agent, Stallings is doing much of the heavy lifting in filing her client's travel insurance claim with Allianz. "It is up to the clients to turn in all receipts, but I handle faxing everything to the insurance company," she said. "My job as a travel agent is to piece all the details together, and stress over anything that needs to be stressed."
Stallings said that the final decision on awarding compensation to her client is the travel insurance company's to make, but added that she feels "secure that these expenses will be processed shortly."
And your credit cards may already cover you
It's also worth checking your credit card policy to see if you actually do have coverage you didn't know about, especially if you have one of those fancy annual-fee-for-perks cards.
"Credit cards have some protection, a lot of people don't know that," Hobica, from Airfarewatchdog, said. Save your receipts, look at the policies of the credit card you booked your trip with, file a claim within 30 or 60 days, and be prepared to plead your case over semantics, he added.
"Some travel insurance agencies would cover for trip delay and trip interruption under an equipment failure clause. I think a server is 'equipment,'" Hobica said of the Delta computer meltdown. "Even if they deny the claim, you could certainly approach state insurance bureaus that govern travel insurance companies in each state."
Didn't buy insurance? You can still get paid.
If you do get snared in a travel nightmare and don't have insurance coverage, you could still end up with some extra cash to ease the pain.
AirHelp is an automated service that works with a team of lawyers to figure out whether you're owed compensation for your travel frustrations -- and there's no fee unless you actually get compensated. The average payout is $450 or more per passenger. Sure beats that airport food coupon or that $200 travel voucher your airline is offering.
"We've seen an increase of five times the amount of claims from Delta compared to the usual amount on a two-day time frame," Cecilia Minges, AirHelp's PR manager, said. "For claims submitted in partnership with online travel companies, we expect at least a 1,000% increase."
Delta's outage is hardly the first time an airline has suffered a systemwide fritz -- and it won't be the last. Best to figure out ahead of time how you can turn a travel-limbo migraine to your advantage.
Sign up here for our daily Thrillist email, and get your fix of the best in food/drink/fun.
Hannah Bae is a freelance journalist based in Brooklyn. She has worked for organizations such as CNNMoney,
Newsday
, and the US Embassy in Seoul, South Korea. Follow her on Twitter @hanbae, and check out her Korean food project @oelsbaeseasoning on Instagram.