America's Most Controversial Airport Is Now No. 1 in the Country
When it opened 24 years ago, everyone hated Denver International Airport. Now, it's turned its public image around.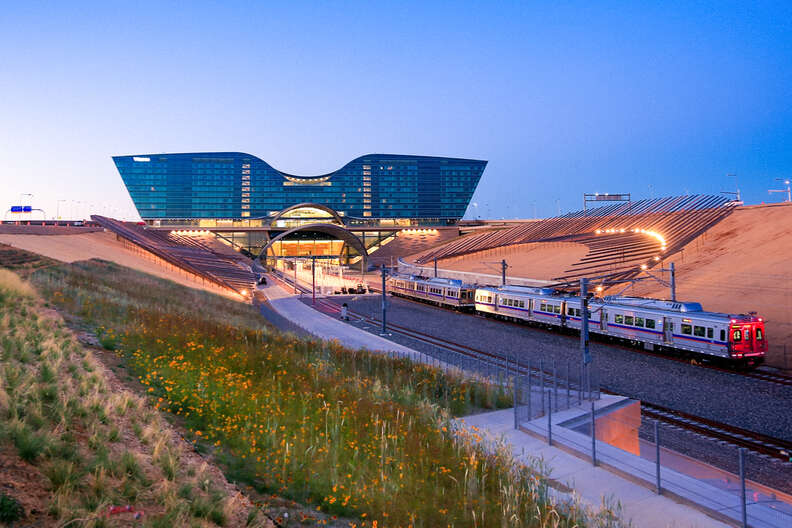 Denver International Airport, Colorado.

| Denver International Airport
Denver International Airport, Colorado.

| Denver International Airport
One of my fondest memories growing up in Colorado is the blizzard of 2003. Denver's biggest snowstorm in a century lasted three days straight. People still talk about it. By the time it stopped, the snow was three-feet deep across the metro area, seven feet deep in the foothills. That week was a visual wipe-out -- roads, sidewalks, yards, porches, fire hydrants, park benches, trash, everything got swaddled in a soft, clean white light. The world looked the way your apartment does before you move in all your stuff.

The blizzard of '03, however, was not a particularly good time for Denver International Airport. Thirty miles northeast of where I was attempting to replicate the giant fort from Snow Day, DIA airport officials were evacuating the main terminal out of fear the roof would tear open. And by roof I mean the iconic white tent that has covered the Great Hall since it was first built 24 years ago (designed to look like Native American tipis, but rebranded at the last minute with the claim that it was inspired by the peaks of the Rocky Mountains). Officials worried the canopy might rip at the seams from the weight of the snow. Despite its Teflon coating, it did (though snow did not dramatically cave into the terminal).

With only one road in and one road out, 4,000 people were stranded at the airport. A lucky 850 received cots; the rest were stuck with the floor. Then, in December of '06, Denver was hit by back-to-back storms landing a week apart, which had basically the same effect -- thousands of people stranded, sleeping on the floor (although DIA's canopy held up this time). Those storms came to be known by the extremely metal names The Holiday Blizzards I and II -- though many remember them collectively as "Snowpocalypse."

DIA's problems, highlighted by these storms, should ideally never happen again, thanks to long-term improvements over the last few years. As seats get more cramped and TSA gets more restrictive and it becomes more acceptable to yell at people online, airports are going to creative lengths to keep passengers happy. But few of them have had to rehabilitate their public image quite the way DIA has. Inconvenient, overcrowded, inefficient, and at times straight-up bizarre, DIA has been plagued by everything from questionable design choices to full-fledged conspiracy theories (more on those later).
Which is why it raised an eyebrow when, last November, The Wall Street Journal published its first-ever ranking of America's 20 biggest airports and pronounced DIA No. 1, dubbing it the "Mile-High Miracle." "Once a symbol of high cost and dysfunction, Denver soared in ranking of reliability, value and convenience," the paper wrote.
So how the hell does the most hated and controversial airport in America rise to No. 1?
DIA was plagued by delays and controversy from the get-go
DIA is the country's largest airport by size, an oft-repeated metric that does nothing to convey just how huge it actually is. At 52.4 square miles, DIA is twice as big as the country's next biggest airport, Dallas-Fort Worth International. DIA is about the size of Staten Island.
DIA sits way farther from the city center -- about 30 minutes' drive. Denver's original Stapleton Airport was located right next to downtown and, as happens with these sorts of things, both the city and the commercial airline industry outgrew it. As a result of nearby commercial and real estate developments, planes at Stapleton were taxiing through highway underpasses. (It's since been repurposed into various things like the popular Punch Bowl Social and the United Flight Training Center, where you can test the official flight simulators yourself if you play your cards right.)
The desire for a bigger, better airport had been percolating in one form or another as far back as the 1960s. Developers saw opportunity for serious sprawl, as Denver was an ideal candidate to become the major US hub it is today. But there were loud objections from Denver residents, who argued that Stapleton could have been expanded, and that shuttering it in favor of something huge and expensive was an absurd waste of the city's resources. They were also pretty adamant that if this space-age colossus was indeed getting built, they didn't want it anywhere within earshot. By necessity, DIA was one-road-in-and-out, nothing-around-for-miles, but this rendered it inconvenient in every conceivable way.
Project DIA got off the ground in 1989. The airport was built amidst a swirl of construction delays and government inquiries into its financing, including lawsuits by some who'd bought airport bonds and felt they'd been misled about the project's logistics. In April 1994 -- an opening date that had already been pushed back six months -- reporters invited to watch a demonstration of the $193-million, state-of-the-art automated baggage system infamously arrived on the scene to the telecars crashing into each other and flinging mangled suitcases through the air, underwear spewing across the tracks as they went. The opening date was pushed back again.

By the time DIA was finally unveiled in early 1995, 16 months late and (in today's dollars) $3.3 billion over budget, everyone already hated it. Throughout the 2000s, public opinion around the airport revolved mostly around the many, many conspiracy theories. You can take your pick of rumors: the connections to Freemasons and the New World Order, the connections to the Illuminati, the secret underground tunnels, the murals encoded with messages about the apocalypse, the gargoyles hanging out around baggage claim (like, actual bronze statues of gargoyles, lurking imperiously over your suitcases from above). These stories were punctuated by complaints about the airport being out in the middle of nowhere, and also way too expensive. The much-maligned automated baggage system wasn't officially terminated until 2005, but continued to be used by United all the way up to 2010.

Then, in 2008, Blucifer arrived.
A devilish blue horse and a whole bunch of conspiracy theories
Bluficer's official name is Blue Mustang, but no one calls it that. If they don't call it Blucifer, it's because they prefer "Devil Horse," or perhaps "Satan's Stallion," or "Denver's Demon Mustang," or "DIAblo," that last of which I've never actually heard anyone use but which I am including in the hope that more will start.

Blucifer, or whatever demonic appellation you prefer, is DIA's 32-foot-tall, anatomically correct, electric-blue fiberglass horse, with glowing red laser eyes that will pierce through rain and fog straight into your soul as you drive past. Mentions of Blucifer in the news almost always describe the statue as "controversial," positing that some folks love it and some hate it. I am sure supporters do exist, but aside from DIA CEO Kim Day ("You either love it or you hate it. I love it.") I have never met one. From a Blucifer-themed haiku contest in 2009:

Anxiously I fly
apocalyptic hell beast
fails to soothe my nerves

The only people who really seemed into the horse were the conspiracy theorists, who proclaimed the statue to be the Fourth Horseman of the Apocalypse, the one symbolizing Death. Matters were not helped by the fact that, once the man who created Blucifer finished painting its head, the head fell on him and killed him.

For Coloradans using DIA in the late aughts, Blucifer quickly came to encapsulate everything we hated about the airport. Setting aside that it was "cursed," the statue was unsettling to look at, cost well north of half a million dollars, and -- despite the fact that no one remembered asking for it in the first place -- arrived 13 years past due, like the actual Devil coming to collect just when you think he might have forgotten. And yet the tide began to turn in DIA's favor.
A modern hub for modern travelers

Kim Day was appointed DIA's CEO in 2008, and under her direction the airport has, among other things, taken a refreshing approach to the conspiracy stuff. These days, you can find DIA valiantly steering into the skid, joking about the rumors and even running conspiracy-themed ads.

"We have really focused these last seven or so years on the customer experience," Day says. "And trying to make your travel experience as least stressful and as most fun as we possibly can."

DIA had a fairly auspicious 2018. In May, it broke ground on a $1.5-billion expansion that will add 39 new gates, plus concessions, by mid-2022 -- increasing the airport's capacity by more than one-third. In July, it began a 3.5-year, $650-million renovation of the Great Hall. DIA added 59 new routes and saw a whopping 64.5 million passengers the same year, a figure which ranks 5th among airports nationwide and which is projected to reach 80 million as early as 2025. (For context, all major airports are growing; DIA will probably still be the 5th-busiest when it does hit 80 million, which could happen before or after 2025 but which is definitely happening).

If you have occasion to visit DIA today, you might stumble across such offerings as goat yoga, or maybe a member of the Canine Airport Therapy Squad, which comprises 100 dogs and one single cat (either to justify the acronym or because it's just an especially friendly cat) wearing blue "PET ME" vests.
The WiFi is free, as fast as you'll find at any airport, and you don't have to log into anything or sit through those annoying ad videos before you can access it. Security is being relocated to a new checkpoint, organized into a new waiting process -- instead of entering one long line behind hundreds of people, you'll be immediately diverted into one of 17 small vestibules where you'll wait with no more than 30, maybe 35 people, "which can be nice for, say, families with kids so they don't have to have all the business class passengers breathing down their necks." And because the airlines that carry the bulk of DIA passengers -- Southwest, Frontier, and United -- have overlapping routes, flight prices can stay competitive.
In 2015, DIA unveiled its adjoining Westin Hotel, a 519-room luxury annex in front of the main terminal that my mom refers to as "the sunglasses," though I've always thought it looked more like a cruise ship viewed from the side. You can get TSA-screened from inside the hotel. The Westin also came with a football field-sized plaza that holds a free ice skating rink in the winter and live music, movie screenings, beer tastings, and mini-golf in the summer. People who live nearby have started showing up for this stuff even if they're not actually flying anywhere. There's also a new $110-million commercial center developing nearby that will include at least six hotels.
In 2016, a long-awaited commuter rail line began running between DIA and Union Station downtown. The RTD A-Line has since been expanded from a two-car train to a four-car, and at peak time departs every 15 minutes. When you arrive on the train platform you can check your bag right there instead of having to take it up to the terminal lobby; you can just go straight up an escalator through security to your gate.
"That's been a huge success," Day says. "I think we always knew that employees would be riding the train, but we were surprised at how many passengers. I've talked to so many people who said once they tried it they would never drive here again. It's so easy. And now that we finally have the train connection, it slows down in bad weather sometimes, but it keeps running, so that's our lifeline to downtown."
A-Line has had a pretty bumpy rollout, and the Westin, though profitable, has so far managed to duck auditors attempting to check exactly how profitable. But both were agenda points during the airport's original construction, falling through for a variety of reasons such as being very expensive. Now that they're both finally realized, no future Snowpocalypse (in theory at least) should leave anyone stranded or sleeping on the floor ever again.

Every day DIA gets a little bigger, though it's taken some time for the frustrations with the airport to soften into something closer to casually beloved idiosyncrasies. These days, it does look to be more how people are perceiving it, except for the horse, which remains scary. The first of the new gates will be up and running by late 2020.
"My guess is we'll begin constructing new gates the moment we stop that [project]," Day said. "I'm serious. The growth here is that dramatic. You're from Denver, I don't know when you were here last but I'm sure you've seen that this city is on fire."
Kastalia Medrano is Thrillist's Travel Writer. You can send her travel tips at kmedrano@thrillist.com, and Venmo tips at @kastaliamedrano.