Meet the Nomad Championing Flex Work for Women
Nicole Vasquez co-founded Deskpass to be able to work from anywhere.
Presented By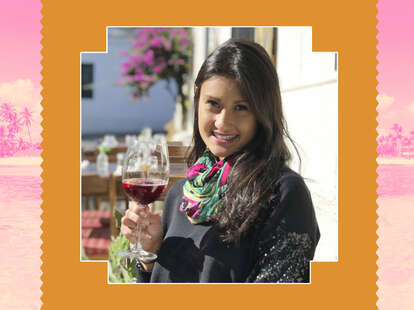 Wine tastes better in Colonia, Uruguay.

| PHOTO COURTESY OF NICOLE VASQUEZ, DESIGN BY GRACE HAN FOR THRILLIST
Wine tastes better in Colonia, Uruguay.

| PHOTO COURTESY OF NICOLE VASQUEZ, DESIGN BY GRACE HAN FOR THRILLIST
Nicole Vasquez was drawn to co-working spaces from the first time she stepped into 1871, in her hometown of Chicago. "I loved the energy, the buzz, the look and feel of the collaboration happening before my eyes," she says. It led her to start a co-working space of her own in Chicago, later co-founding Deskpass in 2017, a membership-based service which links subscribers to 700 co-working spaces in over 21 cities across the US (think Classpass, but for desks and meeting rooms). It includes filters for finding specialized spaces, like those women- or BIPOC-owned, or spaces that feature mothers' rooms.
As a digital nomad who's been working remotely for over five years— including some memories of working from her car in between meetings, "borrowing" Wi-Fi from various Starbucks — Nicole has become a staunch advocate for flexible work: the ability for an employee to choose where they work, on a schedule that works best for them. She's especially passionate about the benefits of flex work for women, BIPOC, and other minority employees. We spoke to her about the increasing importance of flex work as people ease back into office life, post-pandemic, and scored some tips on how to actually get work done when you travel. (Important: always have snacks.)
Thrillist: Thanks for taking the time to speak with us about flex work, which is especially relevant right now. What do you see as its benefits?
Vasquez: Ah, there are so many. I can give you a story touching every single aspect of human life. But I think the lofty thing is that it allows workers to create their best life on their schedule. One guy told me that he felt like a better dad because of flex work. He was able to go into a workspace, focus, get work done, and save time by not commuting all the way to his company office. And then when he went home, he could be a better dad because he wasn't distracted by unfinished work.
A woman told me that she actually lost weight because she was able to go into co-working spaces and pack healthy lunches, instead of buying food from her company office or snacking too much at home. And my husband, who worked in a busy office, really loved his co-workers but they would pop into his office [and distract him] all the time. So he actually started using Deskpass to work remote a few days a week. He was so productive and didn't secretly hate his co-workers.
Why do you feel flex work is particularly important for women?
Vasquez: Whew. Topics like this are close to my heart. Although the balance is changing, women still tend to be the primary caregiver in the household, so having flexibility around when and where they complete their work prevents them from feeling the need to decelerate their careers, or even leave the workforce altogether.
And another thing is the benefits for women who are breastfeeding. A lot of companies just don't have adequate mothers' rooms. And so flex work allows women to work from home and pump comfortably. Most co-working spaces actually have mothers' rooms set up—or at least something better than a company bathroom stall. On Deskpass we have a mothers' room [search] filter.
And there are definitely also benefits in being able to choose female-focused coworking spaces.
Vasquez: I've been to more than 400 co-working spaces around the world, and there've been a few times I've walked in and it's like, 40 tech dudes not used to having women in there. And it doesn't happen often, but the fact that it's actually happened a few times in my life was like, okay.
I think these female-focused spaces are a great addition to the industry. I was talking to a friend who had just joined EvolveHer in Chicago (an event and workspace dedicated to advancing women professionally), and she was like 'honestly, I got sick of getting hit on in workspaces. I'd be sitting and some guy would be oogling me. I love it here: I even dress up before I come in, and women compliment my outfits.' Women are more likely to network when it's a safer environment. Co-working spaces in my opinion are one of the best places to expand your business or expand your network. But as a woman, approaching a man often can feel worrisome of how it will get construed.
What do you see as the benefits particularly for BIPOC employees and other minorities?
Vasquez: As a person of color myself, I feel that people have to have work environments where they feel safe and supported at all times. In general from an industry perspective, black, indigenous, and people of color at tech companies are still unfortunately underrepresented. Which means they are unlikely to have the same experience at the office as their white counterparts, and are more likely to feel discomfort and disconnection at work or with their teammates. So a trend that I'm really happy to see is the rise of shared workspaces and social spaces specifically for people of color, like the Mox.E in Chicago, Black Dot in Seattle, and Space Called Tribe in Miami.
Flex work also allows BIPOC employees to choose a workplace in their own neighborhood, or in a neighborhood whose demographics match their identity. Another benefit is that seeing people who are successful that look like you is a great inspiration. Again, I think the freedom to choose is key in finding the best environment.
How does Deskpass work for companies, as opposed to individuals?
Vasquez: Technically a company can say, 'hey, here's access to 700 workspaces across the nation.' But a company could also say, 'we just want to pick the workspaces that are in New York, or in Brooklyn,' and they could actually customize it to match their corporate culture and what their employees are looking for.
Companies recognize that flexible work works. Not only can employees be productive, but they enjoy doing it. A lot of companies still have all their employees at home, and they don't know if and when they should return to the office. So we have a lot of companies using Deskpass right now to give their employees access to professional workspaces near home.
You have been a roamer for a while. Do you have any personal tips for balancing time while working remotely on the road?
Vasquez: I have four tips: Be realistic, be prepared, stand instead of sit, and take breaks.
So, be realistic: I learned many years ago that working from a beach or pool doesn't work. Your legs get sweaty, you can't even see your laptop screen, so it's not the glamorous "oh, I'm working from a pool in Bali." To be a nomad, yes, I work from exotic places—but during the day when I'm actually working, I'm indoors, on the Wi-Fi, connected to the electricity. You have to work from somewhere you can actually be productive for eight hours a day and be professional and maintain your job.
Be prepared: every seasoned digital nomad knows to keep everything you need in your bag. Not just your chargers, but like, a refillable water bottle, lots of snacks, hand sanitizer, napkins. A sweater or a scarf. Because if you're sitting there like, 'oh my gosh I'm so hungry, I'm freezing, now I have to leave,' you can't get any work done.
Standing instead of sitting: enough said. Stand. And then, take breaks. Definitely throughout your workday, but if you're one of those people like me who travel and work at the same time, at least take two to three full days off per quarter.
What has been your favorite place to work remotely?
Vasquez: I was in the Dominican Republic last week and we'd go surfing in the morning and have kite surfing lessons at the end of the day. But during the day, no joke, eight hours a day, we're sitting inside. It was a beautiful view from the inside looking out, but that's the thing: I really wasn't tempted. I'd be in a bathing suit working, sure, but no one needs to know that.