7 Reasons to Be Scared of Cruises in 2015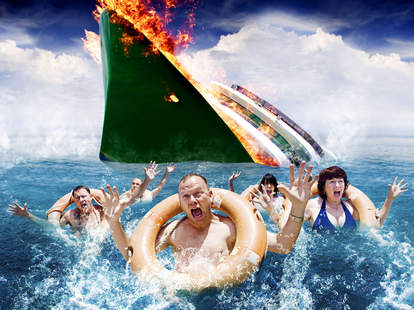 Cruises really are the ultimate vacation. You're isolated on a boat with nothing to do but eat, drink, gamble, tan, and drink some more. And with limited television and $15-an-hour Internet, cruisers are forced to socialize. And, well, we all know where that leads.
But the better cruising gets, the more terrifying it can become. We talked with the veteran cruisers and industry experts at Miami-based Onboard.com about industry trends coming up in 2015, and in the spirit of shock journalism, we're going to tell you why they should all scare the crap out of you.
 
ONBOARD.COM
They're going to know where you are ALL THE TIME
Gone are the days when you could anonymously roam a cruise ship, dominating '80s trivia before attempting to skeet-shoot dinner plates off the top deck. Now, cruise lines are offering apps that let you plan out your entire itinerary, like Princess Cruises' "Cruise Personalizer" that includes shore excursions, meal times, scuba diving, and other stuff. AKA developing a new way to keep an eye on you, and their dinner plates.
There's a better chance you end up in a sketchy house
If you're cruising to one of these countries, well, we warned you first. But even if not, cruise lines offering overnight port stays are now giving you ways to book lodging at those ports. Which means where you once had that bad-decision-limiting re-board time, now there won't be much holding you back from ending up in a REALLY bad part of Roatan.
ONBOARD.COM
You may end up with a stalker
According to onboard.com, one in five cruisers "find love" on the open seas. Their definition of "love" must include cramped sex on a twin bed while your roommate pretends to be passed out, but regardless, cruise lines are starting to cater to this with more "isolated, romantic settings" like The Hideaway on Celebrity Cruises' Reflection, a two-story library with pod seating for two. Which will definitely help you get laid, but will also drastically increase the chances of incessant, "But I thought we had something special in that pod!" text messages for a month.
Errant lasers and runaway Botox
Nothing says "widespread food-borne illness" like carrying live botulism ON THE BOAT. But onboard.com predicts an increased demand for luxury spa treatments including Botox treatments, teeth whitening, and laser hair removal. And we don't know about you, but the idea of a laser being THAT far from your junk on a rocking boat just doesn't sound safe to us.
More pain-in-the-ass destination weddings
Clearly, not enough people read our open letter. Because if they had -- and realized nobody wants to shell out that kinda money to see you engage in a 50/50 proposition -- Onboard.com wouldn't predict destination weddings as an emerging trend on cruise ships. Carnival now offers port weddings so guests who don't want to cruise can still enjoy the ceremony, and Royal Caribbean offers open bars for parties who book 25 cabins or more.
ROYAL CARIBBEAN
You'll take up possibly fatal hobbies
Royal Caribbean's new Quantum of the Seas introduced the first-ever onboard sky-diving simulator, which will undoubtedly lead people to think "Hey! If I can do it on a cruise ship, ACTUALLY jumping out of plane can't be that much different, right?" Yes, hurtling 15,000ft at 150mph is exactly like floating around the Grand Atrium. Good luck with that.
Late-night impulse shopping could get REALLY expensive
Taking a few swigs of green-colored Vodka from that "mouthwash" bottle you smuggled on while perusing the souvenir store used to mean at worst you bought a regrettable $30 "Yeah Mon Jamaica" T-shirt. But now as high-end retailers populate more ships, with Cartier on Quantum of the Seas and an Apple Store on the Celebrity Millennium, you may well find yourself waking up in the morning with a $10,000 watch you didn't plan on buying.