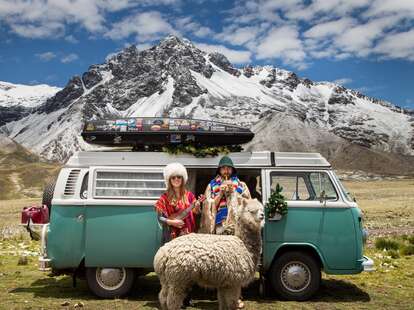 Courtesy of Dillon Vought and Tessa Ely
We've all heard the tale before: corporate dude ditches the suit 'n' tie for a life on the road, dude sees some beautiful vistas, maybe smokes a joint, finds himself, and lives happily ever after. Without specific characters, this narrative can fade into the fanciful. But, then, you come across people like Dillon Vought and Tessa Ely and realize: oh, right, this actually does happen. And better yet if you had your druthers about it, you could make it happen, too.
I reached Vought in Anchorage to talk to him about the duo's travels, which have been well-documented on their site, The Bus and Us, and on their Instagram account of the same name.
They quit their jobs...
"In 2014, after a few years as working professionals -- I was working in an office for a logistics company and Tessa was a teacher -- we were feeling a little antsy," Vought begins. "We both felt we weren't yet ready to settle down into the typical monotonous life society gears everyone towards, and the travel bug was nipping at our heels."
Fixed up a cheap van...
The two bought a "run-down, junkyard" 1975 Volkswagen bus for $500 and completely rebuilt it from the outside-in. "With nearly zero mechanical experience, 'in over our heads' is an understatement," he says. "But when, nine months after our estimated original completion date, we were ready to hit the road, we were ecstatic with the end product. Knowing we did all the work ourselves was the icing on the cake."
... and headed from Alaska to Patagonia
Over the next year-and-a-half Vought and Ely drove from their hometown of Anchorage, Alaska to Ushuaia, Argentina, completing that leg's goal of winding from the top of North America to the southern tip of South America. "We camped, surfed, fished, hiked and explored areas that I never thought I would see outside of magazines," he says. "We engulfed ourselves in strange cultures and gained insight into local issues and how U.S. policies affect people all over the world. We mostly stayed off the beaten path. And we wouldn't have it any other way."
The best spots
When asked what the top highlights of the trip were, Vought says, "It is incredibly hard to answer." Still, he checks off three spots.
Baja, Mexico: He says there are "endless remote beaches with good fishing and surfing," and the camping there is '"unmatched." Basically imagine California before the crowds.
Colombia: Vought acknowledges that Escobar's backyard is still "shrouded with a stigma of danger," so tourists tend to shy away. But look again. "Both culturally and with its natural beauty this country gives you the most bang for your buck," he says. "It is quite cheap right now: the least expensive country of our trip."
Patagonia: This one is pretty straightforward, Vought says. "On the bucket list for most people, this is possibly the most beautiful place on the planet," he says. "The longer you wait to go the more developed and less wild it will become. Go now."
But what does it cost?
"We budgeted $15,000 each for the entire trip, including plane tickets and the whole shebang," Vought explains. That's a hefty price tag, but then, they had to make it stretch. Gas was pricier than they bargained for, and the pair tried to keep their daily budget -- outside of fuel -- to only $30. "Life is cheap on the road," Vought says, "but not nearly as cheap as backpacking."
They also had to learn as they went: with no itinerary or experience in the countries they headed for, the budget was just a ballpark. "We didn't know how long that would last us, or how long we wanted to stay on the road," Vought says. "A year and a half so far is longer than we initially thought we would have been traveling. At this point we have run out of the trip money."
So, there you go: about 30 grand for a duo traveling for less than two years. Not terrible, but definitely not free. In fact, Vought and Ely sent the bus to Florida and returned to Alaska to work seasonal gigs to save up for their next journey (more on that below). "Although we considered seeking out forms of income on the road, we decided we would be able to enjoy the trip better without worrying about it," Vought says.
How do you pack for such a journey?
When asked about packing, Vought says, "Less is certainly more." He adds, "We try to keep items that have multiple purposes like our rain jackets that will double as city jackets or our Rumpl blanket that is designed for use as a picnic and sleeping blanket."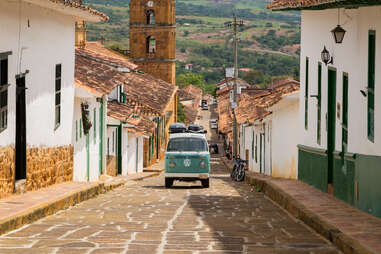 The road isn't always pretty
Any road trip this long, you're bound to encounter some trouble. For Vought and Ely, it came as they approached a toll booth in Puebla, Mexico. "Normally we wouldn't pay much attention to the various vendors as they aggressively try to sell you items," he recalls. "But this man in his blue jean suspenders was different, sitting next to a large garbage bag filled with what looked like stuffed animals. As he got up, he reached in his bag and made his way to our rolled down driver's window. We realized the horrible truth when the puppies in either hand began to cry as he squeezed them and shoved them one at a time through the window opening."
They, of course, declined the man's offer. He put the puppies back into the bag, which Vought says was "erupting with cries." The moment served as a reminder to the couple that road trips aren't always all about beautiful vistas and calm starlit nights. "Throughout this trip, we realized that these acts don't define the individuals doing them as bad people with malicious intent," Vought says. "They're just humans trying to make enough to support their families with the unfortunate hand they were dealt."
So should you do it, too?
"We recommend life on the road; there's no way to replicate the experience," Vought says. "You have complete control of your day-to-day life and you always have your home on wheels with you. That being said, it's definitely not as glamorous as it might appear on social media." He also says that the biggest issues are "money and mechanical ability." He recommends using vehicles that are popular in the areas you'll be crossing. "Choosing a vehicle that isn't common will have you doing your own work all the time," he says. "You'll be packing a lot of tools and spare parts and it will add more stress to your journey."
What now?
Vought and Ely are pleased to report that they're going to keep it going. "We recently shipped the bus from Buenos Aires to Florida," he says. "Now we will continue the road trip through the US and Canada and drive to the northern tip of Alaska." Keep your eyes peeled for a '75 VW rolling through your town.
Oh, and about that bus
"It sure would have been nice to have more room and A/C but there was no other vehicle for us," Vought says. They named the Volkswagen "Rita," and she became an honorary third member of the crew. "Vehicles often have personalities, but there's only certain ones which will gain you friends around the world," he says. "It seems like in nearly every large town someone would see us and get into contact. That often leads to a cultural experience we wouldn't otherwise have, and it was nearly always because of our vehicle, not our Alaska plates. Now we have friends and contacts throughout the world, and because of our social media, we are often contacted by bus travelers who are in Alaska. Currently, while home, we are hosting a couple and their '75 bus. They are working on their brakes in our driveway as we speak."
Sign up here for our daily Thrillist email, and get your fix of the best in food/drink/fun.
Colin St. John writes for
Rolling Stone
,
Esquire,
and other various outlets. Writing his own bio makes the Colorado native uncomfortable, almost as much as club sandwiches with no tomato, brown spirits, and Phish put him at ease.