For the better part of history, Croatia was like that oddly dressed dude at the party who's kinda giving off a creepy vibe, but is pretty much harmless. Well now, after years of avidly observing the fun from its dimly-lit corner of Europe, Croatia is taking its knowledge and dropping a big ol' rager, dubbed Dimensions Festival, on the picturesque shores that surround Fort Punta Christo in Pula.
The whole shebang starts today and runs for the next five nights, so it's not too late to snag a suspiciously cheap plane ticket and make this sweet barge party.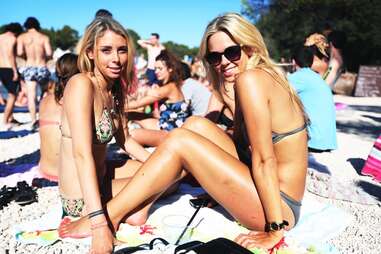 Bring your trunks and don't forget your pamphlet on push-up variations. You'll need it when trying to impress Croatian beach babes. Bonus points on that tribal back tattoo; they're just now getting big over there.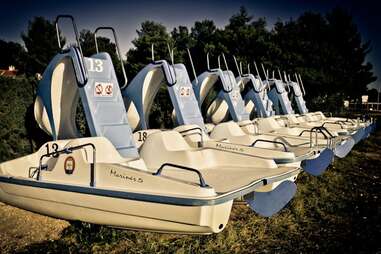 Oh, this? It's just a run-of-the-mill paddle boat with a freaking waterslide built into it. Show off your contempt for safety and "rules" by going down headfirst. Sup ladies?
Croatians undeniably love contempt for safety and "rules", as illustrated by this picture where the crowd has obviously gathered to see some dude out in the water going down a waterslide headfirst... Sup ladies (x2)?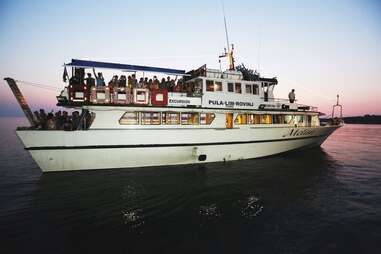 Just a bit larger than the S.S. Minnow, but with way more Ginger and Mary Anne if you know what we're saying... We're saying more women, dude. The party yacht takes off from this tropic port each evening, and a DJ'd dance party takes place on its tiny deck.
Don't break eye contact... don't break eye contact...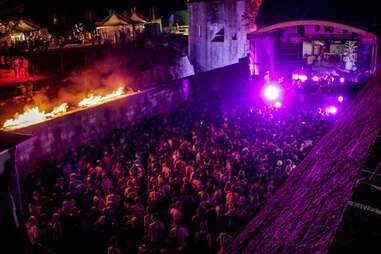 At night, like most parties, this place kicks it up a level and things start to really get weird... The whole area turns into a giant rave that's apparently surrounded by fire and circus tents, while multiple DJs take multiple stages and keep going into the wee hours of the creepy Croatian morning.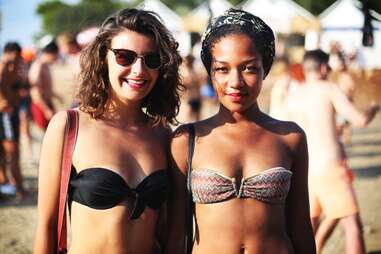 But rest assured that in the morning the women will still be gorgeous, and probably mad excited to observe your daily beach push-up routine. 128... 129...
Take that springtime sh*t back to Bummersville bro. Summertime vibes only, here.