Walking away disappointed from a day at Madame Tussauds, that's on you. It's a wax museum -- anybody could see that letdown coming. Visiting the The Four Corners and expecting to find more than a CD-sized disk in the desert? Also your bad, 'cause we warned you. But some tourist attractions throw you for a loop. Some attractions come with such a HUGE -- often lifelong -- buildup, you could never predict the epic disappointment you'll feel when you see how small they actually are.
And these are nine of those sites.
Manneken Pis
Brussels, Belgium
"Little Man Pee," a bronze sculpture of a naked boy peeing into a fountain, is one of Belgium's most famous attractions -- drawing tourists the world over to Brussel's Grand Place. But, at a wee 24in tall, it doesn't matter what they dress the statue up as (although the judo outfitis kinda cool), you're guaranteed to walk away shaking your head.
Plymouth Rock
Plymouth, MA
Historic enough that a million visitors a year visit this rock on the Massachusetts South Shore, it's actually only a third the size of the original, or about 4ft across. So, ummm no, the Mayflower did not land on it.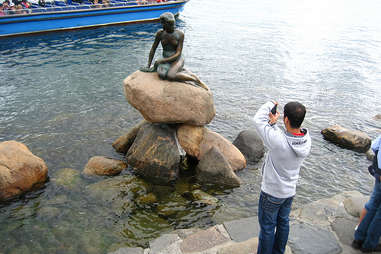 The Little Mermaid
Copenhagen, Denmark
While the word "little" should be the giveaway here, who would've thought that one of the world's most photographed statues (it attracts a million visitors each year) is actually the size of your seven-year-old nephew? The famous 4ft Danish mermaid is 102 years old, and was a gift from brewer Carl Jacobsen to the city of Copenhagen.
Mt. Rushmore
Keystone, SD
We're not sure what people expected, but there are, like, 10 pages of TripAdvisor reviews just blasting Mt. Rushmore's "disappointing size" -- despite the fact that the presidential visages are 60ft high, and have 20ft noses. Perhaps it's due to the fact that the closest viewing area on the Presidential Trail hiking path isn't necessarily that close. Or, more likely, people are just unreasonable.

The Mona Lisa
Paris, France
Why is she smiling? Probably because she saw the expression on your face when you realized that you just spent an insane amount of time and money getting to a painting that's only 30in by 21in. Even better, the world's most famous piece of art is roped off, so you and the other 18,276 iPad-wielding tourists can barely get within 10ft of it.
Checkpoint Charlie
Berlin, Germany
Basically, it's a glorified shed surrounded by sandbags that sits, ironically, next to a McDonalds.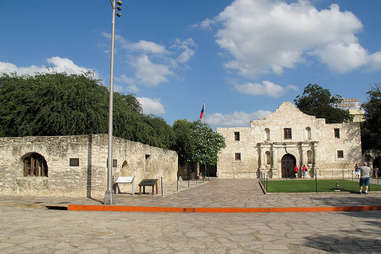 The Alamo Mission
San Antonio, TX
The legendary last stand at the Alamo has achieved mythical status in American/Texas history, causing most people to picture the complex as a sprawling fortress. In reality, not so much -- at least not any more. The original part of this Catholic mission that everybody visits is pretty much an underwhelming 75ft by 62ft building.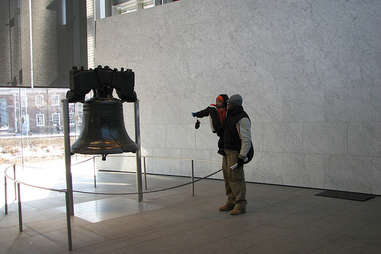 The Liberty Bell
Philadelphia, PA
Again, we have zero idea why so many people expect a bell to be the size of an elephant, but for some reason, they do; TripAdvisor is littered with people complaining about how small America's historic Liberty Bell really is.
Taj Mahal
Agra, India
The Taj Mahal, which took 20,000 artisans 22 years to build, is undoubtedly one of the most beautiful and recognizable sites in the world -- and an epic love letter built by Mughal emperor Shah Jahan as a tomb for his third wife. And yes, from the outside, it's enormous. However, disappointment will quickly set in when you realize that the massive palace is basically just a pretty facade housing ONE small room.

Sophie-Claire Hoeller is Thrillist's associate travel editor, and is convinced she did something bad in a previous life that's cursed her to always fly within three rows of a screaming child. Follow her @Sohostyle