The True Confessions of a Disney Adult
Inside the enduring appeal of the Most Magical Place on Earth
Walt Disney once said, "Laughter is timeless, imagination has no age, and dreams are forever." It's a heartstring-tugging sentiment I've come to live by throughout many of my travels, but no place embodies the statement quite like Walt Disney World. Cliches be damned, this colossal theme park complex more than lives up to its majestic moniker of the Most Magical Place on Earth, all while sparking my laughter, imagination, and dreams. It's no wonder I've been in the throes of a Disney obsession for about five years.
This is probably a good time to mention that I'm a 35-year-old gay man with no kids, who not only frequents the parks alone, but fully leans into the G-rated euphoria of it all by posing with characters alone, eating Mickey-shaped waffles alone, and riding Frozen Ever After, an EPCOT water attraction whose primary audience is young girls clad in Elsa merchandise—you guessed it—totally alone. And despite the resting bitch face you might see in my on-ride photos, Disney World is my happy place.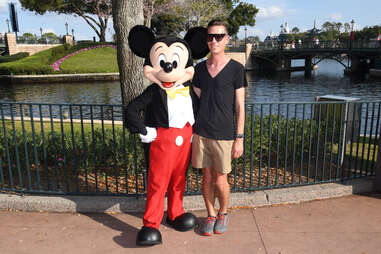 As a native East Coaster, I grew up visiting Disney World on family vacations, and they've always been some of my most treasured travel memories. But my adult obsession with Disney World locked in like a vice grip in 2018, when I was briefly living in Florida. I decided to buy an annual pass and put my Disney adoration to the test; at the end of my three-month stay, I'd either be permanently put off, or forever a Disney Adult. I proceeded to spend almost every day of that months-long span in the parks, usually alone, and resurfaced with a profound understanding of Disney's magic. To me, it's a place of sheer perfection, where meticulous craftsmanship and cutting-edge innovations ensure some of the best rides on Earth, where the themed lands are so immersive and enchanting you feel worlds away from your own, and where the omnipresent happiness thaws even the Grinchiest of hearts.
Clearly, kids love Disney World, and many of the attractions, rides, restaurants, and experiences cater to children and families, but I refuse to let social norms stop me from having the time of my life on the Frozen ride or posing arm-in-arm for photos with Sleeping Beauty. The idea that Disney has a lot to offer adults is truly nothing novel. Just look at its portfolio of Pixar movies, which use whimsical animation to explore themes like losing a spouse or aging out of childhood wonder. Couple this with attractions like The Twilight Zone Tower of Terror, a ride so jarring it leaves grown men shaking, and it's clear that Disney sometimes has an older crowd in mind. But the thing that draws me back multiple times a year, as a continued Annual Passholder, is that timeless joy that Walt opined about—something that not only transcends age, but gets stronger with it.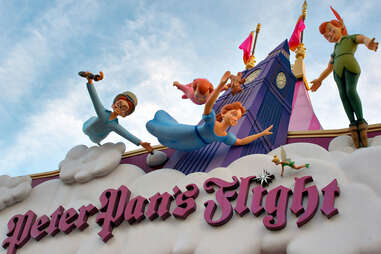 As much as I loved traipsing around the Magic Kingdom as a kid, I now have a heightened appreciation for the intricate nuances that go into the Disney machine and make it such a glossy nirvana. Rest assured I go on all those same kiddie rides of my youth, but riding Peter Pan's Flight, Soarin', and Kilimanjaro Safaris as an adult allows me to experience them through a more refined lens, awe-struck by the elaborate detail and planning that went into every component, as well as the careful efforts to uphold them for future generations.
It's not just the parks or the rides, either. As an adult, I'm happy to simply observe Disney's multi-faceted range from any vantage point, unhassled by a childish sense of urgency to be constantly on rides. I'll take in Disney's BoardWalk, with all its kitschy, Atlantic City-style ambience, or make a pilgrimage to the restaurant-and entertainment-filled splendor of Disney Springs. I'll even hang out in the lobbies of hotels I can't afford, admiring the majesty of Disney's Grand Floridian or the tropical artistry of the Polynesian.
There are some things that I wouldn't recommend doing as a solo adult at Disney, like riding the Magic Kingdom carousel, but luckily I can do something else that more than makes up for it: Drink. Some of the best cocktails I've had anywhere have been consumed at Disney World's restaurants and bars—think The Polite Pig, The Hollywood Brown Derby, and Enchanted Rose. And kids are great, but it's utterly refreshing to be a lone adult with a cocktail while countless harried parents struggle with restless children licking handrails in line.
Over the years, I've established some personal traditions and mainstays that make me feel a sense of home at Disney, which adds to the enduring warmth of it all. I like to see movies at Disney Springs' colossal AMC theater, pair a pitch-perfect Manhattan with a Cobb salad at The Hollywood Brown Derby, and ride Frozen Ever After at least three times within the span of a week. But lately, nothing makes me happier than a newer tradition: Visiting with my soon-to-be husband Nathan.
Last year, I took Nathan there for his first-ever trip to Disney World, and I practically combusted with glee. Sharing this supremely nostalgic place with him and witnessing it through the eyes of a first-timer unlocked a whole new level of magic—and proved a great way to get to know each other better.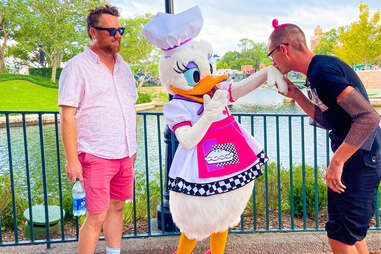 Together, we rode Splash Mountain, where I learned that his fear of heights is not to be taken lightly (no matter how many derpy animatronics are involved), and explored Tom Sawyer Island while I told him how I used to be terrified of the dark caves as a kid. I also had the opportunity to show him everything I love about Disney, from the Imagineering feats of rides like Star Wars: Rise of the Resistance and Remy's Ratatouille Adventure, to watching Daisy Duck wordlessly flirt with my man right in front of me.
All this stuff, these cherished memories and magical moments, only gets more enchanting with age. I just renewed my annual pass for the fifth time, and whether I'm there alone or riding Frozen Ever After hand-in-hand with my person, I look forward to many more years of ageless imagination and timeless joy.