Inside Disneyland's VIP Club 33, the Holy Grail of Luxury for Disney Fans
If you don't know a member, good luck getting in.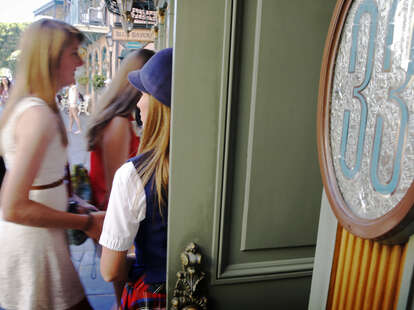 It's Disney's version of Soho House—but even more exclusive.

| Don Bartletti/Los Angeles Times/Getty Images
It's Disney's version of Soho House—but even more exclusive.

| Don Bartletti/Los Angeles Times/Getty Images
You can walk past the most exclusive club in Walt Disney World and not even notice it. This isn't surprising, considering Magic Kingdom has a nine–acre tunnel complex running beneath it for cast members to move across the park without being noticed. But this is different—this is the equivalent of a private, members-only club that's shrouded in secrecy, in true Disney style.
There's no sign marking the original Club 33 locale in Disneyland, which sits on Royal Street, squeezed between the shops of New Orleans Square, right around the corner from the Pirates of the Caribbean ride. It's hiding in plain sight. Everything else about Club 33 is as much of a mystery and hinges on rumors: The price of membership is in the neighborhood of the average American household income. The waiting list is said to be years long. And the most Disney is willing to dish out about the club is that "members enjoy special access."
Founded by Walt Disney, each of the Club 33 locations (there's now one in all of the Orlando parks) is themed around Walt and Lillian's adventures around the globe. For die-hard Disney fans, a meal inside Club 33 is a high holy experience. Shy of handing over the equivalent of a down payment on a house, how do people get in there?
The answer, like so many things in the House of Mouse, traces back to Walt himself—and they get more than a little weird along the way.
Walt Disney decided he wanted to welcome VIPs
A certain sacredness pervades the air in Disneyland that is hard to appreciate if you're only a passive fan. The park opened in Anaheim, California in 1955, as Walt Disney's original vision of his burgeoning empire. When you visit, you're still in Walt's world, one forged by his nostalgia for growing up in small-town Missouri. And yet, it's obsessive about the future, always prizing progress.
This appetite brought Disney to the 1964 World's Fair in Queens, New York, with his aptly-named "Progressland" exhibition at the General Electric pavilion. There, animatronics reigned at such exhibits as "Great Moments With Mr. Lincoln" (which continues to operate in Disneyland to this day) and "The Carousel of Progress," which sits in Magic Kingdom. (The other one you might have heard of? "It's a Small World.") The VIP areas at the World's Fair inspired Walt Disney to conceive a new, perhaps less progressive vision for his Disneyland park: a members-only club where he could entertain his most important guests.
Thus, Club 33 was born. Disney died in 1966, a year before Club 33 opened its doors for the first time, but his vision, design, and dream was carried out, as the Walt Disney Company has done since his death. In its 55 years, the club has grown in reputation and status among Disney fanatics to become the stuff of legend.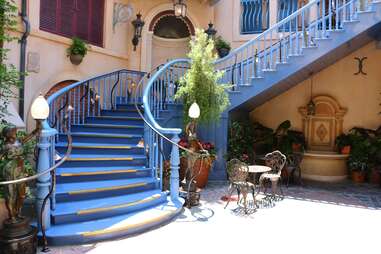 You don't have to be rich to get in, but it doesn't hurt
Boasting an alleged initiation fee of $25,000 to $50,000, with annual dues as high as $30,000—and a 10-year waiting list to join—Club 33 is a five-star restaurant and lounge whose members are corporations, high-rollers, and celebrities. It's rumored that Tom Hanks is a member. Nerdist founder Chris Hardwick, actress Rebel Wilson, and former Playmate Holly Madison are purported members, too. It's also one of the few spots inside Disneyland to serve alcohol, and there's a mandatory dress code. But it's difficult to confirm any of these details, because everything about the club is intentionally meant to be a mystery.
Social media has made it easier, at least, to find people who have visited 33 Royal Street. Instagram is a goldmine of photos tagged #club33 by recent visitors. It was there I connected with Myka McPeek, who lives in Anaheim and Instagrams her Disney experiences as @dizlush. She used the words "once in a lifetime," "unforgettable," and "bucket list" to describe her visit to Club 33, which included cocktails at the club's Salon Nouveau lounge and a five-course dinner at Le Grande Salon, the club's restaurant. "When something seems unattainable, you just want it more," she says.
Through Facebook, I connected with Billy Murray, a Disneyland alumnus who was once in charge of training Disneyland character actors. Murray spent seven years as a Disney "cast member,"( Disney speak for employee) and boy do those guys have some interesting stories. He visited the club as both himself and as a character (Peter Pan), an even rarer experience in the world of Club 33 visitors.
"As far as the club's purpose, it's more tailored to celebrity clientele, people who need to escape the crowds of Disneyland," he explains. "It gives them a place where they can bring the VIPs." In 2015, for example, Kanye West and Kim Kardashian took their daughter, North West, to Disneyland for her birthday. During a Frozen singalong, a cast member snapped a photo of Kanye sleeping through the show. The woman playing Elsa (er, who's "friends with Elsa," which is how cast members describe their roles off the clock) posted about it on Facebook, touching off a TMZ teapot-tempest and a PR headache for Disney.
"[The company goes to great] extent to make those people feel safe when they're at Disney," Murray says. "So [Kim and Kanye] were in a safe environment, they probably had bodyguards and stuff all around. And then, there was that one cast member who sneakily took a photo, which is what upsets celebrities when they feel like they're being protected by the company." This makes a private venue for VIPs like Club 33 all the more important.
What it's like to dine at Club 33
The magic of Club 33 is peak Disney hospitality (and the hospitality at the parks is already excellent, since new cast members go through three months of training, Murray says). The interior riffs on the 19th-century New Orleans Square architecture, with light blue baroque wallpaper and golden brown parquet floors throughout. The harpsichord at reception belonged to Lillian Disney, Walt's wife. Once you pass muster at reception, you enter a large atrium called the Court of Angels before climbing a blue iron staircase to the Salon Nouveau or Le Grande Salon.
The Salon Nouveau lounge—open to non-members only when escorted by a member—serves a $28 California caviar appetizer and $75 signature hamburger entree, paired with a glass of Champagne. The five-course menu at the neighboring Le Grande Salon serves a prix-fixe upwards of $100 that includes dishes like diver scallops, steak tartare, duck breast, and saddle of lamb, as well as a variety of salads and the requisite vegetarian selections. The desserts include pumpkin layer cake, caramel mousse, and "diligently selected cheeses."
While the experience may seem like a Michelin one, you're still at Disney. When leaving the club, you'll have no choice but to exit through the gift shop, which is stocked with ephemera such as Club 33 shot glasses, Pandora bracelet charms, and custom Dooney & Bourke handbags. Members and non-members can purchase challenge coins, which you're meant to keep on you at all times. McPeek says if someone walks up to you and "challenges" you, you must produce your coin. If you don't have it, you owe the other person a drink.
So how do you get into Club 33 if you're not a member?
The obvious catch is about, oh, 50 large. But if you want to visit Club 33 without spending a small fortune, start asking around. Members can make lunch and dinner reservations for non-members, which makes it more accessible to us plebeians. "If you don't know someone who is a member, good luck getting in," McPeek says. Don't know a guy who knows a guy? Try Craigslist. A small number of Club 33 reservations are for sale on the Orange County site, along with some desperate requests from local non-members.
Curious to know who might be posting these ads, I replied to each one. I ended up connecting with a couple from Texas under condition of anonymity, for fear of damaging a Club 33 member's standing. This couple is willing to pay upwards of $1,500 for Club 33 reservations, and hasn't yet found a member to make the deal. But they worry if their names were to appear in this article, Disney would find out. "I'm sure they frown on members sharing with other people who are non-members," says the couple. Indeed, they do, especially when money is involved: In 2015, one of Club 33's original members lost his membership after auctioning reservations for a charity fundraiser. With all things Craigslist—and with Disney—it's recommended to proceed with caution if seeking reservations via this route.
Club 33 has opened outposts in each theme park at the Orlando resort, following the lead of Disney venues in Shanghai and Tokyo. It's rumored that membership must be purchased at each location separately, meaning Anaheim members can't waltz through the Tokyo Club 33 doors. The exclusivity maintains the mystique and allure of Club 33. Or, as McPeek blurted out, while dining there with her friends, "We're not peasants today!"
Until the doors of 33 Royal Street shut behind you once more, that is.
Lisette Voytko is a journalist living in Brooklyn, New York. Her work has been published by
The Video Game History Foundation, Museum Hack
,
Task & Purpose
,
xoJane
, and
Femsplain
. You can find her at lisettevoytko.com, on Twitter, and on Instagram.