Look, this number is going to sound ridiculous, because it is: In 2016, something like 140 million people went to Disney parks for vacation. Almost 40 million of those trundled through the gates of just two -- the Magic Kingdom, in Orlando, and Disneyland, the OG of the OC. That's like the entire population of California stuffed into just two theme parks. And what happens when you get the entire population of California together? That's right: total mayhem.
Most people will likely have a great time at Disney without thinking too much of it. But literally tens of millions of people a year will screw up something on their magical, wondrous, wait-oh-lord-is-that-really-our-credit-card-bill trip of a lifetime. Save your money, save your time, and preserve a few scraps of sanity by learning from the Disney pros we hit up for their most dreaded errors. After all, anything worth doing 140 million times a year is worth doing right.
These are the biggest mistakes everyone makes at the House of Mouse:
Refusing to go on rides by yourself
Much like sex and air travel, theme park rides are infinitely simpler if you do them alone. Most rides have what's called a single-rider line, where folks who don't feel at all weird going on Splash Mountain solo get through the line about five times faster.
That doesn't mean you and Bae can't spend quality time shuffling through a winding queue together while you wait your turn to ride. It just means your picture going down the big drop will be with a random family from Des Moines instead of your significant other. (Note to parents: If you have small children, do not use the single rider line. You've resigned yourself to a life of inconveniences already. This is but another.)

Standing in line like some sort of peasant
If you're spending half your day at Disneyland waiting in queues, then you're doing it wrong. Ever heard of a FASTPASS? This free service cuts your wait time in half by allowing you to secure "appointment times" for the most popular rides, like Haunted Mansion. That way, you can use the hour you would have spent in line ticking off other attractions on your list instead.
Just grab a FASTPASS ticket at a distribution point to secure your return time; go on a less-popular ride or two; maybe scarf a corn dog or churro or whatever; then come back when it's almost time for your appointment. You'll get quick access via the FASTPASS Return entrance. When you're done, simply rinse and repeat.
What's more: if the return time on your FASTPASS isn't for several hours (which does happen, especially for Radiator Springs Racers at California Adventure), you can secure a second one for a different ride two hours after you obtained that first one. Got $10 to spare? Get the MaxPass. Same concept, except electronically through the Disneyland app.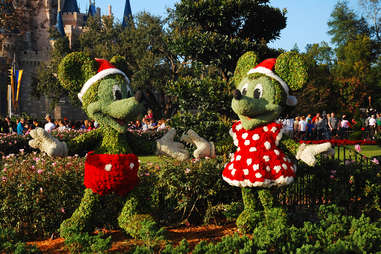 Going with a full-blown Disney fanatic
When I moved to LA, my first trip to Disneyland was with a group of friends I'd graduated college with. One of them was a Disney trivia addict, the kind of guy who knows where every single Hidden Mickey is and so on. At every ride, in every walk between every location, in every line for a water fountain, he rhapsodized about minutiae. It got old very fast. Going with a guide is fine. But set boundaries if you're going with an outright Disney obsessive. Or throw them off by taking 'em somewhere they don't know squat about, like Disneyland Paris.
Trying to cram multiple parks into a single day
Disney sells these attractive Park Hopper passes that'll let you visit more than one park in a day. Don't fall for it. With lines, lunch, warm weather, and upward of 10 miles walked each day, trying to do everything in more than one park is impossible. At best you'll end up skimming two places rather than seeing the best that one has to offer. One park a day is plenty. Here's how to prioritize 'em. Magic Kingdom is a must; it hits all the classic Disney notes (Cinderella's Castle, Space Mountain, mouse-ear ice cream bars). Hollywood Studios is best for movie buffs. Animal Kingdom has the best food and the best animals that aren't made of felt. EPCOT fits if you're a little older and enjoy mixing beer and roller coasters.
Missing out on the Dole Whip
If you leave Adventureland without trying a Dole Whip, the likes of which inspired this joint that just opened in NYC, you're missing out on a taste of a sweet Hawaiian cloud. The pineapple soft serve, available only at the park, is a SoCal and Disneyland icon. Consider reading up on other Disney dining hacks if you want to survive the week.
Shelling out for the expensive resorts
Unless you're just into spending money, don't sign up for a week at the Grand Floridian in Walt Disney World, or any other resort Disney labels "deluxe." Sure, you're staying in a beautiful and/or more centrally located resort, but how much time are you really spending there? Do yourself a favor and stay at a moderately priced resort, like the Port Orleans French Quarter, and factor in some time to have a blowout dinner at another resort's fine-dining restaurant. Guests at those resorts are also welcome to use the swimming pools at the nicer resorts, gratis.
Visiting during Annual Passholders' Appreciation
Since the original Disneyland was built in the middle of Anaheim, it has a much smaller footprint than its Orlando cousins and is often packed with locals who buy what are called annual passports -- sort of a season pass for park admission. If you're smart, you'll check, double-check, and triple-check the Disneyland events calendar prior to booking your trip, lest it fall on Annual Passholders' Appreciation. The poor, unfortunate souls who stumble into Disneyland during this event are in for human gridlock.
Assuming you can't buy booze anywhere
At the notoriously booze-free Disneyland, even the mint julep bar in New Orleans Square serves virgin mocktails. Club 33, home to the park's only real bar, has an astronomical wait list and costs $25,000 to get into. Enter the legendary Trader Sam's Enchanted Tiki Bar, a hidden tiki bar loosely inspired by everyone's favorite punderful faux safari ride, Jungle Cruise. Located in the Polynesian Village Resort in Orlando, and in the Disneyland Hotel courtyard in Anaheim, you can get tropical drinks served in ceramic sharks and pineapples loaded with alcohol. Disneyland's California Adventure also sells alcoholic drinks (though you'll need a Park Hopper pass to get in). And the Craftsman-style Grand Californian Hotel boasts several lounges dedicated to local spirits, beers, and wines.
Leaving your state ID or passport at home
If you're an international visitor, or a permanent resident of the United States, and you plan to drink, you must bring your passport. Disney will not accept a green card as a valid form of age verification, and even if you look 65, the Mouse will check your ID.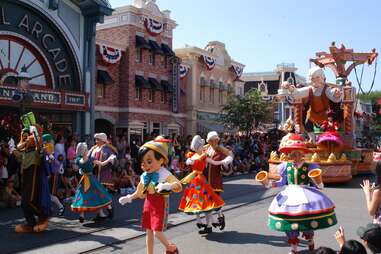 Assuming everyone working at 'The Happiest Place on Earth' is, in fact, happy
Take it from a former Disney lifeguard: Everyone you see working there -- from the woman in a Colonial-era explorer's cap selling Cokes outside Kilimanjaro Safari in Animal Kingdom, to the poor sap who picking up trash in the secret subterranean tunnels beneath Cinderella's Castle -- is having a rougher time than they let on. Employees at Disney are called "cast members," and referred to as such ad nauseam. They're forced to don an uncomfortable uniform insistently called a "costume," and subjected to indignities large and small to maintain what is actually called the "Disney Look."
With respect to the Disney Look, the lifeguards are required to wear Crocs. That alone is outrageous. But at the Yacht Club Resort, which is situated on the banks of an enormous fake lake, we lifeguards also had to do the Cupid Shuffle every day at shift change. Why? Who knows. But if we didn't, we got to pick Band-Aids out of the pool's filter. Want more Disney employee horror stories? Everyone who works there has 'em.
Underestimating the weather in the Sunshine State
Funny thing about Florida: It can get hot. Like lose-half-your-body-weight-in-fluids hot. Yet some people think because they can survive mowing their lawn in July they're perfectly fine walking 12 miles a day in what can best be described as the inside of a geyser. Water bottles, sunscreen, and shade are your friends. Oh, but the other funny thing about Florida: When it gets hot, it also rains. Between May and October you're good for at least one thunderstorm a day -- central Florida is, point of fact, the lightning capital of the entire world -- so bring a poncho and plan to spend maybe an hour inside while the deluge hits, usually around 4pm. That cloudburst will chase a lot of people out of the park, though, so hang in there for shorter lines.
Letting Disney pick you up at the airport
When you land from your flight to Orlando, a Disney bus will be there waiting. It's called The Magical Express, and if you're staying at a Disney resort, it'll take you, for free, straight to Disney World Resort, a complex comparable in size to the city of San Francisco. The favor comes at a price, though. Without wheels of your own, you'll be a willing captive of Downtown Disney and Pleasure Island, which are not, point of fact, much better than camping in a mall. Free monorails and buses that run with utopian efficiency throughout the properties. Disney has ruthlessly eliminated the need for a car, because the Mouse would prefer you went to Animal Kingdom ($90 admission) instead of, say, visiting hundreds of contented manatees clustered together at Blue Springs which happens every winter ($6 admission). In short, if you have a couple of extra bucks, rent a car.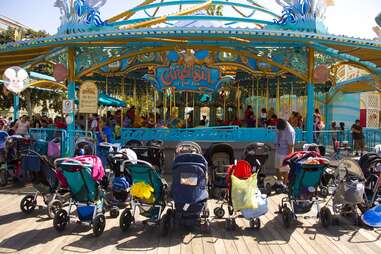 Going on the weekend
Your kids are in school for 180 days a year, give or take. For the love of your sanity, allow them to miss four or five and hit the parks between Monday and Wednesday for a new lease on life. Lines are short, hotels are cheap, restaurants have fewer screaming children, and your flights might even cost less. The Mouse ain't cutting you any discounts for Magic Kingdom Monday, but you'll be hard pressed to find a better use of vacation days than going to Disney when nobody else is.
Buying park admission every day of your vacation
Take it from a dude who has two kids but who doesn't have $500 a day to blow: You can still have a great time at Disney for pocket change. The key is to go resort-hopping. It feels almost subversive, like you're breaking the system by having fun for free in a world meant to bleed you dry. My family started at the Fort Wilderness campground, where we took a hike, played on a playground, and petted Cinderella's horses. Then we spent a couple hours hanging at the Art of Animation resort, where we took drawing lessons and posed for pictures with statues of all the cars from Cars (a strangely memorable outing). That night, we went to the Animal Kingdom Lodge, where we used night vision goggles to watch critters play in the warm night.
Forcing your kids to have fun
Are you having a magical time? You're not? WHY THE HELL NOT? Kids may think their appetite for lines and exposure to direct sunlight is limitless, but you, their parent, know better. Every kid gets overstimulated and worn out, yet you'll see moms and dads berating their kids for lack of energy, because the adults are spending so much money they forget to actually enjoy themselves. Slow down. You do not need to see every corner of every park, and if your kids ask to go play in the hotel pool, take the hint. The real magic here is one-on-one time with your family.
Leaving before the fireworks
By late afternoon, you'd most likely be begging for a hot soak. Grin and bear it for a couple more hours. Disneyland's nighttime fireworks are always such a spectacular and immersive production. For excellent viewing real estate, you'll have to sit and save your spots anyway -- at least one-and-a-half hours in front of Sleeping Beauty Castle or 45 minutes along Main Street USA -- giving your tired feet a bit of respite. With a dreamy score, dazzling light displays, and sometimes even fog and snow to round the fireworks off, it's the park's most iconic moment for a reason.
Blowing an afternoon at Disney Springs
Someone in your group will inevitably suggest a trip to Disney Springs, the outdoor waterfront area that's free to visit and easily accessible through Disney World's network of shuttles. Sure, you may have to indulge your party's weak link by tagging along, but just know that it is, plus or minus, a glorified high-end mall that tends to be overcrowded, unnecessarily pricey, and fakely bourgeois. There's an Uggs store. A place called Filthy Rich that shills knockoff celebrity jewelry. A forthcoming "an estate-style wine bar." Certainly, you'll survive -- there's a candy store and enormous Lego sculptures and people to ogle -- but in general, the place exudes ersatz aspirational luxury with none of the Disney magic.
Not spending any legit time in Orlando
Even if you are driving, the only part of Orlando most Disney guests ever see is the highway from MCO to Buena Vista Parkway. So, naturally, visitors assume it's a city made up entirely of gas stations and chain restaurants. But the theme parks also pull in a ton of creative, outgoing people who have built a thriving, authentic city in Orlando proper. Areas like Mills 50 and Audubon Parkway have filled in with creative restaurants, breweries, and hip cocktail lounges where the exceedingly friendly locals will be happy to greet an inquisitive traveler.
Sign up here for our daily Thrillist email and subscribe here for our YouTube channel to get your fix of the best in food/drink/fun.
Contributed by Jackie Bryant, Matt Crossman, Camille Dodero, John Marshall, Keryn Means, Matt Meltzer, Michelle Rae Uy, Lisette Voytko, and Brock Wilbur.