Sneak Peek: Disney's New Star Wars Parks Will Blow Your Mind Like the Death Star
Disney's new Star Wars: Galaxy's Edge parks open this year.

| Joshua Sudock/Disney Parks
Disney's new Star Wars: Galaxy's Edge parks open this year.

| Joshua Sudock/Disney Parks
The "galaxy far, far away" just came down to earth. When it opens later this summer and fall, Disney's highly anticipated Star Wars: Galaxy's Edge promises to wow the collective body of every Star Wars geek, fan and theme park nerd between here and the ice planet Hoth.
Located in Disneyland California and Disney World's Hollywood Studios in Florida, each of the 14-acre lands, which reportedly cost $1 billion to build -- per location -- will be jam packed with cutting-edge rides, alien food and drinks, weird and wonderful things to buy, technology-jacked interactivity, and endless references to characters, places, events, and more in the Star Wars universe.
"The land is the ultimate Star Wars playset," says Margaret Kerrison, managing story editor for Walt Disney Imagineering. "It's as if your action figures are now responding and interacting with you. It's truly a dream."
Disney lowered its deflector shields and gave a group of media early access to the California land, including Thrillist, and while the world was was still very much a work in progress, my mind While my mind was blown like a compromised Death Star, I've come back from the trip with extensive notes on what you can expect from visiting Galaxy's Edge.
Visit the planet Batuu
You will head to Batuu, a planet at the edge of the known galaxy. According to the backstory (and everything has an elaborate backstory here), the planet used to be an important stopover for refueling and restocking provisions, but with the advent of hyperspace, it lost its prominence devolving into a haven for smugglers, bounty hunters, and other ne'er-do-wells. First stop: Black Spire Outpost, a faded trading port.
Why Batuu? Disney, which designed the parks in partnership with Lucasfilm, chose not to target a familiar locale, such as Coruscant or Tatooine. "We know those places. We know the stories that happened there," explains Scott Trowbridge, portfolio creative executive for Walt Disney Imagineering and one of the project's chief visionaries. Instead Batuu is "a place that invites us to become a character and have the opportunity to live our Star Wars story."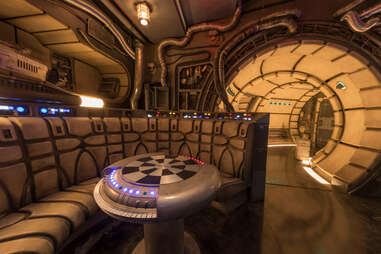 Walk the halls of the Millennium Falcon...
It may not be familiar, but you'll feel right at home in Black Spire Outpost when you encounter Star Wars touchstones, especially the legendary hunk of junker. The Falcon, about as wide as a football field and gleaming in gunmetal gray, looks just as shabby-yet-majestic as it does in the films. You'll get to go inside the ship and channel your inner Han Solo and Chewbacca, walking paths indelibly etched into your memory after watching the movie for the first time.
… and jump it into hyperspace
For the Millennium Falcon: Smugglers Run attraction, your adventure takes you into the cockpit, where you join six-person crew to put the ship through its paces. Using a sophisticated game engine and a variable motion base, the interactive ride will respond in real time to your crew's actions.
"We knew we could not build a Star Wars-themed land without the Millennium Falcon," says Asa Kalama, executive creative director, Walt Disney Imagineering. "We thought about fantasy fulfillment that everybody's dying for, and it really was getting into the cockpit and getting to control it."
Yup, you'll get to make like Han and narrowly avert certain death by pulling the Falcon's lever and jumping to hyperspace. Oh, and you'll be able to fire the laser blaster too. Cue Chewie's victory growl.
Experience next-gen audio animatronics
Disney's robotic figures have come a long way from the primitive talking macaws in the Tiki Room. Instead of relying on hydraulics, the newest characters are all electric. According to April Warren, show programmer at Walt Disney Imagineering, pirate Hondo Ohnaka (who recruits you for the Falcon mission) is among the first of Disney's A1000 series of animatronics. With 50 points of articulation, Hondo displays remarkable range of motion and fluidity, making the experience more lifelike than it has any right to be.
Experience one of Disney's longest and most ambitious rides
The second major attraction, Star Wars: Rise of the Resistance, puts the "war" in Star Wars. Using all kinds of theme park trickery, including multiple ride systems, immersive animatronics, digital projection, and huge screens, you'll be taken prisoner by the sinister First Order and embedded in a battle when the scrappy Resistance fights back. "This is one of the most epic attraction experiences we've ever built in size, scale, and complexity," Trowbridge asserts.
Get sucked into a tractor beam, board a Star Destroyer, witness full-sized AT-ATs
As part of Rise of the Resistance, you'll blast off from the planet Batuu aboard a spaceship only to be intercepted by the First Order, when it captures the vehicle in a tractor beam. D'oh!
The tractor beam will deposit you on a Star Destroyer filled with a battalion of menacing Stormtroopers. You'll marvel at the crisp, detailed First Order aesthetic -- full-sized Tie fighter, anyone? -- even as you are led to a detention cell and come face to face with the unhinged Kylo Ren, voiced by actor Adam Driver himself. (Other actors from the latest trilogy, like Oscar Issac -- the man behind hot-shot pilot Poe Dameron -- and John Boyega, who plays Finn, also reprise their roles.)
The ride revs up into chase aboard the starship -- you in trackless ride vehicle -- eventually taking you under real-scale (read: freakin' huge) animatronic AT-ATs. Chris Kelly, Walt Disney Imagineering producer, says the walkers are "just as mean as you'd expect them to be."
Not to give anything away (although the ride is called "Rise of the Resistance"), but Finn, Po, Rey, and BB8 will help save the day.
Pyoo! Pyoo! See a laser bolt explode
It wouldn't be a Star Wars battle without an exchange of lasers. Sure enough, you'll get to witness a laser bolt explode as the First Order and the Resistance duke it out.
Tasked with making the transition from the films to the 360-degree, living-breathing environment of theme parks, the developers of Galaxy's Edge faced many challenges. "There are certain iconic elements you can't get away from," says Paul Bailey, show systems engineer for Walt Disney Imagineering. The attraction designers pulled in resources from Lucasfilm and Industrial Light & Magic to help create new effects. Adds Bailey, "A laser bolt traveling through midair is uniquely Star Wars." That's right: Lasers will whiz by you, IRL.
Hear new 'Star Wars' music by John Williams
To further deposit you into the epic universe you know and love, seminal film composer John Williams crafted original scores that you'll hear throughout Galaxy's Edge.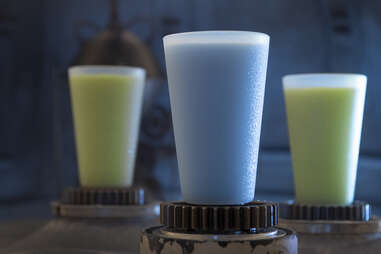 Drink water on Black Spire Outpost -- if you dare
The park is so immersive that actual drinking fountains in the village will appear to be hooked into old cistern-type tanks via rusty, industrial pipes. The water in the tanks will look a bit suspect -- especially when a dianoga beast briefly appears in it.
If the funky water doesn't quench your thirst, you could purchase the iconic Star Wars beverage, blue milk. Using a plant-based dairy substitute, the frozen treat will resemble a milkshake and include essences of berry and melon. It will come in both blue and green flavors.
Belly up to the bar at Oga's Cantina
Since Walt Disney opened Disneyland in 1955, the squeaky-clean park has not served alcohol to the general public. That will change when Galaxy's Edge opens.
Black Spire Outpost's social center is the seedy Oga's Cantina. Drink here include the margarita-like The Outer Rim and a Fuzzy Tauntaun (think: Fuzzy Navel). There will also be beers, such as Bad Motivator IPA, brewed exclusively for the park.
While waiting on your drinks, nosh on some Cantina Mix, an odd combination of rice cracker-like snacks, wasabi peas, proprietary cereal pieces, and other items that are salty, sweet, bitter, and spicy.
You may remember Rex, an RX24 droid, as the reluctant pilot from Disney's original Star Tours ride. You may be delighted to learn that he has been reprogrammed here in Batuu, playing intergalactic tunes with a strangely '80s vibe. Disney wouldn't confirm it, but the droid sure sounds like Paul "Pee-wee Herman" Reubens, who originally voiced him. DJ Rex is a hoot.
And don't worry: Star Tours is still around. Rex may have been relocated to Batuu, but the groundbreaking motion simulator attraction, Star Tours – The Adventures Continue, lives on in Tomorrowland at Disneyland and at Disney's Hollywood Studios. There had been some speculation about the fate of the rides with the opening of Galaxy's Edge, but they will remain operating in their current locations.
Even the food is out of this world
There will be a wide variety of fun "native" dishes to sample at Black Spire Outpost, including Smoked Kaadu Ribs. A kaadu is the domesticated animal of the Gungans -- Jar Jar Binks's people, if you need a reminder. In reality, the meat will be a rack of pork ribs cut in half lengthwise (to give it an unusual look), smoked, and slathered with a sticky sauce, served on cornbread with blueberry sauce.
An audacious sight in the center of the outpost's village will surely attract a crowd. A droid will turn a huge ronto (a camel-like pack animal) on a spit over a podracing engine that's been repurposed as a barbecue pit. You'll be able to order a Ronto Wrap, a delicious grilled pita filled with ronto (pork) meat and a spicy sausage topped with a fiery clutch sauce and a cooling cabbage slaw.
Build your own lightsaber
Any aspiring Jedi worth their midichlorians will be most excited about Savi's Workshop. Here, you will be able to personalize and assemble your own lightsaber. Choose a hilt and a kyber crystal, which will determine the hue of the blade. (Unfortunately, the saber won't magically emit a beam of light. You'll have to insert a blade.) Using your lightsaber, you'll be able to bring interactive holocrons in Galaxy's Edge to life and unlock their secrets and mysteries.
Toys, gadgets and gizmos galore
Among the many toys you could purchase will be a porg puppet. You will be able to make the cute creature's wings flap and its mouth move.
You could also buy an interactive C-3PO figure. Rip its head off, and the fussy character will respond in his unmistakable shrill, "Hey! Stop that." Pop his head on backwards, and he'll say, "What's going on? I can't see!"
You could also take DJ Rex home with you. The droid comes with his own controller that can move his arms and send him spinning around. He could also connect to your smart device and bop in time to your music.
How about building your own custom droid? At the Droid Depot, you could design your own R- or BB-series astromech droid. The shop contains a fanciful conveyor belt from which you will be able to choose your parts and assemble the droid, which stands about 18 inches tall. Proceed to an activation station to make it operational.
Using Bluetooth tech, your droid will be able to interact with beaconing signals in Black Spire Outpost as well as other droids. Droids will be on the move throughout the village and inside the attractions.
… Or hack a droid
Last year the company released the Play Disney Parks mobile app, which allows guests to play games and interact with the lands and the attractions at Disneyland and Walt Disney World. That same app will automatically switch to Star Wars mode when you enter Galaxy's Edge. Among the functions is a hacking tool for interacting with droids. You'll be able to access their memory banks and collect valuable data you can use to explore Black Spire Outpost.
Join and help the Resistance (or the First Order if you are so inclined)
Using the Play Disney Parks app, you would also be able to perform other actions, including scanning encrypted shipping labels, translating spoken alien languages or engraved sayings throughout the park. You can even tune into hidden transmissions around the park. The intel you gather could be used to help you advance the cause of the faction to which you profess allegiance. According to Bob Chapek, the chairman of parks, experiences, and products for Disney, you'll be able to maintain a level of persistent interaction. "We'll be able to remember what you did on previous visits," he says.
What does that mean for you, the park goer? Disney says you will develop a reputation that will precede you as you move about the lands. For example, based on the collective performance of your crew during your Smugglers Run mission, the bartenders at Oga's Cantina may lavish you with praise or question your abilities. Although it's still unclear how this feature would work, it is likely that the Play Disney Parks app would be involved.