How Washington, DC Just Scored the Coolest New Waterfront in the Country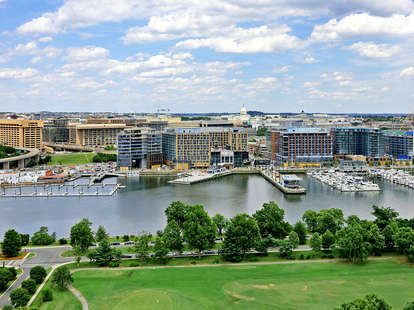 The Wharf from East Potomac Park

| The District Wharf
The Wharf from East Potomac Park

| The District Wharf
On a humid, heavy, summer afternoon in Washington DC's fish market, piles of live crabs are set out front of the competing stands, crawling over each other. Claw as they might, each gets tossed into a paper bag, and within a couple of hours will probably be someone's lunch.
Up until now, this fish market was about the extent of things to see along DC's overlooked southwest waterfront. Sure it's charming, when summer heat isn't kicking up the smell of seafood, but it's not exactly rousing tourists to jump on a plane the way they might for, say, a weekend in Nashville.
But just a few blocks away is a spanking-new development that may change that equation. The District Wharf, a $2.5 billion, 1.2 million-square-foot entertainment district is the first major development along the water in this quadrant of the District. It's the biggest, most ambitious waterfront development in the nation, opening in October 2017, and it'll change the way people plan their trips to Washington.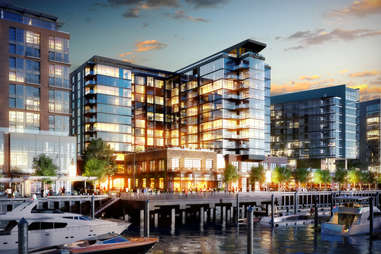 Let's admit that Washington DC could be much sexier
For many Americans a vacation to DC is like kale salad: you know it's something you're supposed to be into, but it's not your first pick. The Wharf -- this fancy new entertainment district aimed at young urbanites -- wants to raise the city's tourism profile beyond statues and cherry blossoms and free museums.
At this Potomac development you'll find pedestrian streets and alleyways (and, within a few weeks, dozens of businesses). Music will pour out of an Irish pub owned by a former Guinness employee. Visitors will saunter from a gelato shop to Hank's Oyster Bar, and over to Blue Bottle, a coffee shop that promises all its coffee will be no more than 48 hours out of the roaster. It'll also house 20 restaurants, including Top Chef alum Jennifer Carroll's Requin, an Italian food market, and a Belgian spot called Florentijn from a former chef at the Belgian Embassy.

It'll change the way people plan their trips to Washington.
Its anchor is a 6,000-seat music venue called The Anthem, the brainchild of a co-owner of the famous 9:30 Club, set under multiple floors of luxury apartments. Before the concert, you can pregame at DC's first full-fledged rum distillery, Todd Thrasher's Potomac Distilling Company. Not only will Thrasher be casking his own rum on site, the award-winning mixologist will also have a cocktail bar that he describes as "a modern take on tiki." When done next to the water, it'll give DC a Polynesia/Rust Belt hybrid vibe.
And that fragrant, crackling fish market? That'll still be there, but overhauled to include a water taxi and retail space a la Boston's Faneuil Hall or Seattle's Pike Place Market. The Wharf is also getting a grand path to its entrance, as SW 10th Street will be turned into a spacious greenway stretching from the Smithsonian to the entrance.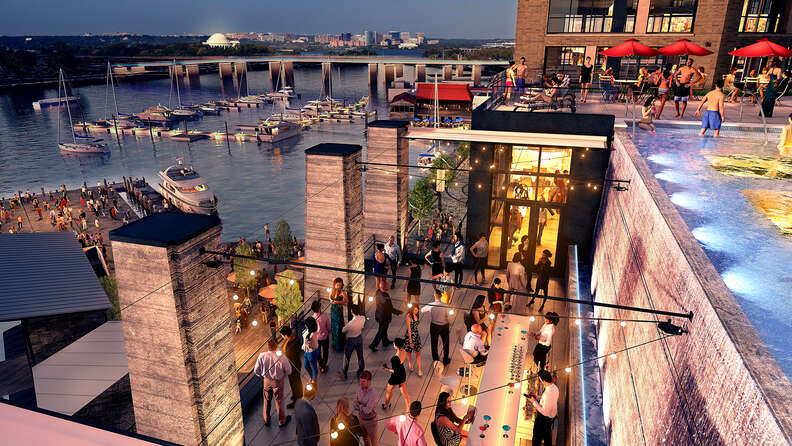 This has been a long time coming for DC
It's easy to dismiss DC's culture and food, the usual cornerstones for tourism. The District's weather, also, ain't a huge draw. For too long it's been defined as the grayer cousin to fashionable New York City. It's crammed full of lawmakers, bureaucrats, lawyers, lobbyists, and wonky journalists, none of whom have a strong rep as tastemaking scenesters.
But certainly in the past decade, DC -- diverse, wealthy, erudite, connected -- has been chugging right along. Its food scene has been evolving rapidly, while quirky, non-government-y museums like the National Spy Museum have been building a low-key rep for weirdness. Add in the Nationals' new-ish stadium at the Navy Yard and a forthcoming Major League Soccer stadium right down the street -- all beside a bar built completely out of shipping containers -- and you could rock a full weekend here without ever visiting the Mall.
Yet until now, none of that action centered around water. "It's kind of incredible that DC has not fully developed that waterfront," says Allison Peck, the communications director at the Hirshhorn Museum on the National Mall. "The views are great, the restaurants will be great, and people are just now figuring out all the museums and cultural centers are totally walkable (from the waterfront)."
A changing population brings the fun to the District
So why, now, is Washington finally playing catchup as a fun destination? It's been a slow burn, driven by new arrivals and a consistently strong economy.
The parcel of land the Wharf sits on was originally slated for development a decade ago. Then the US economy -- construction in particular -- cratered. Even as DC escaped the worst of the Great Recession, financing became scarce. For years, there just wasn't much to visit on this slice of barren waterfront besides a little marina and nondescript office buildings.
While much of the country was foundering in recession, the District was buoyed by government and biotech jobs in the suburbs. During the past seven years, it was the country's fastest-growing cold-weather city, with a 12% population spike in the first half of the decade.
As those people moved into the city, they wanted more than just Smithsonians to keep them occupied. "The youth and vitality of the city has changed," says David Walsh, the sales director at the Mandarin Oriental in southwest DC. "This has and always will be a government town. But if you look at the suburbs, there's a lot of people working there but spending their time and money in the city, so you have a lot of exciting new developments coming."
You could rock a full weekend here without ever visiting the Mall.
The neighborhood where Walsh's hotel stands over the river will be the main beneficiary of those developments. A few blocks east of The Wharf, the appropriately gigantic Museum of the Bible is set to open on November 17. The $500 million project will be the most technologically advanced museum in America, beginning with a 15-foot x 140-foot LED mural at the entrance, a sort of Sistine Chapel of the digital age. It'll have digital guide maps that can locate you in the museum and give you directions to whatever you want to see, and automatic planners based on your interests and time available.
Nearby in L'Enfant Plaza, the Spy Museum is set to move into its spacious new digs, where it'll house the world's largest collection of espionage artifacts and in 2018, host a spy camp.
"When I moved here, all we had around our construction site was grey concrete and a couple of sandwich shops," says Shannon Bennett, the Museum of the Bible's director of community relations. "Now, just down the street, the Spy Museum is building a space that's twice as big. We've got the whole food scene opening up at The Wharf. This whole quadrant from the National Building Museum on 4th Street, southwest to the Potomac, is just a street of highlights."
As with most projects its size, the District Wharf will be opening in phases, with more residential and commercial spaces coming online in the next couple of years. Its blowout grand opening concert is slated for October 12, when the Foo Fighters -- longtime favorites at the 9:30 Club -- will christen the stage at The Anthem. But it's not just Dave Grohl and some schmancy new restaurants that have people chirping. It's the fact that Washington DC, of all school-bus-trip destinations, is going to have the most exciting new waterfront in the country.
Sign up here for our daily Thrillist email and subscribe here for our YouTube channel to get your fix of the best in food/drink/fun.

Matt Meltzer is a contributing writer to Thrillist who still has little-kid mystification when he sees the escalator at the Bethesda Metro Station. Follow him on Instagram @meltrez1.