Claiming to be the first travel outfit to specialize in experiences on remote desert islands around the world (and with a complete lack of weird dudes named "Johnny Fairplay"), Docastaway is offering the chance to go native and live like castaway without all the hassle commonly associated with surviving a boat crash.
Recommended Video
Escape Reality in This San Diego Tiki Bar Speakeasy
The desert island concierge has amassed a sizable catalog of the most remote uninhabited tropical places around the world, each with varying levels of isolation and survival methods. Hence, you don't have to be an experienced traveler like Bear Grylls to Get Out Alive, although having a constant smudge on your brow and steadily pounding your own urine might add to your street cred.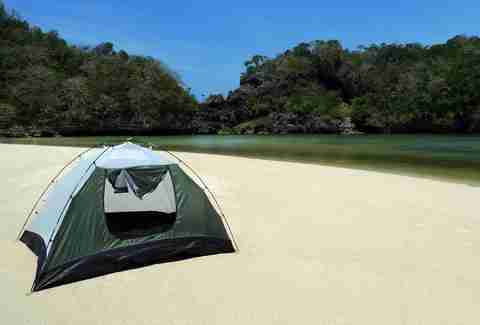 Docastaway offers two experiences -- or "modes" as they call it -- for their isolated vacations. The Adventure Mode drops you on remote islands in Indonesia and the Philippines for a real castaway's journey but with all the modern conveniences taken care of. So you'll trade in bouts of hypothermia and crippling loneliness for huts, or even tents with camping equipment!
The Adventure Mode also sets you up with your own personal survival guru that'll teach you how to find potable water, which leaves you should wipe with, and...
... the best grilling techniques for the fish you just speared. It's definitely not staring them in the eyes and slightly frowning.
In contrast to the Adventure package, Doc also offers the Comfort Mode for those who still wish to "experience" being a castaway on their own island, but with all the amenities and accommodations of a luxury resort.
Rather than "roughing it" in a hut or tent, Comfort Mode accommodations include luxury bedrooms, electricity, running water, and even WiFi, making it super painless to Google "how to grill fish" and then totally not do it... since you have room service. Like a boss.